Professor Longhair - Fess - The Professor Longhair Anthology (1993)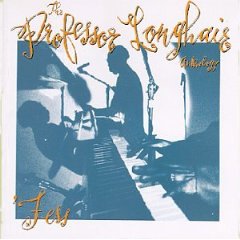 1.  Bald Head
2.  Hadacol Bounce
3.  Tipitina
4.  In The Night
5.  Ball The Wall
6.  Who's Been Fooling You
7.  Hey Now Baby
8.  Hey Little Girl
9.  Walk Your Blues Away
10.  She Walks Right In
11.  Willie Mae
12.  Professor Longhair Blues
13.  Baby, Let Me Hold Your Hand
14.  No Buts, No Maybes
15.  Misery
16.  Looka, No Hair
17.  Cuttin' Out
18.  Go To The Mardi Gras
19.  There Is Something On Your Mind
20.  Big Chief Part 2
21.  Hey Little Girl
22.  Hey Now Baby
23.  Mardi Gras In New Orleans
24.  Junco Partner
25.  How Long Has That Train Been Gone
26.  Stag-o-lee
27.  Meet Me Tomorrow Night
28.  Dr. Professor Longhair
29.  Mess Around
30.  Cry To Me
31.  Whole Lotta Loving
32.  Everyday
33.  Got My Mojo Working
34.  Thank You Pretty Baby
35.  Sick And Tired
36.  Mean Old World
37.  Tipitina
38.  Big Chief
39.  Rum & Coca-Cola
40.  Boogie Woogie

Personnel: 
Professor Longhair (vocals, piano); 
Earl King (vocals, whistling); 
Mac Rebennack (vocals, guitar, electric piano); 
Roy Byrd (vocals, piano); 
Roland Byrd (vocals); 
Clarence "Gatemouth" Brown, Big Will Harvey, Dr. John, Will Harvey, Walter Nelson (guitar)
Justin Adams , Alvin Robinson, Roy Montrell, Snooks Eaglin, Leo Nocentelli (guitar); 
Clarence Ford (saxophone, alto saxophone); 
Warren Bell, Robert Parker (alto saxophone); 
Jerry Jumonville (tenor saxophone, baritone saxophone); 
Andy Kaslow, Charles Burbeck, Morris Bechamin, Manuel Crusto (tenor saxophone)
Lee Allen, Alvin Batiste, Nat Perrilliat, Tony Dagradi (tenor saxophone); 
Carl Blouin, Edward "Kidd" Jordan, Jim Moore , Alvin "Red" Tyler (baritone saxophone); 
Clyde Kerr, Emery Thompson, Willie Singleton, Eddie Nash, Steve Madaio (trumpet); 
Wendell Joseph, Warren Bokes, Waldron "Frog" Joseph, Eddie Hines, Wendell Eugene (trombone); Tuts Washington (piano); 
Allen Toussaint (electric piano); 
Art Neville (organ); 
Earl Palmer , David Lee , John Woodrow, Charles "Hungry" Williams (drums)
Fred Staehle, Johnny Vidacovich, Al Miller , Shiba, Smokey Johnson (drums)
John Boudreaux, Ziggy Modeliste (drums);
Alfred "Uganda" Roberts (congas); 
Sidney Quezergue (shaker, percussion); 
George Porter, Jr. (tambourine); 
Rozalin Woods, Jesse Smith, Jessica Smith (background vocals).

The rhumba-rocking rhythms of Roy "Professor Longhair" Byrd live on throughout Rhino's 40-track retrospective of the New Orleans icon's amazing legacy. Most of the seminal stuff arrives early on: "Bald Head," the rollicking ode cut for Mercury in 1950, is followed by a raft of classics from his 1949 and 1953 Atlantic dates ("Tipitina," "Ball the Wall," "Who's Been Fooling You"), the storming 1957 "No Buts, No Maybes," and "Baby Let Me Hold Your Hand" for Ebb, and his beloved "Go to the Mardi Gras" as waxed for Ron in 1959. The second disc is a hodgepodge of material from the Professor's '70s comeback, all of it wonderful in its own way but not as essential as the early work. ---Bill Dahl, Rovi
download:  uploaded anonfiles mega 4shared mixturecloud yandex mediafire ziddu