Al Di Meola - Morocco Fantasia (2017)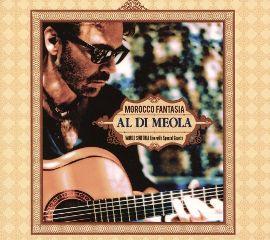 1. Misterio (Live) 9:12
2. Siberiana (Live) 10:25
3. Double Concerto (Live) 9:17
4. Michelangelo's 7th Child (Live) 7:59
5. Gumbiero (Live) 7:44
6. Turquoise (Live) 8:21
7. Encore (feat. Said Chraibi, Abdellah Meri & Tari Ben Ali) [Live] 5:10
8. Egyptian Danza (feat. Abdellah Meri & Tari Ben Ali) [Live] 9:06

Al Di Meola 	Guitar, Producer
Peo Alfonsi 	Guitar
Tarik Ben Ali 	Percussion
Fausto Beccalossi 	Accordion
Said Chraibi 	Oud
Péter Kaszás 	Drums
Abdellah Meri 	Violin
Victor Miranda 	Bass
Gumbi Ortiz 	Percussion 

Morocco Fantasia is a live recording of Al Di Meola's concert in 2009
 at the Mawazine Festival in Rabat, Morocco. 

Guitarist Al Di Meola seems to finally have found a musical voice and home. He's made a name for himself as an AK-47 styled electric guitar gunslinger, a devotee of New Tango music, and an amalgam of sounds on his World Sinfonia records. The latter, which is featured here on a dvd that captures his band at a 2009 festival in Rabat, Morocco, seems to mix the best of all of Di Meola's musical incarnations.
Together with his team Di Meola does mastery on his acoustic guitar on pieces like the Andalusian "Misterio." His fiery technical skills are well balance here by the acoustic and mediterranean musical enviornoment, as shown on the flamenco sketches on "Michelangeo's 7th Child" and the luscious "Turquoise." The mix of percussion and accordion make for a bohemian rhapsody, whle the complex "Gumbiero" includes some nice hand work on the congas by Ortiz. Guests Said Chraibi/oud, Abdellah Meri/violin an dTari Ben Ali/perc make for some delightful guests, as Chraibi's oud on the encore is a Saharan delight. Di Meola finally plugs in for an electrifyingly closer "Egyptian Danza" reminding everyone how he got famous in the first place. An absolute delight for guitar fans. ---George W. Harris, jazzweekly.com
download (mp3 @320 kbs):
yandex 4shared mega mediafire uloz.to cloudmailru gett