Michael Buble – Christmas (2011)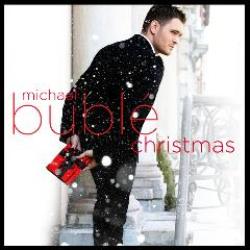 01 – It's Beginning To Look A Lot Like Christmas
02 – Santa Claus Is Coming To Town
03 – Jingle Bells (Ft. The Puppini Sisters)
04 – White Christmas (Duet With Shania Twain)
05 – All I Want For Christmas Is You
06 – Holly Jolly Christmas					play
07 – Santa Baby
08 – Have Yourself A Merry Little Christmas
09 – Christmas (Baby Please Come Home)
10 – Silent Night
11 – Blue Christmas
12 – Cold December Night
13 – I'll Be Home For Christmas
14 – Ave Maria
15 – Mis Deseos,feliz Navidad' (Duet With Thalia)
16 – Michael's Christmas Greeting
17 – Winter Wonderland						play
18 – Frosty The Snowman
19 – Silver Bells (Ft. Naturally 7)

Michael Bublé has a special holiday gift for his naughty and nice fans. The multi Grammy Award winning Canadian presents Christmas. Commented Bublé, "Christmas has always been my favorite time of the year for me and my family so naturally it's been a dream of mine to make the "ultimate" Christmas record."
Christmas, produced by David Foster, Bob Rock and Humberto Gatica, was recorded primarily at Capitol Recording Studios in Hollywood and The Warehouse Studios in Vancouver. The album includes guest performances by Shania Twain on "White Christmas" and The Puppini Sisters on "Jingle Bells." Bublé also put his unique take on such classics as "Silent Night," "Have Yourself A Merry Little Christmas," "It's Beginning To Look A Lot Like Christmas" and "Santa Claus Is Coming To Town." In addition, a Bublé original "Cold December Night" will be included on Christmas. --- Warner Music
Michael Bublé przygotował na "Christmas" kilkanaście interpretacji słynnych piosenek bożonarodzeniowych, do kilku z nich zapraszając gości. W duecie z artystą zaśpiewały The Puppini Sisters w niezapomnianej piosence "Jingle Bells". Wspaniała rodaczka Bublé, Shania Twain, która powraca na scenę po kilku ciężkich latach, w których rozpadło się jej małżeństwo, a następnie ułożyła sobie życie na nowo, cudownie prezentuje się w interpretacji tak ważnej dla Michaela kompozycji "White Christmas". Ich duet to clou płyty!
W dalszej części także znajdziemy prawdziwe perełki interpretacyjne. Wielka latynoska gwiazda piosenki i filmu Thalia zaśpiewała z Kanadyjczykiem w "Mis Deseos/Feliz Navidad". Wyjątkowym dodatkiem do tego imponującego prezentu jest napisana przez Michaela i jego współpracownika lana Changa piosenka "Cold December Night" . "Christmas" jest niczym dodatkowa ozdoba na pięknie ozdobionej choince, jak wyjątkowy deser po wspaniałej wigilijnej kolacji. Rozjaśni każde oblicze, przywoła uśmiech, doda radości, optymizmu, uczyni wyjątkowy świąteczny czas jeszcze bardziej specjalnym. I pamiętajmy, że taką funkcję może spełniać przez wiele kolejnych lat! --- siedziejesie.pl