Concha Buika – El Ultimo Trago (2009)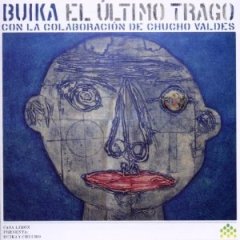 01. Soledad (2:49)             play
02. Sombras (4:16)
03. Las Ciudades (4:33)
04. Cruz De Olvido (4:14)
06. En El Ultimo Trago (2:48)
07. Se Me Hizo Facil (4:20)
08. Un Mundo Raro (4:51)
09. Las Simples Cosas (2:13)
10. Somos (4:11)
11. Luz De Luna (3:38)         play
12. Vamonos (4:09)

Concha Buika – vocals
Chucho Valdez – piano, arranger
Lazaro Rivero Alarcon – double bass
Juan Carlos Rojas Castro - drums
Yaroldy Abreu Robles – percussion
Javier Limon – flamenco guitar
Carlos Sarduy - trumpet

Concha Buika (ur.1972 w Palma de Mallorca) hiszpańska śpiewaczka i kompozytorka. Jej rodzina pochodzi z Gwinei Równikowej. Dorastała w społeczności cygańskiej na wyspie Majorka. Jej muzyka jest mieszaniną flamenco z soulem i jazzem. Ponadto śpiewa copla andaluza. W kwietniu 2009 roku Buika wraz z legendarnym pianistą i kompozytorem Chucho Valdesem spotkała się w kubańskim studio Abdala, gdzie zarejestrowali materiał na nowy album. "El Ultimo Trago" to hołd dla piosenkarki Chaveli Vargas złożony w 90. rocznicę jej urodzin i obejmujący przekrojowy repertuar z całej kariery tej meksykańskiej artystki.
Buika was born in Palma de Mallorca in 1972 where her family, originally from Guinea Ecuatorial, live. She learnt from her mother to listen to the great voices of jazz, and from the Spanish radio, the copla that rushed into her life. She started singing at bars & pubs in Mallorca, recording several songs (house style) and collaborated with La Fura del Baus in "Ombra". In 2000, she dosen't remember exactly how or why, she arrived to Las Vegas where she worked in Casinos as the double of Tina Turner and The Supremes where she got an invitation from Rachelle Ferrell, (a jazz mademoiselle) to act at Club Blue Note. When she moved to Madrid and recorded her first album, in it, she showed the never-ending possibility of her skills as a singer. At the recording studio she kept her style besides the insistence of four producers that wanted to change her personal style.
El Ultimo Trago is a celebration ofChavela Vargas's90th birthday. Recorded in Cuba with live musicians this album is a collection of Chavela's greatest hits performed with the powerful vocals only Buika can deliver and accompanied by masterful pianist Chucho Vlades. This album is truly a musical jewel any music lover will enjoy.
download (mp3 @320 kbs):
uploaded yandex 4shared mega mediafire zalivalka cloudmailru oboom uplea