State Urge - Confrontation (2015)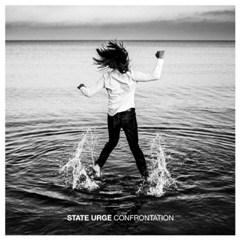 01. Confrontation - 03:59
02. Revival - 04:26
03. Liquid Disease - 07:10
04. Cold as a Lie - 05:47
05. Midnight Mistress - 08:31
06. New Season - 05:12
07. Before the Dawn - 04:00
08. More -10:12

Marcin Bocheński - drums, percussion;
Marcin Cieślik - guitar, vocal;
Krystian Papiernik - bass guitar;
Michał Tarkowski – keyboards

"Confrontation" - bo taki tytuł nosi drugie, długogrające wydawnictwo zespołu State Urge – to album koncepcyjny mówiący o trudzie podejmowania ważnych, życiowych decyzji. To historia człowieka, który zmaga się z samym sobą próbując rozwikłać wewnętrzne dylematy, co jednak nieuchronnie prowadzi do otwartej konfrontacji zarówno z otoczeniem, jaki i ze swoją osobowością.
Czy uda mu się odnaleźć równowagę między oczekiwaniami a rzeczywistością, czy podda się pokusie ucieczki przed odpowiedzialnością? W końcu z każdej, nawet przegranej, walki można powstać jeszcze silniejszym. ---stateurge.com
"Confrontation" - the second longplay from State Urge – is a concept album about difficulties of making important life decisions. It's a story of a man, who is in conflict with himself, trying to solve inner dilemmas, which leads to an open confrontation with his surroundings, as well as with his personality.
Will he find balance between expectations and reality or will he give into temptation of running away from responsibility? After all, from every battle, even those lost, one can rise even stronger. ---stateurge.com
download (mp3 @320 kbs):
uploaded yandex 4shared mega mediafire zalivalka cloudmailru oboom uplea