Arch Enemy – Dawn of Khaos (2011)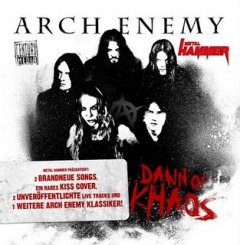 1. Yesterday Is Dead And Gone
2. No Gods, No Masters
3. The Oath 
4. My Apocalypse 
5. Nemesis
6. Dead Eyes See No Future
7. We Will Rise 		play
8. Revolution Begins
9. Ravenous 
10. Beast Of Man 
11. Dark Insanity
12. I Will Live Again	play

Angela Gossow – vocals
Michael Amott – guitar
Christopher Amott – guitar
Sharlee D'Angelo – bass
Daniel Erlandson –drums.

Formed by ex-Carnage, Carcass, and Candlemass guitarist Michael Amott (also of Spiritual Beggars) with his brother Christopher (Armageddon), Arch Enemy took a straight-ahead approach to death metal reminiscent of Entombed or late-period Carcass, blending catchy, classic-style metal riffs with crushing grooves for an intense yet accessible sound. The group's charter lineup was rounded out by bassist/vocalist Johan Liiva (Carnage, Furbowl) and drummer Daniel Erlandsson (Eucharist, session work for In Flames); they released their debut album, Black Earth, in 1996. For their second album, 1998's Stigmata, Armageddon bassist Martin Bengtsson took over those duties from vocalist Liiva, while Armageddon drummer Peter Wildoer sat in for Erlandsson. More personnel turnover ensued, as Mercyful Fate reunion bassist Sharlee D'Angelo (also formerly of Witchery and Dismember) joined up for 1999's Burning Bridges, which also featured the return of Erlandsson. Wages of Sin from 2001 found Johan Liiva departing and replaced by Angela Gossow.
After touring extensively across Europe and Japan, the band returned to the studio and released Anthems of Rebellion in 2003. The EP Dead Eyes See No Future was released by the end of the year and featured a mix of cover versions and live tracks. The album Doomsday Machine landed in July of 2005 just as guitarist Christopher Amott announced he was leaving the band. Former Tiamat member Fredrik Åkesson replaced him, though the two would switch places again two years later, with Åkesson leaving the band to join Opeth, and Amott taking back his spot on guitar. The band then released its seventh album, Rise of the Tyrant, in 2007. The album would be Arch Enemy's most successful to date, and they followed up the release by heading out on tours with Swedish metal giants Opeth and Dark Tranquillity. In 2009, the band looked back to its older material with The Root of All Evil. The album featured tracks from the band's first three albums that were re-recorded with current singer Angela Gossow. 2011's Khaos Legions, the band's eighth studio long player, marked a return to new original material, and proved to be the band's highest-charting album to date. It would also be the last outing for Gossow and founding guitarist Christopher Amott, both of whom left the band the following year. 2014's War Eternal saw the additions of ex-Agonist vocalist Alissa White-Gluz and ex-Arsis guitarist Nick Cordle (who left shortly before the band's European tour and was replaced by former Nevermore axe-slinger Jeff Loomis). In 2017, the band released the concert LP/video As the Stages Burn, which captured their 2016 performance at Wacken Open Air in its entirety, along with a 2015 performance in Tokyo. ---Steve Huey, allmusic.com
Szwedzka grupa Arch Enemy pochodzi z Halmstad i zajmuje się melodyjnym death metalem.
W szeregach grupy odnajdują się tak znakomite postaci szwedzkiej sceny, jak Michael Amott (gitara, również Carcass, Spiritual Beggars, eks-Carnage), Sharlee D'Angelo (bas, Mercyful Fate, Witchery), Daniel Erlandsson (perkusja, m.in. Liers In Wait, In Flames, Diabolique, Eucharist, Carcass) i Christopher Amott (gitara, Armageddon). Za mikrofonem stoi niemiecka wokalistka Angela Gossow, która w 2000 roku zastąpiła pierwszego frontmana i współzałożyciela zespołu Johana "Liiva" Axelssona.
Debiutancki album zatytułowany "Black Earth" ukazał się w 1996 roku – kilka miesięcy po powstaniu zespołu. Wspólnie z Liiva grupa wydała jeszcze dwie płyty: "Stigmata" w 1998 roku oraz rok później "Burning Bridges".
Angela zadebiutowała na czwartym albumie Arch Enemy "Wages of Sin", który ukazał się w 2001 roku. Wydawnictwo było promowane podczas koncertów w Stanach Zjednoczonych po których Angela Gossow zyskała miano pierwszej i najważniejszej wokalistki w historii death metalu. Arch Enemy w składzie z Angelą nagrał kolejne pięć studyjnych albumów.
W 2011 roku po czterech latach przerwy zespół wydał pierwszy studyjny album. Na swoim dziewiątym albumie grupa nadal obraca się wokół death metalu o heavymetalowym zacięciu, bogato inkrustowanym melodiami, agresywną chwytliwością i strzelistymi solówkami. Tym razem Arch Enemy odnowili współpracę z producentem Rickardem Bergtssonem, który w 2005 roku odpowiadał za brzmienie płyty "Doomsday Machine". Okładkę "Khaos Legions" zaprojektował uznany artysta Brent Elliott White (Megadeth, Death Angel). ---rmf.fm
download (mp3 @VBR kbs):
yandex mediafire uloz.to mega 4shared cloudmailru gett