3 Doors Down – Time Of My Life [Deluxe Edition] (2011)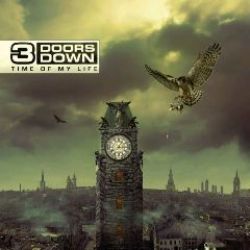 01 – Time Of My Life			play
02 – When You're Young
03 – Round And Round
04 – Heaven
05 – Race For The Sun
06 – Back To Me
07 – Every Time You Go			play
08 – What's Left
09 – On The Run
10 – She Is Love
11 – My Way
12 – Believer
13 – When You're Young (Acoustic)
14 – Every Time You Go (Acoustic)
15 – The Silence Remains
16 – Train (Demo)

Personnel
    Brad Arnold - Lead Vocals
    Matt Roberts - Lead Guitar, Backing Vocals
    Chris Henderson - Rhythm Guitar
    Todd Harrell - Bass
    Greg Upchurch - Drums

Time of My Life is an album by American rock band 3 Doors Down, released on July 19, 2011. It is the band's fifth studio album after their self-titled album released in 2008. On July 22, 2010, the band stated during a concert in London, Ontario, Canada that they were due to start recording their new record the very next week. They also performed a new song, confirming it was going to be on the next record, entitled "On the Run."
In October 2010, the band finished the recording process of the new album in Los Angeles, CA, with Grammy nominated Howard Benson taking the role as producer. On October 27, 2010, 3 Doors Down performed at the T.J. Martell Foundation for Leukemia, Cancer and AIDS Research event held in New York City. In an interview at the event, lead singer Brad Arnold revealed the album title as "Time Of My Life." In addition, it was confirmed the band were looking to release the upcoming album in February 2011.
On January 10, 2011, it was confirmed the first single from the album, entitled "When You're Young", was to be released to radio the very same day.
On March 31, 2011, 3 Doors Down announced that "Time of My Life" was set to be released on July 19, 2011. Brad Arnold spoke very positively of the album's heavier sound, "This record shows some growth on our part. We've had success in the past and we're very thankful for that, but there's always room to… take it up to another level. And I feel like we did that. There's a lot of songs that people can immediately identify with. We just really wanted to do our best on this record, and looking back on the whole experience, I can really say that we did."
"When You're Young" was used by WWE on the April 15, 2011 episode of WWE Smackdown and later featured on every WWE programming in a video retrospective to Edge on the night that he surrendered the World Heavyweight Championship for the last time after he announced on WWE Raw that he is forced to retire from in ring competition due to a career threatening injury.
On May 19, 2011, it was announced the second single from the album, entitled "Every Time You Go", was to be released to digital outlets on May 23, 2011.
Initial reviews of the album seem positive, with one reviewer claiming its a "ballsy, rock'n'roll effort" whilst giving us a hint of some of the lyrical content to come.
download (mp3 @320 kbs):
yandex 4shared mega mediafire uloz.to cloudmailru gett