Sharon Lewis & Texas Fire – Grown Ass Woman (2016)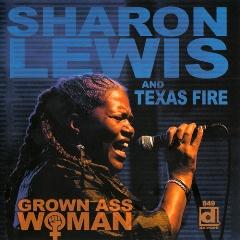 1	Can't Do It Like We Do	4:17
2	Hell Yeah !	3:25
3	Chicago Woman	4:10
4	They're Lying	5:05
5	Don't Try To Judge Me	3:19
6	Old Man's Baby	4:51
7	Grown Ass Woman	3:14
8	Walk With Me	3:13
9	Freedom	4:08
10	Call Home	2:50
11	Home Free Blues	4:40
12	High Road	3:26
13	Why I Sing The Blues	4:40
14	Soul Shine	4:55

Sharon Lewis - vocals
Steve Bramer - guitar
Roosevelt Purfoy - keyboards
Andre Howard - bass
Tony Dale - drums
+
Sugar Blue - harmonica (1, 12)
Steve Bell - harmonica (6)
Joanna Connor - slide guitar (3, 9)
Horn section: (2, 4, 8, 10)
Kenny Anderson - trumpet
Hank Ford - tenor sax
Jerry DiMuzio - baritone sax

"We ain't gon' play no rock and roll. We got the Blues with a whole lotta soul," sermonizes chantress Sharon Lewis on track 2, "Hell Yeah!" And she ain't jivin'. Hailing originally from Fort Worth, she migrated to Chicago and became active in Chitown's Blues scene in the early '90's. She burned through several bands and stages , becoming a Windy City favorite and in 2005 created a new presence with her Band Texas Fire.
Grown Ass Woman is a defiant statement that exalts the Blues as an art form the genesis of which sprang from the African experience, synthesized, or desensitized, if you will, by the current sense of culture in America. It's like she might be saying we know where the Blues came from, but where it's headed might not be a good space or the right place.
Texas Fire consists of Sharon Lewis on vocals, Steve Bramer on guitar, Roosevelt Purfoy on keys, Andre Howard on bass and Tony Dale on drums. Ms. Lewis wrote six of the fourteen tracks and Mr. Bramer wrote six. The band does two covers, B.B. King's "Why I Sing The Blues," and the Allman Brothers' "Soul Shine."
On track 1, "Can't Do It Like We Do," Ms. Lewis comes out smokin' and makes it personal stating the obvious–Nobody does Chicago Blues like Chicago Blues people. "They can't shuffle like Billy Branch, or slow Blues like Magic Sam," proclaims as the band jumps behind a scorching Sugar Blue lead on harp. Later in the song she also reveals that nappy hair is also a prerequisite. Not to mention the fire in the belly!
Track 3, "Chicago Woman," features the scorching slide of Joanna Conner who might not have the naps, but her chops are all the way down. Paired with Sharon Lewis' vocals, this song is indeed a testament to Chicago Blues Women.
This is a great album. The Chicago Blues are always out front but one can also hear snatches of Southern Soul and other influences. Track 4, "They're Lying," has chord similarities to the Floyd Cramer Rockabilly/Country hit from 1960, "Last Date."
Sharon Lewis and Texas Fire are a powerful band whose future seems boundless. She might've been sown in Fort Worth but is definately Chicago grown. ---bluesblastmagazine.com
download (mp3 @320 kbs):
yandex mediafire ulozto gett bayfiles