Massenet - Manon (Plasson) [1983]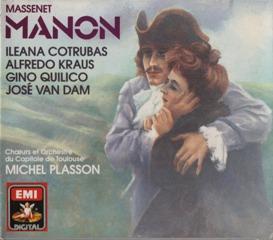 Disc: 1
1. Prelude - Orch Du Capitole De Toulouse/Miachel Plasson
2. Act I: Hola! He! Monsieur L'Hotelier! - Ghyslaine Raphanel/Colette Alliot-Lugaz/Martine Mahe/Charles Brules/Jean-Marie Fremeau...
3. Act I: Allez A L'auberge Voisine - Choeur Du Capitole De Toulouse/Guy Lhomme/Gino Quilico/Roger Trentin/Jean Melac
4. Act I: Je Suis Encore Tout Etourdie - Ileana Cotrubas
5. Act I: Revenez, Guillot, Revenez! - Ghyslaine Raphanel/Colette Alliot-Lugaz/Martine Mahe
6. Act I: Regardez-Moi Bien Dans Les Yeux - Gino Quilico
7. Act I: Voyons, Manon, Plus De Chimeres - Ileana Cotrubas
8. Act I: Et Je Sais Votre Nom - Alfredo Kraus/Ileana Cotrubas
9. Act I: Plus Un Sou! Le Tour Est Plaisant! - Gino Quilico/Charles Brules/Jean-Marie Fremeau/Jacques Loreau/Ghyslaine Raphanel...
10. Act II: Prld - Orch Du Capitole De Toulouse/Michel Plasson
11. Act II: On L'Appelle Manon - Ileana Cotrubas/Alfredo Kraus
12. Act II: Enfin, Les Amoureux, Je Vous Tiens Tous Les Deux! - Gino Quilico/Jean-Marie Fremeau
13. Act II: Allons! Il Le Faut - Ileana Cotrubas
14. Act II: Je Ne Suis Que Faiblesse - Ileana Cotrubas
15. Act II: Adieu, Notre Petite Table - Ileana Cotrubas
16. Act II: En Fermant Les Yeux - Choeur Du Capitole De Toulouse/Guy Lhomme
17. Act III, Scene 1: Entracte - Minuet - Orch Du Capitole De Toulouse/Michel Plasson
18. Act III, Scene 1: C'est Fete Au Cours-La-Reine - Choeur Du Capitole De Toulouse/Guy Lhomme
19. Act III, Scene 1: La Charmante Promenade - Ghyslaine Raphanel/Colette Alliot-Lugaz
20. Act III, Scene 1: A Quoi Bon L'economie - Gino Quilico
21. Act III, Scene 1: Voici Les Elegantes! - Choeur Du Capitole De Toulouse/Guy Lhomme
22. Act III, Scene 1: Je Marche Sur Tous Les Chemins! - Ileana Cotrubas

Disc: 2
1. Act III, Scene 1: Gavotte: Obeissons Quand Leur Voix Appelle - Ileana Cotrubas/Choeur Du Capitole De Toulouse/Guy Lhomme
2. Act III, Scene 1: Pardon! Mais J'etais La - Ileana Cotrubas/Jose Van Dam
3. Act III, Scene 1: Preambule: L'Opera, Voici L'Opera! - Jean-Marie Fremeau/Choeur Du Capitole De Toulouse/Guy Lhomme/Charles Brules
4. Act III, Scene 1: Ballet - Orch Du Capitole De Toulouse/Michel Plasson
5. Act III, Scene 1: Non, Sa Vie A La Mienne... - Ileana Cotrubas/Gino Quilico/Charles Brules/Choeur Du Capitole De Toulouse/Guy Lhomme
6. Act III, Scene 2: Quelle Eloquence! - Choeur Du Capitole De Toulouse/Guy Lhomme
7. Act III, Scene 2: Epouse Quelque Bonne Fille - Jose Van Dam
8. Act III, Scene 2: Je Suis Seul... Ah! Fuyez, Douce Image - Alfredo Kraus
9. Act III, Scene 2: Pardonnez-Moi, Dieu De Toute Puissance - Ileana Cotrubas
10. Act III, Scene 2: Oui, Je Fus Cruelle Et Coupable! - Ileana Cotrubas/Alfredo Kraus
11. Act III, Scene 2: N'est-ce Plus Ma Main Que Cette Main Presse? - Ileana Cotrubas
12. Act IV: Le Jouer Sans Prudence Livre Tout Au Hasard - Choeur Du Capitole De Toulouse/Guy Lhomme
13. Act IV: A L'hotel De Transylvanie - Ghyslaine Raphanel/Colette Alliot-Lugaz/Martine Mahe
14. Act IV: C'est Ici Que Celle Que J'aime - Gino Quilico
15. Act IV: J'enfourche Aussi Pegase - Charles Brules
16. Act IV: Manon! Manon! Sphinx Etonnant... - Alfredo Kraus/Ileana Cotrubas/Gino Quilico
17. Act IV: A Nous Les Amours Et Les Roses - Ileana Cotrubas/Ghyslaine Raphanel/Colette Alliot-Lugaz/Martine Mahe
18. Act IV: Oui, Je Viens T'arracher A La Honte! - Jose Van Dam/Ghyslaine Raphanel/Colette Alliot-Lugaz/Martine Mahe
19. Act V: Manon, Pauvre Manon! - Alfredo Kraus/Gino Quilico/Choeur Du Capitole De Toulouse/Guy Lhomme
20. Act V: Tu Pleures! - Ileana Cotrubas/Alfredo Kraus

Manon – Ileana Cotrubas, soprano
Le Chevalier des Grieux - Alfredo Kraus, tenor
Lescaut – Gino Quilico, baritone
Le Comte des Grieux – Jose van Dam, bass
Guillot de Morfontain – Charles Burles, tenor
De Bretigny – Jean-Marie Fremeau, baritone
Pousette – Ghyslaine Raphanel, soprano
Javotte – Colette Allioz-Lugaz, soprano
Rosette – Martine Mahe, mezzo-soprano
L'Hotelier – Jacques Loreau, baritone

Choeurs et Orchestre du Capitole de Toulouse
Michel Plasson – conductor

This Manon has long been overshadowed by great recordings with the likes of Beverly Sills, Victoria de Los Angeles, and Angela Gheorghiu as the opera's title role. Ileana Cotrubas was a Romanian soprano famous for singing lighter roles, most notably a Violetta with Carlos Kleiber on Deutsche Grammophone. I own that recording, and I find that out of the several Violettas who have turned the opera into fodder for the soprano voice, Cotrubas gives it a dimension and perspective that only a few singers like Maria Callas did in their career. She probes into the character like no other and dazzles us with coloratura that the soprano could call her own. She also had an innocent quality about her voice which made her less lusty but more feminine than Maria. These are the reasons why I bought this recording of Manon.
I have heard several Manon's, the latest being Renee Fleming's disaster on Sony. Her extremely mannered character and jazzy swoops, scoops, and slides are totally uncalled for in a repertoire where style is everything. None of that, gladly, can be found in this performance. With a voice slightly darker than Sills and a quality as smooth and beautiful as de los Angeles and a command of the French language than can put many French Manons to shame, Cotrubas is my reference Manon. She is coquettish, flirtatious, frivolous, and correctly sad and full of abandon in the latter acts. She shows Manon's development as a character perfectly as no other singer ever did in their recordings. She should be a model for all singers who wish to interpret this role.
Cotrubas is partnerred by Alfredo Kraus' De Grieux, who is perhaps the best exponent of a role taken by beefier tenors lacking in style and lighter tenors who ought to sing more Taminos before taking on this very passionate, poetic, and ardent role. De Grieux lies within Kraus' comfortable range, and I find that he brings out more colors and emotions with his singing of this role than other tenors. He also sings all of De Grieux's notes with a charm and elegance rare among the breed of lighter tenors that dominate today's market. The Comte de Grieux is taken by Jose Van Dam, one of the baritones of the last few decades who brought a special touch to everything he sang without the overly decadent mannerisms associated with Fischer Dieskau. I love this singer's work, and he perhaps makes this role more special than any other person who sang the role.
Michel Plasson, a French conductor who gave us some of the best recordings of his native country's operas, brings a quasi-impressionistic-Romantic feel to this opera, which perfectly suits Massenet's orchestration. This is the definitive recording of Manon, so grab it while EMI has it in circulation still. --- The Cultural Observer, amazon.com
download: uploaded yandex anonfiles 4shared mediafire solidfiles mega filecloudio nornar