Offenbach - Les Brigands (Gardiner) [2003]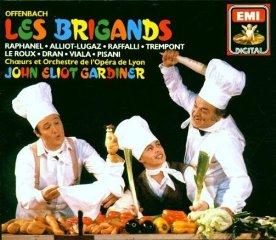 CD 1
  1. Ouverture
  2. Acte 1 : Le Cor Dans La Montagne
  3. Acte 1 : Déjà Depuis Une Grande Heure
  4. Acte 1 : Qui Est Celui Qui Par Les Plaines
  5. Acte 1 : Strette
  6. Acte 1 : Voilà Donc Ce Qu'il Faut
  7. Acte 1 : Au Chapeau Je Porte Une Aigrette
  8. Acte 1 : Eh Bien, Qu'est-Ce Que Vous Avez A Faire Ces Têtes
  9. Acte 1 : Nous Avons Pris Ce Petit Homme
  10. Acte 1 : Est-Ce Que L'on Va Devenir Plus Sage?
  11. Acte 1 : Quand Tu Me Fis L'insigne Honneur
  12. Acte 1 : Eh Voilà Ce Qui Devait Arriver
  13. Acte 1 : Nous Avons Pris Ce Petit Homme
  14. Acte 1 : Fiorella, Tu As Beaucoup Changé
  15. Acte 1 : Après Avoir Pris A Droite
  16. Acte 1 : Eh Bien, Ce Jeune Homme?
  17. Acte 1 : Ce Petit Est Un Vrai Luron
  18. Acte 1 : Il Faut Savoir Ce Qu'il Y A Dans Cette Valise
  19. Acte 1 : Pour Cette Cérémonie

CD 2
  1. Acte 2 : Entracte
  2. Acte 2 : Les Fourneaux Sont Allumés
  3. Acte 2 : Monsieur Pipo
  4. Acte 2 : Soyez Pitoyables
  5. Acte 2 : Lâchez-Moi, Espèce De Voyou!
  6. Acte 2 : Hé! Là! Hé! Là!
  7. Acte 2 : Bravo! C'est Très Bien
  8. Acte 2 : Arrête-Toi Donc, Je T'en Prie
  9. Acte 2 : A Nous, Holà!
  10. Acte 2 : Dissimulons, Dissimulons
  11. Acte 2 : Alors, Nous Avons L'honneur
  12. Acte 2 : Entrez-Là! Genade, Infante Des Espagnes
  13. Acte 2 : Enfin Nous Sommes Arrivés
  14. Acte 2 : Vraiment Je N'en Sais Rien
  15. Acte 2 : Vos Appartements Sont Préparés
  16. Acte 2 : Entrez-Là! Tous Sans Trompettes Ni Tambours
  17. Acte 3 : Entracte
  18. Acte 3 : L'aurore Paraît
  19. Acte 3 : Bravo, Bravo!
  20. Acte 3 : O Mes Amours, O Mes Maîtresses
  21. Acte 3 : Voici Venir La Princesse
  22. Acte 3 : Ainsi, Princesse, Vous Etes De Grenade?
  23. Acte 3 : Coquin, Brigand, Traître

Tibère Raffali (Falsacappa)
Colette Alliot-Lugaz (Fragoletto )
Michel Trempont (Pietro)
Bernard Pisani (Antonio)
Jean-Luc Viallat ( Le Comte de Gloria Cassis)
Francois Le Roux (Baron de campo Tassso)
Thierry Dran (Le Prince)
René Schirrer (Chef des Carabiniers)
Christian Jean (Carmagnola)

Chœur & Orchestre de l'Opéra de Lyon 
John Eliot Gardiner - conductor

It's impossible to come away from an Offenbach operetta without a smile on your face, and this work is no exception. While by no means one of his more celebrated works it is a musical delight, gleaming with good humour from start to finish and Gardiner's performance and this recording do it full justice.
The plot concerns a group of bandits in northern Italy, led by Falsacappa, who have fallen on hard times. In order to gain some ready cash they intervene in the Duke of Mantua's plans to marry the princess of Granada, passing off Falsacappa's daughter, Fiorella, as the princess. They are horrified to find that the Mantuan treasury is empty due to administrative embezzlement, but in the end all is forgiven and the Duke's treasurer arranges a loan to cover everyone's expenses. Like many of Offenbach's other operettas the plot satirises certain decadent aspects of Second Empire France which the audience would surely have recognised, such as the governmental incompetence which leads to the empty treasury, or the incompetent Carabinieri who always turn up too late to be of any use. The work is musically more sophisticated than its plot would suggest: in particular the way it pokes fun at figures of authority like the Duke, or the harrumphing music associated with the officers of the law. In contrast, the music for the bandits themselves is consistently light-hearted and fun and quite touching when it comes to the young lovers, Fiorella and Fragoletto. The arrival of the delegation from Granada provides a welcome opportunity for some Spanish colour.
Gardiner's performance dates from towards the end of his time as director of the Opera de Lyon and, while it may not be as widely loved as his recording of Chabrier's L'Etoile, it is every bit as successful. There is a wonderful feeling of ensemble about the performance and you very much get the feeling that this was a true company effort without imported superstars. The performers are all extremely well suited to their roles, led by the roguish, throaty tenor of Raffall as Falsacappa. He clearly lives and breathes this music, as do the female leads. Perhaps Ghislaine Raphanel is a little too edgy as his daughter Fiorella, failing to convey the winsome youthfulness of this character. Mezzo Colette Alliot-Lugaz, however, is outstanding in the breeches role of Fragoletto, her dark, fruity tone providing a rich contrast between the two lovers: compare their two entrance arias (CD 1, tracks 7 and 11) to see what I mean. All of the other soloists are excellent, but you don't come away from this set marvelling at star performances: instead it's the sense of ensemble that sticks with you. Take, for example, the Act 2 trio (CD 2, track 8) where the voices blend with each other as if they've been doing this sort of thing for their whole lives. Marvellous! The chorus work is fantastic too, be they roguish bandits or incompetent Carabinieri, and the finales of each act, where each of these elements comes together, are quite splendid. Unsurprisingly in view of their conductor, the orchestra plays with transparency and clarity which really opens up the textures, nowhere more strikingly than in the clipped, bright opening. Recorded sound is EMI's best, clear and immediate.
All of this is shaping up, then, for a top recommendation, but EMI fall down badly in the presentation of this set. It's a budget double re-release so, unsurprisingly, there are no texts or translations. Contextual notes are provided but the synopsis included is ridiculously brief and really will not do for the listener who wants to follow the work in any level of detail. The CD sleeve claims that the libretto can be found on EMI's website, but I searched long and hard and couldn't find it anywhere. EMI need to set this right in order for this set to have the widespread appeal it so clearly deserves. ---Simon Thompson, musicweb-international.com
download (mp3 @320 kbs):
salefiles yandex 4shared mega mediafire zalivalka cloudmailru uplea