Buika - Mi Nina Lola (2006)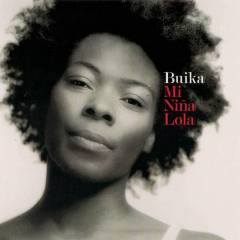 1 	Mi Niña Lola 	4:29
2 	Ojos Verdes 	5:27
3 	Te Camelo 	3:54
4 	Ay De Mi Primavera	4:26
5 	A Mi Manera	5:27
6 	Nostalgias    (Bass – Daniel Martínez Izquierdo)  	4:09
7 	Triunfo 	3:08
8 	Bulería Alegre 	3:38
9 	Love	2:35
10 	Loca	3:36
11 	Jodida Pero Contenta 	5:44

Lead Vocals, Backing Vocals – Buika
Acoustic Guitar [Flamenco Guitar] – Niño Josele
Backing Vocals, Handclaps [Palmas] – Barriga Blanca, El General
Bass – Alain Pérez (tracks: 1 to 5, 7 to 11)
Drums – Horacio "El Negro" Hernandez
Percussion, Backing Vocals, Handclaps [Palmas] – Ramón Porrina
Piano – José Reinoso (tracks: 1 to 4, 6 to 8, 10, 11)
Strings – Manuel Martínez, Pere Bardagí
Trumpet – Jerry González
Vocals [Voz Flamenca Invitada] – Montse Cortés

Released in 2006, Mi Niña Lola is the third album from Spanish singer Buika, and her second release from that year. Besides her usual mixing of flamenco music with R&B and jazz, Buika has included some traditional copla songs, including the title track. Guitarist Niño Josele provides accompaniment while flamenco veteran Javier Limón handles production. --- David Jeffries, AllMusic Review
Buika mixes contemporary production techniques with modern flamenco. It is very strong, indeed, I might say super-strong except it is no match for Mi Nina Lola, which mixes flamenco and jazz using acoustic instruments.
So when Concha digs her roots we get flamenco and jazz with touches of contemporary, hip-hop influenced pop. Again, it is both totally unexpected and totally delightful. The material is first rate. The arrangements are both appropriately and paradoxically both spare and simultaneously rich. The conceptual beauty and handsome execution notwithstanding, the real unifying chord is Concha Buika's exquisite vocal work.
I had a hard time choosing the feature song. Finally, I boiled it down to "Nostalgias" and "Mi Nina Lola." "Lola" got the nod simply because it is her major hit throughout Spain even among hardcore flamenco critics. One man noted he disliked the strings but absolutely adored the singing.
One other small note: Concha's judicious use of English phrases as hooks and as part of choruses helps non-Spanish speaking listeners relate to her music. I don't think it's accidental but at the same time I don't think it is a commercial calculation.
I think Concha Buika is genuinely and deeply smitten by jazz and evidences it throughout her recordings. In many ways she represents one of the most authentic black diaspora voices in contemporary music. Or as she notes in "New Afro Spanish Generation," her anthem from Buika, she represents a quiet revolution. --- kalamu.com
download (mp3 @320 kbs):
yandex 4shared mega mediafire uloz.to cloudmailru uptobox ge.tt