Papa Lightfoot ft. Sammy Myers – Blue Light (2013)
Papa Lightfoot ft. Sammy Myers – Blue Light (2013)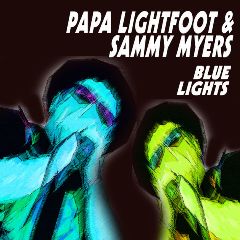 1.Wine, Women & Whiskey	2:11
2.Jump the Boogie	2:21
3.Mean Ol' Train	2:29
4.P.L.Blues	2:22
5.When the Saints Go Marchin' In	2:34
6.Blue Lights	2:25
7.Mean Ol' Train - Version 2	2:11
8.Wild Fire	2:23
9.Jumpin' with Jarvis	2:16
10.Rub a Little Boogie		2:26
11.Mr. Ticket Agent	2:39
12.Coming Back Home		2:38
13.Creole Gal Blues	2:32
14.She'll Be Mine After a While		2:58
15.Mean Ol' Train - Version 3		2:12
16.Sleeping in the Ground	(Sammy Myers)	2:36
17.My Love Is Here to Stay	(Sammy Myers)	2:30
18.You Don't Have to Go	(Sammy Myers)	2:30
19.Sad, Sad Lonesome Day	(Sammy Myers)	2:54
20.Look on Yonder Wall	(Sammy Myers)	2:28
21.Poor Little Angel Child	(Sammy Myers)	2:33
22.Rhythm with Me	(Sammy Myers)		1:47

Many of today's top blues harp players mention Papa Lightfoot on their list of favorite harp players, yet he only recorded a handful of singles and one LP, which is a testament to his ability (and unique approach) on the harp.
Born Alexander Lightfoot in Natchez, Mississippi, very little is known about this extraordinarily talented harp blower. Worked in the Natchez, MS and New Orleans, LA areas performing music & musical impersonations. After his initial recordings on the Sultan & Alladin labels, Lightfoot traveled on various Rhythm & Blues touring shows, even some including Rice Miller (Sonny Boy Wlliamson #2). Also toured with the Horace Heidt Orchestra after winning their talent contest in the mid-1950's.
His recording session for the Imperial label (resulting in the songs "Wine, Women & Whiskey", "Jump The Boogie", "Mean Old Train" and "When the Saints Go Marching In") from the early 1950's still stands as one of the most referred-to sessions for "totally cool & influential" harp playing amongst blues harp players and aficionados worldwide. In 1970, Papa Lightfoot performed at the Ann Arbor Blues Festival. Unfortunately before he had a chance to have a bigger comeback on the blues circuit, he died in November 1971. --- badassharmonica.com
Born Samuel Joseph Myers in Mississippi, Sam actually started out on trumpet & drums and became proficient enough to earn himself a music scholarship in Chicago. From the early 1950's on, Sam was jamming and performing with some of the great talents in the Windy City, including Howlin' Wolf, Jimmy Rogers and Elmore James, with whom he would back up on drums during live performances and gigs for the better part of the late 1950's and early 1960's. In the 1960's he moved back in the Jackson, MS area and performed mostly in the local surrounding areas and recorded on the TJ Records label on his own and with the Mississippi Delta Blues Band.
In the mid 1980's Sam met up with Texas guitar talent Anson Funderburgh and started recording and performing (on vocals & harmonica) with Anson & The Rockets. This lead to tours worldwide and many acclaimed albums for the Black Top & Bullseye labels, being billed as Anson Funderburgh & The Rockets featuring Sam Myers. Sam had one final solo recording left in him – "Coming From The Old School" on Electro-Fi (2004) before he passed in 2006. ---badassharmonica.com
download (mp3 @320 kbs):
yandex 4shared mega mediafire uloz.to cloudmailru gett