Sofia Gubaidulina – St John Passion - St John Easter (2007)
Sofia Gubaidulina – St John Passion - St John Easter (2007)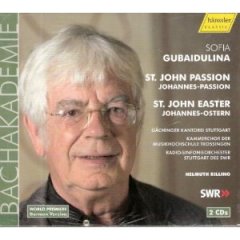 CD1: Passion
1. Johannes-Passion, for soloists, double chorus, organ & orchestra: Das Wort (The Word) 
2. Johannes-Passion, for soloists, double chorus, organ & orchestra: Fußwaschung (The Washing of Feet) 
3. Johannes-Passion, for soloists, double chorus, organ & orchestra: Das Gebot des Glaubens
 (The Commandment of Faith) 
4. Johannes-Passion, for soloists, double chorus, organ & orchestra: Das Gebot der Liebe
 (The Commandment of Love) play
5. Johannes-Passion, for soloists, double chorus, organ & orchestra: Hoffnung (Hope) 
6. Johannes-Passion, for soloists, double chorus, organ & orchestra: Liturgie im Himmel (Liturgy in Heaven) 
7. Johannes-Passion, for soloists, double chorus, organ & orchestra: Verrat, Verleugnung,
 Geißelung, Verurteilung 
8. Johannes-Passion, for soloists, double chorus, organ & orchestra: Gang nach Golgatha
 (The Way to Golgotha) 
9. Johannes-Passion, for soloists, double chorus, organ & orchestra: Eine Frau, mit der Sonne bekleidet
 (A Woman Clothed with the Sun) 	
10. Johannes-Passion, for soloists, double chorus, organ & orchestra: Grablegung (Entombment) 
11. Johannes-Passion, for soloists, double chorus, organ & orchestra: Die sieben Schalen des Zorns
 (The Seven Bowls of Wrath)

CD2: Easter
1. Johannes-Ostern (St. John Easter), for soloists, double chorus, organ & orchestra: Ostermorgen
 (Easter Morning) 	
2. Johannes-Ostern (St. John Easter), for soloists, double chorus, organ & orchestra: Maria Magdalena
 (Mary Magdalene) 	
3. Johannes-Ostern (St. John Easter), for soloists, double chorus, organ & orchestra: Erste Erscheinunge
 des auferstandenen Christus vor 	
4. Johannes-Ostern (St. John Easter), for soloists, double chorus, organ & orchestra: "Ich glaube nicht"
 ("I will not Believe") play	
5. Johannes-Ostern (St. John Easter), for soloists, double chorus, organ & orchestra: Der Reiter auf dem
 weißen Pferd (The Rider on a Wh 	
6. Johannes-Ostern (St. John Easter), for soloists, double chorus, organ & orchestra: Zweite Erscheinunge
 des auferstandenen Christus vo 	
7. Johannes-Ostern (St. John Easter), for soloists, double chorus, organ & orchestra: Intermedium (Interlude) 	
8. Johannes-Ostern (St. John Easter), for soloists, double chorus, organ & orchestra: "Ich bin das lebendige
 Brot" ("I am the Living Bre 	
9. Johannes-Ostern (St. John Easter), for soloists, double chorus, organ & orchestra: Die Finsternis vergeht
 (The Darkness is Passing Aw 	
10. Johannes-Ostern (St. John Easter), for soloists, double chorus, organ & orchestra: Dritte Erscheinunge des
 auferstandenen Christus vo 
11. Johannes-Ostern (St. John Easter), for soloists, double chorus, organ & orchestra: Das Gericht
 (The Judgement) 
12. Johannes-Ostern (St. John Easter), for soloists, double chorus, organ & orchestra: "Und ich sah einen
 neuen Himmel und eine neue Erde

Julia Sukmanova (soprano)
Corby Welch (tenor)
Bernd Valentin Bariton (baritone)
Nicholas Isherwood (bass)

Stuttgart Radio Symphony Orchestra,  Gächinger Kantorei Stuttgart,  
Trossingen College Of Music Chamber Choir
Helmuth Rilling (Conductor)

Live: Stuttgart 2/2007

It seemed odd to me that Hänssler Classic would put out a second recording of Gubaidulina's St. John Passion to compete with its Valery Gergiev-led version nominated for the 2002 Grammy Award for Best Choral Performance. That was until I read the booklet note and realized that both the St. John Passion, composed in 2000, and the St. John Easter, composed in 2001 as a sequel to it but not previously recorded, were both revised by Gubaidulina in 2006. The earlier recording, in Russian, contained only the Passion, and required a second disc because of its 90-minute length. This new recording not only includes the St. John Easter sequel, but also the 2006 revisions made by the composer to both scores. And, at the behest of Helmuth Rilling, who encouraged Gubaidulina to collaborate on a German translation of the Russian texts, the works are here given in their German version. This is also a "live" recording in quotes, meaning it was distilled from more than one performance presented at Suttgart's Beethovensaal in mid-February 2007.
My first encounter a dozen or so years ago with the music of this enigmatic and ascetic Russian composer did not augur a happy future. It was a Sony disc of solo piano pieces played by Andreas Haefliger; and it instantly called to mind something I believe Stravinsky said upon hearing a performance of Gubaidulina's 1965 Piano Sonata: "I finally understand the meaning of the Iron Curtain." That, coming from Stravinsky of all people, was sufficient to reinforce my own reaction to the harsh, metallic clanging and banging sounds emanating from my speakers. Apparently, Gubaidulina's music was also misunderstood by the Soviet apparachniks who called it "irresponsible," and even by Shostakovich who half-heartedly or perhaps tongue-in-cheek lent her his support by advising her to continue down her "mistaken path."
Well, all of that is history, and Sofia Gubaidulina (b. 1931) has emerged as one of the shining lights among post-Soviet-era Russian composers. So much so, in fact, that she was one of the four composers chosen to commemorate the 250th anniversary of Bach's death by composing a work for the Stuttgart Internationale Bachakademie and Helmuth Rilling's "Passion 2000" festival. The other invitees were Tan Dun, Osvaldo Golijov, and Wolfgang Rihm. Gubaidulina's contribution was the St. John Passion. Robert Kirzinger reviewed the previous Hänssler Classic release in 25:3 and chose the recording for his 2002 Want List.
The work stands steadfastly in the Russian Orthodox tradition, which comes as no surprise, given Gubaidulina's deep immersion in religion and numerical mysticism. Combining elements of solo vocal declamation with choral passages based on Orthodox chants, a somber and often dark orchestral backdrop heavily reliant on low brass, bells, and other percussion instruments, the Passion also contains fleeting references to Bach's music, some more suggestive than actual. The work departs, however, from the Bach model not only in its "consistent darkness of expression and austere musical materials," to quote Kirzinger, but also in Gubaidulina's interpolation of texts from Revelations.
Dramatic, yes, but also static in that chant-like style that is not atypical of music born of the Russian Orthodox tradition. Powerful and moving, yes, but also menacing and "awful" in the sense of being filled with trembling and dread in the presence of the Last Judgment. This Passion and its St. John Easter sequel paint essentially grim visions of a future that awaits us all, affording little comfort or relief. This Gubaidulina achieves through a variety of vocalization techniques—whispering, yowling, shouting, and intoning on two or three repeated notes—and orchestral effects ranging from startling percussion to snarling brass, buzzing strings, and shrieking winds. There are passages where the instruments are called upon to play in their comfortable ranges and in traditional ways, but they never seem to last very long. Invoking musical typology, I would have to say that the closest antecedent to Gubaidulina's St. John Passion and St. John Easter would be Penderecki's 1966 St. Luke Passion, though in retrospect, 40 years on, Penderecki's work still sounds more modern and shocking than Gubaidulina's.
The performances on this new recording are chilling in the way they capture the "Day of Wrath" convulsive fury of these scores. All participants—solo singers, choirs, orchestra, and conductor—are outstanding; but I would especially heap praise on Nicholas Isherwood who takes the role of narrator (Bach's Evangelist). He is a constant presence, and his black-as-coal subterranean bass voice is thrilling. ---Jerry Dubins
download:  yandex 4shared mediafire
Last Updated (Tuesday, 21 July 2015 13:47)