Blind Willie Johnson ‎– The Rough Guide To Blues Legends: Blind Willie Johnson (2013)
Blind Willie Johnson ‎– The Rough Guide To Blues Legends: Blind Willie Johnson (2013)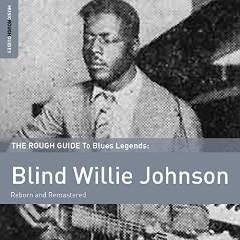 CD1: The Rough Guide To Blues Legends: Blind Willie Johnson
1-1 	–Blind Willie Johnson 	God Moves On The Water 	3:03
1-2 	–Blind Willie Johnson 	Dark Was The Night, Cold Was The Ground 	3:24
1-3 	–Blind Willie Johnson 	Keep Your Lamp Trimmed And Burning 	3:07
1-4 	–Blind Willie Johnson 	Jesus Make Up My Dying Bed 	3:16
1-5 	–Blind Willie Johnson 	John The Revelator 	3:21
1-6 	–Blind Willie Johnson 	It's Nobody's Fault But Mine 	3:13
1-7 	–Blind Willie Johnson 	I Know His Blood Can Make Me Whole 	3:07
1-8 	–Blind Willie Johnson 	Let Your Light Shine On Me 	3:13
1-9 	–Blind Willie Johnson 	Mother's Children Have Hard Time 	3:26
1-10 	–Blind Willie Johnson 	You're Gonna Need Somebody On Your Bond 	3:12
1-11 	–Blind Willie Johnson 	I'm Gonna Run To The City Of Refugee 	3:27
1-12 	–Blind Willie Johnson 	Lord I Just Can't Keep From Crying 	3:05
1-13 	–Blind Willie Johnson 	God Don't Never Change 	3:01
1-14 	–Blind Willie Johnson 	Bye And Bye I'm Going To See The King 	2:56
1-15 	–Blind Willie Johnson 	Sweeter As The Years Roll By 	2:49
1-16 	–Blind Willie Johnson 	The Rain Don't Fall On Me 	3:23
1-17 	–Blind Willie Johnson 	When The War Was On 	3:06
1-18 	–Blind Willie Johnson 	The Soul Of A Man 	3:18
1-19 	–Blind Willie Johnson 	Can't Nobody Hide From God 	3:25
1-20 	–Blind Willie Johnson 	Trouble Soon Be Over 	3:11
1-21 	–Blind Willie Johnson 	If I Had My Way I'd Tear The Building Down 	3:12
1-22 	–Blind Willie Johnson 	Jesus Is Coming Soon 	3:13

Bonus CD: The Rough Guide To Gospel Blues Legends
2-1 	–Reverend Gary Davis 	The Angels Message To Me 	3:06
2-2 	–Bukka White 	I Am In The Heavenly Way 	3:07
2-3 	–Skip James 	Jesus Is A Mighty Good Leader 	3:04
2-4 	–Roosevelt Graves And Brother 	Woke Up This Morning With My Mind On Jesus 	2:55
2-5 	–Blind Willie And Kate McTell 	God Don't Like It 	2:51
2-6 	–Mississippi John Hurt 	Blessed Be The Name 	2:58
2-7 	–Blind Joe Taggart 	God Gonna Separate The Wheat From The Tares 	2:47
2-8 	–Blind Lemon Jefferson 	He Arose From The Dead 	2:47
2-9 	–Rev Edward Clayborn (The Guitar Evangelist) 	This Time Another Year You May Be Gone 	2:55
2-10 	–Bull City Red 	I Saw The Light 	3:10
2-11 	–Charley Patton And Bertha Lee 	Oh Death 	2:54
2-12 	–Josh White 	Jesus Gonna Make Up My Dying Bed 	3:09
2-13 	–Blind Mamie Forehand 	Honey In The Rock 	2:47
2-14 	–Barbecue Bob 	Jesus Blood Can Make Me Whole 	3:08
2-15 	–Blind Willie Davis 	I Believe I'll Go Back Home 	3:08
2-16 	–Mother McCollum 	You Can't Hide 	2:36
2-17 	–Jaybird Coleman 	I'm Gonna Cross The River Of Jordan Some O' These Days 	3:07
2-18 	–Blind Gussie Nesbit 	Pure Religion 	3:25
2-19 	–Washington Phillips 	Denomination Blues 	5:36

Blind Willie Johnson was a fire-and-brimstone guitar evangelist who played sacred songs so mean that his legacy has gone down in blues history. Revel in the mesmerizing bottleneck guitar playing of the Texas blues preacher on remastered classics as 'Dark Was The Night, Cold Was The Ground', and 'God Moves On The Water'.
In early 1920s Texas, on the streets of Marlin, Blind Willie Johnson used to sit busking, his low moaning voice and gutsy guitar penetrating the daily humdrum of life. Although this same street-side musician went on to record thirty sides for Columbia, Johnson never thirsted to be a musician and was instead intent on preaching the gospel.
His deep-held dedication to his faith is heard in his compositional style and song choices, many of which were adapted from old hymns. 'Let Your Light Shine On Me' was a popular hymn published by the evangelist Homer Rodeheaver in the early 1920s and 'Dark Was The Night, Cold Was The Ground' is a lyric taken direct from a hymn titled 'Gethsemane', written by English clergyman Thomas Haweis in 1792.
Another gospel inflected number, 'If I Had My Way I'd Tear The Building Down' references the biblical narrative of Samson and Delilah, drawing on themes of deceit and corruption. Legend has it that Johnson was nearly arrested for attempting to incite a riot by singing this song outside a New Orleans Custom House. To elicit such a strong reaction from the authorities, Johnson sure must have been playing up a storm and enticing the crowds.
World Music Network have painstakingly remastered the warped and hissing recordings that exist of Johnson, and on this Rough Guide his slide guitar technique sparkles and fizzes out across the texture like never before. As testament to his earth-shaking and historically significant style, Johnson's recording of 'Dark Was The Night, Cold Was The Ground' was included on the Voyager space probe, a rocket that was sent on a mission to seek out other life forms in the universe.
After you have devoured the main disc, enjoy the bonus disc and raise the roof with more of the best gospel from the likes of Reverend Gary Davis, Bukka White, Edward Clayborn, Jaybird Coleman and more. Like Blind Willie Johnson, these artists straddled the line between the Lord's song and that of the old blues style. ---worldmusic.net
download (mp3 @320 kbs):