Big Joe Williams Willie Love Luther Huff ‎– Delta Blues 1951 (1990)
Big Joe Williams Willie Love Luther Huff ‎– Delta Blues 1951 (1990)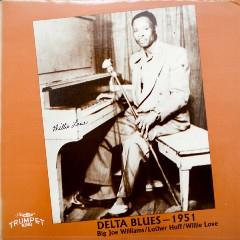 1 	–Big Joe Williams & His 9-String Guitar 	Delta Blues 	2:37
2 	–Big Joe Williams & His 9-String Guitar 	Mama Don't Allow Me 	2:37
3 	–Big Joe Williams & His 9-String Guitar 	She Left Me A Mule 	2:25
4 	–Big Joe Williams & His 9-String Guitar 	Bad Heart Blues 	2:39
5 	–Big Joe Williams & His 9-String Guitar 	Juanita 	2:30
6 	–Big Joe Williams & His 9-String Guitar 	Friends & Pals 	2:29
7 	–Big Joe Williams & His 9-String Guitar 	Over Hauling Blues 	2:40
8 	–Big Joe Williams & His 9-String Guitar 	Whistling Pines 	2:26
9 	–Luther Huff 	1951 Blues 	2:34
10 	–Luther Huff 	Dirty Disposition 	2:37
11 	–Luther Huff 	Bull Dog Blues 	2:43
12 	–Luther Huff 	Rosalee 	2:25
13 	–Willie Love & His Three Aces 	Everybody's Fishing 	2:14
14 	–Willie Love & His Three Aces 	My Own Boogie 	2:55
15 	–Willie Love & His Three Aces 	74 Blues 	2:54
16 	–Willie Love & His Three Aces 	Shady Lane Blues 	2:44
17 	–Willie Love & His Three Aces 	21 Minutes To Nine 	2:27
18 	–Willie Love & His Three Aces 	Vanity Dresser Boogie 	2:22

Bass – T.J. Green (3-8, 15-18)
Drums – Alex Wallace (13,14), 
Guitar - Elmore James (13,14), Joe Willie Wilkins (13,14), Little Milton Campbell (5-18), Luther Huff (9,10), Percy Huff (9-12)
Mandolin – Luther Huff (11,12)
Tenor Saxophone – Otis Green (13,14)
Vocals – Luther Huff (9-12)
Vocals, Guitar – Joe Lee William (1-8)
Vocals, Piano – Willie Love (13-18)
Backing Vocals – Elmore James (13), Joe Willie Wilkins (13)

Big Joe Williams and His 9-String Guitar
Tracks 1-2, Scott's Radio Service, Jackson, Mississippi, 1951
Tracks 3-8, Cedars Of Lebanon Club, Jackson, Mississippi, 1951

Luther Huff
Tracks 9-12, Scott's Radio Service, Jackson, Mississippi, 1951

Willie Love and His Three Aces
Tracks 13-14, Scott's Radio Service, Jackson, Mississippi, 1951
Tracks 15-18, Musician's Union Hall, Jackson, Mississippi, 1951

Great compilation from Jackson, Mississippi's Trumpet Records. Features early 50s sides by Big Joe Williams, wonderful acoustic duets by The Huff Brothers and the last recordings of original King Biscuit Boy Willie Love. A wonderful document. --- allmusic.com
This album features material by three very different performers: Big Joe Williams, Luther Huff, and Willie Love.
The Big Joe Williams tracks are solid Delta blues -- Joe is playing his amplified 9-string guitar, tuned to "Spanish" tuning, and for most of the tracks is unaccompanied (a few have him with a bassist). They are fine examples of Big Joe Williams' repetoire and style -- howling slide, booming bass polyrhythms, etc. These are the best pieces on here, the songs that make me rate this five stars.
Luther Huff was obscure amateur musician who played parties with his brother. The Huff brothers played in a style associated less with the Delta sound and more with the Jackson-area blues exemplified by Tommy Johnson. Their recordings are masterpieces of interplay between mandolin, guitar, and vocals.
Willie Love was a wonderful barrelhouse pianist and singer, whose best recordings are (in my opinion) found on the album "Clownin' With the Blues" which also features Sonnyboy Williamson (Alec Miller). But that doesn't mean the recordings on this album are bad. Noone could stomp out a boogie and shout slurred lyrics like Willie Love. He is backed up by a stellar electric band (Little Milton and Elmore James are in there). ---Ian Herrick, amazon.com
download (mp3 @192 kbs):
yandex 4shared mega mediafire uloz.to cloudmailru