Peter Green – 30 Most Slow Blues (2017)
Peter Green – 30 Most Slow Blues (2017)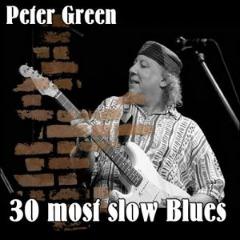 01 – Loser Two Times
02 – What Am I Doing Here
03 – One More Night Without You
04 – Big Boy Now
05 – Born Under A Bad Sign
06 – The Clown
07 – When It All Comes Down
08 – Black Woman
09 – Honey Bee
10 – Baby When The Sun Goes Down
11 – Bandit
12 – Little Red Rooster
13 – Zulu Gone West
14 – Blowing All My Troubles Away
15 – Must Be A Fool
16 – Same Old Blues
17 – Fallin' Apart
18 – Liquor And You
19 – Nobody Knows You When You're Down And Out
20 – One Woman Love
21 – Cryin' Won't Bring You Back
22 – Help Me Through The Day
23 – Indian Lover
24 – Sweet Sixteen
25 – Man Of The World
26 – Who's That Knocking
27 – Blues Don't Change
28 – Crawlin' King Snake
29 – Dead Shrimp Blues
30 – Albatross

Peter Green is regarded by some fans as the greatest white blues guitarist ever, Eric Clapton notwithstanding. Born Peter Greenbaum but calling himself Peter Green by age 15, he grew up in London's working-class East End. Green's early musical influences were Hank Marvin of the Shadows, Muddy Waters, B.B. King, Freddie King, and traditional Jewish music. He originally played bass before being invited in 1966 by keyboardist Peter Bardens to play lead in the Peter B's, whose drummer was a lanky chap named Mick Fleetwood. The 19-year-old Green was with Bardens just three months before joining John Mayall's Bluesbreakers, whose rapidly shifting personnel included bassist John McVie and drummer Aynsley Dunbar. A keen fan of Clapton, Green badgered Mayall to give him a chance when the Bluesbreakers guitarist split for an indefinite vacation in Greece. Green sounded great and, as Mayall recalls, was not amused when Clapton returned after a handful of gigs, and Green was out.
When Clapton left the band for good six months later to form Cream, Mayall cajoled Green back. Fans were openly hostile because Green was not God, although they appreciated Clapton's replacement in time. Producer Mike Vernon was aghast when the Bluesbreakers showed up without Clapton to record the album A Hard Road in late 1966, but was won over by Green's playing. On many tracks you'd be hard-pressed to tell it wasn't Clapton playing. With an eerie Green instrumental called "The Supernatural," he demonstrated the beginning of his trademark fluid, haunting style so reminiscent of B.B. King.
When Green left Mayall in 1967, he took McVie and Fleetwood to found Peter Green's Fleetwood Mac. Jeremy Spencer and Danny Kirwan shortly afterward gave Fleetwood Mac an unusual three-guitar front line. Green was at his peak for the albums Mr. Wonderful, English Rose, Then Play On, and a live Boston Tea Party recording. His instrumental "Albatross" was the band's first British number one single and "Black Magic Woman" was later a huge hit for Carlos Santana. But Green had been experimenting with acid and his behavior became increasingly irrational, especially after he disappeared for three days of rampant drug use in Munich. He became very religious, appearing on-stage wearing crucifixes and flowing robes. His bandmates resisted Green's suggestion to donate most of their money to charity, and he left in mid-1970 after writing a harrowing biographical tune called "The Green Manalishi."
After a bitter, rambling solo album called The End of the Game, Green saddened fans when he hung up his guitar, except for helping the Mac complete a tour when Spencer suddenly joined the Children of God in Los Angeles and quit the band. Green's chaotic odyssey of almost a decade included rumors that he was a gravedigger, a bartender in Cornwall, a hospital orderly, and a member of an Israeli commune. When an accountant sent him an unwanted royalty check, Green confronted his tormentor with a gun, although it was unloaded. Green went to jail briefly before being transferred to an asylum.
Green emerged in the late '70s and early '80s with albums In the Skies, Little Dreamer, White Sky, and Kolors, featuring at times Bardens, Robin Trower drummer Reg Isidore, and Fairport Convention drummer Dave Mattacks. He reprised the Then Play On Mac standard "Rattlesnake Shake" on Fleetwood's solo 1981 album, The Visitor. British author Martin Celmins wrote Green's biography in 1995. Psychologically troubled, on medication, and hardly playing the guitar for most of the '90s, the reclusive Green resumed sporadic recording in the second half of the decade. He surfaces unexpectedly from time to time, most prominently January 12, 1998, when Fleetwood Mac was inducted into the Rock & Roll Hall of Fame. In a rare, perfect moment, Green jammed with fellow inductee Santana on "Black Magic Woman." ---Mark Allan, allmusic.com
download (mp3 @320 kbs):
yandex mediafire uloz.to cloud.mail.ru