Ludomir Rozycki - Orchestral Works
Ludomir Różycki - Orchestral Works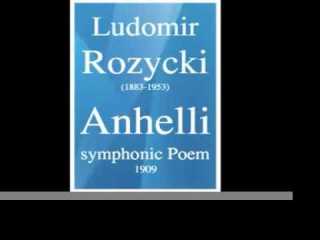 1. Ballade for piano & orchestra, Op.2
2. Symphonic Scherzo for orchestra. Op.1, Stanczyk 
3. Anhelli, symphonic poem for orchestra, Op.22
4. King Cophetua, symphonic poem for orchestra, Op.24
5. Mona Lisa, symphonic prelude, Op.29

Barbara Hesse-Bukowska – Piano
Polish National Opera Orchestra & Chorus
Polish Radio Orchestra & Chorus Katowice
Jan Krenz – conductor
Janusz Przybylski – conductor
Wojciech Czepiel – conductor

Ludomir Różycki, composer, conductor and pedagogue; born 18 September 1883 in Warsaw; died 1 January 1953 in Katowice.
Różycki studied the piano in the class of Aleksander Michałowski, theory under Gustaw Rogulski and Michał Biernacki, and composition under Zygmunt Noskowski at the Warsaw Music Institute. Having graduated with a gold medal in 1904, he continued studying composition under Engelbert Humperdinck at the Akademie der Künste in Berlin in 1904-7.
His composing debut was the symphonic scherzo Stańczyk op. 1, performed at the Warsaw Philharmonic in February 1904, with Emil Młynarski as the conductor. In 1905 he and Karol Szymanowski, Grzegorz Fitelberg and Apolinary Szeluto set up the Spółka Nakładowa Młodych Kompozytorów Polskich / Company of Young Polish Composers - a group whose purpose was to promote the new Polish music abroad. It did so until 1912. In 1907, having refused the appointment as professor at the Oslo Conservatory, Różycki moved to Lvov to work as the city's opera conductor and to run the piano class at the Galician Music Society Conservatory. His symphonic poem Krol Kofetua / King Cofetua op. 24 won the first prize at the composition contest marking the 10th anniversary of the Warsaw Philharmonic in 1912. From 1912 to 1918 he stayed in Berlin, making artistic trips chiefly to Switzerland, Italy and France, and in 1918 returned to Warsaw and was for a while a conductor at the Teatr Wielki.
In the inter-war period Różycki did journalistic, organisational and pedagogical work. He was instrumental in establishing the Polish Composers' Association in 1926 and became its first chairman. In 1930-32 he lectured at the Warsaw Conservatory. During World War II he took part in underground concerts as a pianist and accompanist. After the Warsaw Rising of 1944, during which many of his manuscripts burned down, he took refuge in Osieczany near Cracow. After the war he settled in Katowice, taking a teaching job at the National Higher School of Music. In 1945-6 he was acting Dean of the School's Department of Theory, Composition and Conducting. The last years of his life were spent reconstructing the scores which had perished during the war.
Różycki received a number of awards and decorations, including the Officer's Cross of the Order Polonia Restituta in 1925, the Gold Medal of the French Government for the ballet Apollo i dziewczyna / Apollo and the Girl and the National Music Award for the opera Eros and Psyche in 1937, the Golden Cross of Merit in 1946, the Order of the Standard of Labour of First Class in 1950, the Commodore's Cross with the Polonia Restituta Star in 1951, and the State Award of the First Degree for life achievement in 1952. He was a member of the Polish Composers' Union from 1945. --- culture.pl
Kompozytor, dyrygent i pedagog. Urodzony 18 września 1883 w Warszawie, zmarł 1 stycznia 1953 w Katowicach.
Studiował grę na fortepianie w klasie Aleksandra Michałowskiego, teorię u Gustawa Rogulskiego i Michała Biernackiego oraz kompozycję pod kierunkiem Zygmunta Noskowskiego w Instytucie Muzycznym w Warszawie, który ukończył w 1904 ze złotym medalem. W latach 1904-07 kontynuował studia kompozytorskie u Engelberta Humperdincka w Akademie der Künste w Berlinie.
Jako kompozytor zadebiutował scherzem symfonicznym Stańczyk op. 1 wykonanym w lutym 1904 w Filharmonii Warszawskiej pod batutą Emila Młynarskiego. W 1905, wspólnie z Karolem Szymanowskim, Grzegorzem Fitelbergiem i Apolinarym Szeluto, założył Spółkę Nakładową Młodych Kompozytorów Polskich - ugrupowanie działające do 1912 na rzecz promocji nowej muzyki polskiej za granicą. W 1907, po odrzuceniu propozycji objęcia stanowiska profesora Konserwatorium w Oslo, przeniósł się do Lwowa, gdzie przez 4 lata pracował jako dyrygent opery i prowadził klasę fortepianu w Konserwatorium Galicyjskim Towarzystwa Muzycznego. W 1912 zdobył I nagrodę za poemat symfoniczny Król Kofetua op. 24 na konkursie kompozytorskim zorganizowanym z okazji 10-lecia Filharmonii Warszawskiej. Od 1912 do 1918 przebywał w Berlinie, skąd odbywał podróże artystyczne m.in. do Szwajcarii, Włoch i Francji. W 1918 powrócił na stałe do Warszawy - tu przez krótki czas był dyrygentem w Teatrze Wielkim.
W okresie międzywojennym zajmował się działalnością publicystyczną, organizacyjną i pedagogiczną. W 1926 współuczestniczył w założeniu Stowarzyszenia Kompozytorów Polskich i został jego pierwszym prezesem. W latach 1930-32 wykładał w Konserwatorium Warszawskim. W czasie II wojny światowej brał udział w konspiracyjnych koncertach jako pianista i akompaniator. Po klęsce Powstania Warszawskiego, w czasie którego spłonęło wiele jego rękopisów, Różycki schronił się w Osieczanach koło Krakowa. Po zakończeniu wojny zamieszkał w Katowicach, gdzie podjął pracę pedagogiczną w Państwowej Wyższej Szkole Muzycznej. W latach 1945-46 pełnił obowiązki dziekana Wydziału Teorii, Kompozycji i Dyrygentury katowickiej uczelni. Ostatnie lata życia spędził nad rekonstrukcją partytur zniszczonych podczas wojny.
Ludomir Różycki otrzymał wiele nagród i odznaczeń, m.in. w 1925 Krzyż Oficerski Orderu Polonia Restituta, w 1937 złoty medal Rządu Francuskiego za balet Apollo i dziewczyna oraz Państwową Nagrodę Muzyczną za operę Eros i Psyche, w 1946 Złoty Krzyż Zasługi, w 1950 Order Sztandaru Pracy I klasy, w 1951 Krzyż Komandorski z Gwiazdą Polonia Restituta, w 1952 Nagrodę Państwową I stopnia za całokształt twórczości. Od 1945 był członkiem Związku Kompozytorów Polskich. ------ culture.pl
download: uploaded filecloudio yandex 4shared mediafire solidfiles mega nornar ziddu