Les Plaisirs du Palais (2007)
Les Plaisirs du Palais (2007)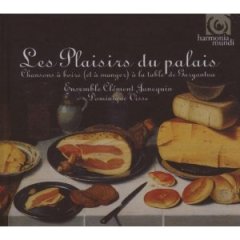 Disc: 1
1. Nous Sommes De L'ordre De Saint Bobuyn
2. Autant En Emporte Le Vent
3. Je Ne Menge Point De Porc
4. Mille Regres
5. N'as Tu Poinct Mis Ton Hault Bonnet
6. Vien Tost
7. La Brosse
8. Or Oiez Les Introites De Taverne
9. Ce N'est Pas Trop
10. Dessus Le Marche Darras
11. Puisqu'ainsi Est
12. Las Il N'a Nul Mal
13. Las Je M'y Plains, Piece D'orgue
14. Je Prens Congies
15. Une Fillette Bien Gorriere
16. Imcessament Suis Triste Et Doloreux
17. Ramonez Moy Ma Cheminee
18. Du Laid Tetin
19. Scaramella
20. Pavane Et Gagliarde De 'La Guerre'
21. Fors Seulement
22. La, La, La, Je Ne L'ose Dire
23. Souspir D'amours, Pensee De Plaisir
24. Celle Fillette a Qui Le Tetin Point
25. A Blien Grant Tort
26. La Fricassee

Disc: 2
1. Priere Devant Le Repas: O Souverain Pasteur
2. En Tour La Feste Saint Martin
3. En Languissant Avoir Secours J'attens
4. C'est Tout Abus
5. Triquedon Daine
6. Hau, Hau Je Boys
7. Je Pers Espoir
8. Aupres De Vouis a 2 Voix
9. Secouez Moy
10. Si Vous N'avez Madame
11. La Chasse Au Lievre
12. Bransle De Champaigne Alemande Du Pied De Cheval Bransle De Poictou
13. Que N'est Elle Aupres De Moy
14. Aupres De Vous a 4 Voix
15. Ung Souvenir Me Conforte
16. Laissons Amour
17. Mirelaridon
18. Musae Jovis
19. Pour Quelque Paine Que J'endure
20. Ung Vray Musicien
21. Priere Apres Le Repas: Pere Esternel

Ensemble Clement Janequin
Dominique Visse – director

This is a package reissue of two discs, one from 1994 and the other from 2001. HM has one full fledged in this with a deluxe booklet in a hardcover set complete with texts, (some) translations (HM claims some of these lyrics are non-translatable—a cop out, in my opinion, since they are so involved and long, and necessary to understand the songs, and given in the original French), and wonderful pictures to adorn the pages listing genuine Renaissance recipes!
But this is a music set after all, so what of it? The "Feast" disc is from the first half of the 16th century, during the time of Francois Rabelais. For those who do not know him, Wikipedia lists him as "an avantgarde writer of fantasy, satire, the grotesque, dirty jokes and bawdy songs." This pretty much sums up the lyrics on this disc. For those who remember the old Dorian disc with the Baltimore Consort titled "The Art of the Bawdy Song", you will understand immediately—just translate it into French and there you have it. But the music, bawdy or not, by composers like Nicholas Gombert and Clemens non Papa, is quite often complex and quite wonderful.
The other disc about drinking and (mostly) eating songs also features some of the same composers and are tinged with bawdiness. So ultimately this pairing was a smart one, as much of the same ground is covered by both, though I feel that the second disc is perhaps a little more lyrical and songlike than the first. Much of this music sound very difficult to perform, and the Ensemble Clement Janequin really throw themselves into it and bring these one-time popular chansons to light.
Strangely enough, Amazon.com has this listed at $45, while Archivmusic.com has it at $39, but lists it as only one disc. HM should look into this. Deluxe packaging or not, I would completely bolt at the idea of paying $40 for this, especially as it is not a new recording. But if you can find it priced more reasonably, and the genre interests you, the performances are first rate. --- Steven Ritter, audaud.com
download: uploaded yandex 4shared mediafire solidfiles mega filecloudio nornar
Last Updated (Friday, 04 April 2014 21:59)