Michael Nyman - Mozart 252 (2008)
Michael Nyman - Mozart 252 (2008)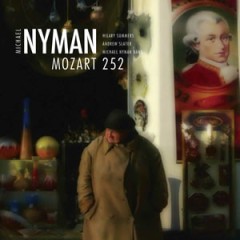 1 	In Re Don Giovanni 	2:37
2 	Revisiting The Don 	4:25
3 	Trysting Fields 	7:16
4 	Not Knowing The Ropes 	1:46
5 	Wedding Tango 	4:46
6 	Wheelbarrow Walk 	2:35
7 	Fish Beach 	2:51
8 	Knowing The Ropes 	6:33
9 	O My Dear Papa		5:28
10 	I Am An Unusual Thing	6:21
11 	Profit And Loss	5:47

The Michael Nyman Band:
Baritone Saxophone – Andrew Findon
Bass Guitar – Martin Elliott
Bass Vocals – Andrew Slater 
Cello – Tony Hinnigan
Contralto Vocals – Hilary Summers
Euphonium – Nigel Barr
Flute – Andrew Findon
Flute [Piccolo] – Andrew Findon
Horn – David Lee
Piano – Michael Nyman, Simon Chamberlain
Soprano Saxophone, Alto Saxophone – David Roach, Simon Haram
Trombone [Bass] – Nigel Barr
Trumpet – Nigel Gomm, Steve Sidwell
Viola – Kate Musker
Violin – Catherine Thompson, Fiona McNaught, Gabrielle Lester, Ian Humphries
Directed By [Musical Director], Composed By, Producer, Liner Notes – Michael Nyman

Mozart has been essential to the Michael Nyman Band since its formation as the Campiello Band in 1977. The first Campiello Band concert, in the Foyer of the National Theatre, featured Nyman's celebrated classic, In Re Don Giovanni, in which the first 16 bars of the 'Catalogue Song' was stripped down and reassembled into a singular combination of western classical music, rock 'n' roll and minimalism.
Nyman has gone on to reference Mozart in several of his film scores and compositions. In 2006 the BBC commissioned Nyman to assemble a collection of his Mozart-based scores for the 250th anniversary of Mozart's birth. Two years on (hence the title Mozart 252!) and Nyman has recorded a fully orchestrated album of the material including gems In Re Don Giovanni and Revisiting the Don.
The album features two main bodies of Mozart-derived works, the first is the soundtrack for Peter Greenaway's Drowning by Numbers, and is an 'exploration' of the rhythmic, melodic and harmonic qualities that Nyman found so mysteriously attractive in the slow movement of the Sinfonia Concertante for violin and viola [which Greenaway had specified should be the source for the whole soundtrack!].
The second score draws from Letters, Riddles and Writs, a BBC2-commissioned homage to Mozart written in 1991. The film portrays Mozart (played by Ute Lemper) on his deathbed conducting an imaginary performance of The Magic Flute as he muses on his life's predicaments. Thoughts of his troubled relationship with his father are illustrated in a remake of 'O Isis and Osiris, his dire financial situation is played out in 'Profit and Loss and the tragedy of dying while still at the height of his creativity is echoed in 'I am an Unusual Thing'. His (imaginary) annoyance of realising that Michael Nyman has plagiarised his 'Haydn' quartets also makes up a large part of the score! ---naxosdirect.dk
download (mp3 @320 kbs):