Vincenzo Bellini – Norma (Callas) [1955]
Vincenzo Bellini – Norma (Callas) [1955]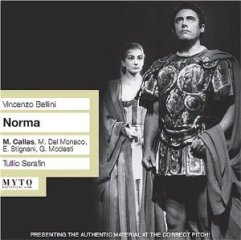 Disc: 1
1. Norma, opera: Act 1. Ouverture
2. Norma, opera: Act 1. Ite sul colle, o Druidi;
3. Norma, opera: Act 1. Dell'aura tua profetica,
4. Norma, opera: Act 1. Svanîr le voci! e dell'orrenda selva
5. Norma, opera: Act 1. Meco all'altar di Venere
6. Norma, opera: Act 1. Me protegge, me difende
7. Norma, opera: Act 1. Norma viene: le cinge la chioma
8. Norma, opera: Act 1. Sedizïose voci.
9. Norma, opera: Act 1. Introduzione strumentale
10. Norma, opera: Act 1. Casta Diva, che inargenti
11. Norma, opera: Act 1. Fine al rito, e il sacro bosco
12. Norma, opera: Act 1. Ah! bello a me ritorna
13. Norma, opera: Act 1. Introduzione Scena quinta
14. Norma, opera: Act 1. Sgombra è la sacra selva:
15. Norma, opera: Act 1. Eccola. Va, mi lascia,
16. Norma, opera: Act 1. Va, crudele, e al Dio spietato
17. Norma, opera: Act 1. Vieni in Roma, ah! vieni, o cara,
18. Norma, opera: Act 1. Vanne, e li cela entrambi.
19. Norma, opera: Act 1. Adalgisa!... Alma costanza.
20. Norma, opera: Act 1. Oh! rimembranza! io fui
21. Norma, opera: Act 1. Ah sì, fa core, abbracciami.
22. Norma, opera: Act 1. Ma di'... l'amato giovane

Disc: 2
1. Norma, opera: Act 1. Oh, non tremare, o perfido,
2. Norma, opera: Act 1. Oh! di qual sei tu vittima
3. Norma, opera: Act 1. Perfido!... Or basti.
4. Norma, opera: Act 1. Vanne, sì, mi lascia, indegno;
5. Norma, opera: Act 2. Introduzione
6. Norma, opera: Act 2. Dormono entrambi...
7. Norma, opera: Act 2. Teneri figli,
8. Norma, opera: Act 2. Me chiami, o Norma?...
9. Norma, opera: Act 2. Deh! con te, con te li prendi...
10. Norma, opera: Act 2. Mira, o Norma, a' tuoi ginocchi
11. Norma, opera: Act 2. Cedi!... deh! cedi!
12. Norma, opera: Act 2. Sì, fino all'ore estreme
13. Norma, opera: Act 2. Non partì?
14. Norma, opera: Act 2. Guerrieri! a voi venirne
15. Norma, opera: Act 2. Ah! del Tebro al giogo indegno
16. Norma, opera: Act 2. Ei tornerà. Sì, mia fidanza è posta
17. Norma, opera: Act 2. Né compi il rito, o Norma?
18. Norma, opera: Act 2. In mia mano alfin tu sei;
19. Norma, opera: Act 2. Dammi quel ferro.
20. Norma, opera: Act 2. Qual cor tradisti, qual cor perdesti
21. Norma, opera: Act 2. Norma!... deh! Norma! scòlpati...
22. Norma, opera: Act 2. Deh! non volerli vittime 

Maria Callas (Soprano - Norma)
Giulietta Simionato (Mezzo Soprano - Adalgisa)
Mario Del Monaco (Tenor - Pollione)
Nicola Zaccaria (Bass - Orveso)
Gabriella Carturan (Mezzo Soprano - Clotilde)
Giuseppe Zampieri (Tenor - Flavio)

Orquestra e Coro do Teatro Alla Scala
Antonino Votto – director

Although Maria Callas has made two fine studio recordings of NORMA for EMI, this live recording of a performance at La Scala in 1955 provides a much more thrilling experience for the listener despite its obvious sonic limitations.
Norma was one of Callas's greatest roles but the extra dose of adrenalin in this live performance may have made it probably the most intense of her Normas that have been captured on records. Compared with the two studio versions, Callas's interpretation of the part is more refined and feminine than in the earlier mono set, and she is in better vocal shape than in the stereo version. As always, she lavishes great attention on the text and is able to illuminate every phrase (including those in the recitatives) with meaning. She shapes Bellini's long phrases stylishly and elegantly and enhances their expressivity through the employment of a wide palette of tone colours and a broad dynamic range. Her control of rhythm, especially in florid passages, and her ability to integrate each phrase into an organic whole, are also evidence of her marvellous musicianship. On a pure vocal level, once her voice has warmed up during her first scene, she sounds totally comfortable in this most demanding role and her masterful handling of the roulades and those athletic sprints to the High Cs in "Ah, non tremare" are simply stunning. She is also able to heighten the dramatic impact by capping the trio with a stupendous High D, which she didn't attempt for her studio recordings.
The cast in this performance is also better than those assembled by EMI. Mario del Monaco, while not being a very subtle singer, makes a heroic Pollione. His clarion voice and confident singing renders him a good dramatic partner for Callas in their duets and ensembles.
In the pit, Antonio Votto and the La Scala orchestra not only provide excellent support to the singers, their playing is also committed and passionate which, for example, contributes much to the white-heat intensity in the trio which ends the first act. In the more meditative passages, the playing is often elastic and beautifully moulded and thereby giving ample scope for the singers to make the most out of their vocal lines. ---Vincent Lau, amazon.com
download:  uploaded anonfiles mega 4shared mixturecloud yandex mediafire ziddu
Last Updated (Friday, 23 August 2013 20:32)