Gade, Lange-Muller, Langgaard – Danish Romantic Piano Trios (2015)
Gade, Lange-Muller, Langgaard – Danish Romantic Piano Trios (2015)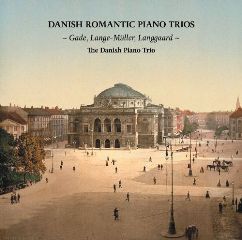 Peter Lange-Müller (1853-1926)
Piano Trio in F Minor, Op. 53
1 I. Moderato con moto 00:14:38
2 II. Allegretto piacevole – l'istesso tempo (scherzando) – Tempo I 00:07:44
3 III. Allegro con brio, ma non troppo presto 00:09:17

Niels Wilhelm Gade (1817-1890)
Piano Trio in F Major, Op. 42
4 I. Allegro animato 00:09:05
5 II. Allegro molto vivace 00:03:33
6 III. Andantino 00:03:14
7 IV. Finale: Allegro con fuoco 00:06:08
Piano Trio Movement in B-Flat Major
8 Adagio – Allegro con fuoco 00:12:06

Rued Langgaard (1893-1952)
Fjeldblomster (Mountain Flowers), BVN 34
9 Adagio molto 00:09:05

The Danish Piano Trio:
Lars Bjørnkjær - violin
Toke Møldrup - cello
Katrine Gislinge - piano 

This debut album of The Danish Piano Trio presents a fascinating string of Romantic trios. From the perfectly balanced world of Danish music's 'godfather' Niels W. Gade over the sensitive and dramatic turn-of-the-century art of P.E. Lange-Müller, the album concludes with the beautiful single-movement Mountain Flowers from 1908 by the hyper-Romantic prodigy Rued Langgaard. ---dacapo-records.dk
If you're familiar with Denmark's rich musical heritage, then you might already be predisposed to give this release a listen. If not, then let me encourage you to do so. These works compare favorably (I think) to those by the famous composers that inspired them -- Brahms, Schumann, Mendelssohn, and Wagner.
Peter Lange-Muller was a pianist as well as a composer. Robert Schumann was one of his major influences (Danish folk song being another). Indeed, his 1898 Trio for piano, violin, and cello in f minor, Op. 53 has a certain Schumann quality to it (and not just the piano part).
The work has a certain impulsive restlessness to it. But while Lange-Muller's music is highly emotional, it never threatens to go off the rails the way some of Schumann's later works seem to. Perhaps it's the folk song element that keeps the work grounded. Nevertheless, Lange-Muller's trio is an exciting and beautifully crafted work.
Niels W. Gade is represented by two works; the Piano Trio in F major, and the Piano Trio Movement. Gade became director of the Leipzig Gewandhaus Orchestra after Mendelssohn's death. His music also shows the influence of his colleague and friend. Gade was also influenced by Danish folk song. His 1863 trio has clean, uncluttered lines and the emotional restraint of Mendelssohn, but all with a completely original voice. His 1838 Piano Trio Movement is an interesting torso. The 22-year-old Gade may have been overly ambitious with his projected four-movement trio, but the surviving completed movement satisfies on its own.
Rued Langgard was best known for his orchestral works. Fjeldblomster (Mountain Flowers), written when he was fifteen, concludes the album. This short work shows Langgard's love of Wagner in its construction, and only hints at the original composer Langgard would become. ---RGraves321, hbdirect.com
download (mp3 @320 kbs):