Paolo Lorenzani - Nicandro e Fileno (2017)
Paolo Lorenzani - Nicandro e Fileno (2017)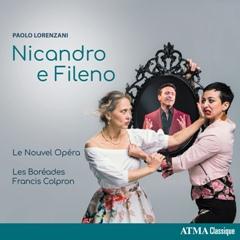 1.Amadis Ouverture - Prélude	03:11
2.Nicandro e Fileno Acte 1 - Scene 1, 2, 3 (début) Rec et air Che cura molesta!
 [Nicandro, Fileno]	08:13
3.Nicandro e Fileno Acte 1 / Scene 3 (suite) Aria: Guida mi pur Amor [Filli]	02:27
4.Nicandro e Fileno Acte 1 / Scene 4, 5 Vagha Ninfa dei cori [Eurillo, Filli]	05:18
5.Nicandro e Fileno Acte 2 / Scene 1 Aria: Nel mio core amante [Lidio]	02:33
6.Nicandro e Fileno Acte 2 / Scene 2 Aria: Alma mia godi [Clori]	01:31
7.Nicandro e Fileno Acte 2 / Scene 3 Rec.: Eco l'infido [Filli (Lidio, Clori)]	03:38
8.Nicandro e Fileno Acte 2 / Scene 4 Aria: Amor se nel tuo regno [Filli]	02:38
9.Nicandro e Fileno Acte 2 / Scene 4 Aria: Con inviti lusinghieri [Filli]	04:07
10.Nicandro e Fileno Acte 2 / Scene 5 Aria: Porto in seno in Mongibello [Eurillo (Filli)]	04:28
11.Nicandro e Fileno Acte 2 / Scene 6 Aria Cieli, e legge e questa? [Eurillo]	02:04
12.Nicandro e Fileno Acte 3 / Scene 1 Rec: E cosi và Nicandro [Nicandro, Fileno]	03:21
13.Nicandro e Fileno Acte 3 / Scene 2 Aria: Benche doppio stral mi punga [Lidio)	01:22
14.Nicandro e Fileno Acte 3 / Scene 3 Rec Filli è l'anma mia[Lidio, Clori]	01:23
15.Nicandro e Fileno Acte 3 / Scene 4 Rec: Io per Lidio parlero [Filli, (Clori, Lidio]	03:13
16.Nicandro e Fileno Acte 3 / Scene 5, 6, 7 Rec Fermati ingrato amante et Aria [Clori]	08:46
17.Nicandro e Fileno Acte 3 / Scene 8 Alternate i suoni, e canti festeggiate al mio bear
 [Clori, Filli, Lidio, Eurillo,(Nicandro) Cori dei pastori]	02:56
18.Amadis Chaconne    04:01

Nicandro - Nils Brown, tenor
Fileno - Jean-Marc Salzmann, baritone
Filli - Suzie LeBlanc, soprano
Clori - Pascale Beaudin, soprano
Lidio - Philippe Gagné, tenor
Eurillo - Dominique Côté, baritone

Les Boréades de Montréal
Francis Colpron - conductor

Opera-pastorale,
libretto by Philippe Jules Mancini, Duke of Nevers.
performed in Italian

Le Nouvel Opéra and Les Boréades de Montréal have assembled an exceptional group of artists for the first-ever recording of Nicandro e Fileno, a pastoral opera by Paolo Lorenzani (1640-1713) first performed in 1681 before Louis XIV at the palace of Fontainebleau.
The manuscript is conserved in the Bibliothèque nationale in Paris. Canadian musicologist Albert La France prepared the critical edition of Nicandro e Fileno for the Centre de Musique Baroque de Versailles. Thanks to the initiative of Suzie LeBlanc and Francis Colpron, this opera was restored to life for this recording and for the 2017 performance in Montreal, with stage direction by Marie-Nathalie Lacoursière.
Le Nouvel Opéra is dedicated to the revival of the first operas of the Baroque period. Intergrating music, dance and theatre in its productions, the company has been praised for its originality and historical expertise in Canada and abroad. Its first CD, La Conversione di Clodoveo by Antonio Caldara, was released on the ATMA Classique label.
The ensemble Les Boréades was founded in 1991 by Francis Colpron, and specializes in performing Baroque repertoire with an approach that is authentic both in terms of period performance practice and the use of period instruments. ---challengerecords.com
Italian composer Paolo Lorenzani's Nicandro e Filenohadn't been performed in its entirety in almost three centuries, and was only now brought back to life because La France, a music professor at Faculté Saint-Jean, translated the pastoral baroque opera into modern musical notation. "I find it very rewarding towards the end of my career to have this accomplishment…Ever since I started looking at Lorenzani, I knew there was this opera, and it's the only one (of his) that's survived." The pastoral Baroque opera for six singers in three acts was last performed before King Louis XIV and his court at Fontainebleau in 1681. It apparently met with glowing reviews. Lorenzani was a favourite of the French court and in fact held the post of director of the queen's music for three years until she died in 1683. Over time, however, 60 per cent of Lorenzani's compositions were lost.
Nicandro e Fileno, for example sat collecting dust without a title page in the Bibliotheque Nationale until it was discovered by Henry Prunières in 1922. It had to wait another seven decades for La France to discover it. He became interested in the composer while doing doctoral work in the late 1970s and early 1980s.
"Everyone who wrote on French music at that time all mentioned Lorenzani, that he fascinated the king and was very popular in France, but nobody had really looked at the music to see if it was true that it was so great." ---Geoff McMaster, sites.ualberta.ca
download (mp3 @320 kbs):