Gaetano Donizetti - I Pazzi per Progetto (2004)
Gaetano Donizetti - I Pazzi per Progetto (2004)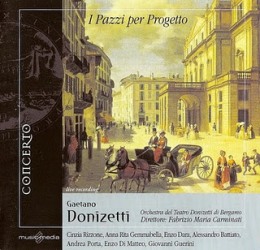 1. I pazzi per progetto, opera: Ah! ah! soliti rapporti! 	
2. I pazzi per progetto, opera: Lei venga avanti 
3. I pazzi per progetto, opera: Per me vi parlino le tante lettere 
4. I pazzi per progetto, opera: E così finalmente 	
5. I pazzi per progetto, opera: All'udir che il mio tesor 	
6. I pazzi per progetto, opera: Vorrei saper frattanto perchè mai 
7. I pazzi per progetto, opera: Che tu? Che qui? 	
8. I pazzi per progetto, opera: Io son pazzo e non son pazzo, 	
9. I pazzi per progetto, opera: Chieggo mille perdoni, o 	
10. I pazzi per progetto, opera: (Che figura graziosa!) 	
11. I pazzi per progetto, opera: Morte, perché non vieni? 	
12. I pazzi per progetto, opera: Ah! vous badinez. 	
13. I pazzi per progetto, opera: Eh! vanne... Il colonnello. 	
14. I pazzi per progetto, opera: Caro, caro a me tu sei! 			play	
15. I pazzi per progetto, opera: Si, il dottor Don Eustachio. 	
16. I pazzi per progetto, opera: Tirsi lontan da Clori 	
17. I pazzi per progetto, opera: (fedele!) Madama e del tenente 
18. I pazzi per progetto, opera: Ehi! Sergente, appena spunta 	
19. I pazzi per progetto, opera: Darlemont, a voi m'affido.			play 	
20. I pazzi per progetto, opera: Piacer sì... nuovo e grato

Darlemont - Andrea Porta
Norina - Cinzia Rizzone
Blinval - Alessandro Battiato
Cristina - Anna Rita Gemmabella
Venanzio - Giovanni Guerrini
Eustachio - Enzo Dara
Frank - Enzo Di Matteo

Orchestra Sinfonica Gaetano Donizzetti di Bergamo
Fabrizio Maria Carminati, 2000

If you wish a lesson in how not to produce and issue an unknown opera for the non-Italian public, look no further. Those words don't apply to the performance itself, which is adequate at the least, and at times more than that. But in every other way, this set is almost useless unless you speak Italian.
The Italian libretto is given, but no English text. There are English program notes, almost impossible to read (in small italic type), with an attempt at historical context for the libretto and score and the most absurdly brief plot synopsis that I have ever seen in a recording that provided any at all. I quote it in its entirety: "Norina suspects that her husband, Blinval, the Dragoons colonel from whom she has been separated for three years due to his military commitments, is not faithful. Counseled by her uncle Darlemont, who directs a mental hospital, she feigns to be crazy in order to understand if her husband still loves her or not. When Blinval understood the game, he himself feigns to be also crazy . . . until the two give up every pretence and make up." (That's it—in its entirety; the ellipsis is part of their writing, not a sign that I omitted something.)
With so little information, it is hard to assess the work or the performance. The music is light, comedic Donizetti, certainly not at his highest level found in works like L'elisir d'amore, but not without inspiration. The most unusual feature of the music is that there is no tenor in the opera, just a soprano, mezzo, baritone, and five basses! The cast is able throughout, with the major burden carried by soprano Rizzone as Norina. She has a bright and attractive voice, good pitch and rhythm, and sings pleasantly, though with little real personality. Enzo Dara injects the most energy of any singer into the performance, but the conducting seems very ordinary and square.
The live recording is generally okay, though voices sometimes seem a bit out of focus and the sound is somewhat on the bright side. There is a competing version on Bongiovanni 2070, but I have not heard it—it is a live performance from 1988. If it provides adequate singing and better documentation, it might well be preferable. There is no question that this is a charming opera that Donizetti buffs are likely to enjoy. A rudimentary knowledge of operatic Italian and the printed Italian text may well be enough to get you through it, and as I said the performance is certainly more than adequate. --- Henry Fogel, arkivmusic.com
I Pazzi per progetto ("Madmen by Design") is a farce in one act by Gaetano Donizetti to a libretto by Domenico Gilardoni.
The autographed score was preserved at the Conservatorio S. Pietro a Majella in Naples. The first performance took place at Teatro del Fondo, Naples on 7 February 1830. It was performed few more times in Naples and Palermo, and then forgotten until 1977, with a new revision edited by Maestro Bruno Rigacci of Florence. It went on stage again in the International Festival Opera Barga in 1977, achieving a resounding success with the public and the critics.
At the first performance of 1830 in Naples, some great singers of the time, as the Boccabadati and Luigi Lablache performed it in a charity event, and despite of the exceptional cast, the audience was really very meager. The work, carried out by two women curiously surrounded by five heavy voices, was divided into seven numbers linked by dry or accompanied recitatives, revealed the purest farcical style of the great composer from Bergamo, with the characters and forms typical to that style.
The plot takes place in a hospital for the insane in Paris, whose director, Darlemont, has a niece, Norina, married to Blinval, a colonel of dragoons. The remoteness of the man from his beloved wife due to military reasons and mutual jealousy are the causes of series of actions when the two meet again. Since the meeting takes place in the hospital which is managed by Norina's uncle, the two alternately pose themselves as crazy to find out the true feelings of each other, causing frantic carousel of deceptions and misunderstandings. If you add to all this a very babbler and all too sincere servant, (Frank), a deserter trumpeter who pretends to be a doctor (Eustace), a beautiful young girl (Christina), former lover of the colonel who tries to escape from her old guardian (Venanzio), who tries to make her grow mad so he can take her dowry, you have all the very well matched ingredients for a farce with all its rules. At the well designed end, peace and moral obligation are restored.
download:  uploaded anonfiles yandex 4shared solidfiles mediafire mega filecloudio
Last Updated (Wednesday, 30 October 2013 13:56)