Donizetti - Lucia di Lammermoor (Callas) [1997]
Donizetti - Lucia di Lammermoor (Callas) [1997]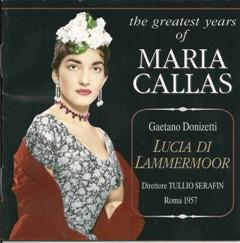 CD1
1. Prelude	2:03
2. Percorrete...Percorriamo..le spiaggie vicine		2:28
3. Tu sei turbato!...E n'ho ben d'onde		2:51	
4. Cruda, funesta smania	2:19
5. Il tuo dubbio e omai certezza...Come vinti da stanchezza	2:11	
6. La pietade in suo favore		2:01
7. Ancor non giunse?		4:21
8. Regnava nel silenzio alto la notta e bruna	4:10
9. Quando, rapito in estasi		4:27
10. Egli s'avanza...Lucia, perdone se ad ora inusitata	2:33
11. Sulla tomba che rinserra il tradito genitore	3:06
12. Qui di sposa eterna fede...Ah, soltanto il nostro foco	1:35
13. Ah, talor del tuo pensiero venga un folgio messaggero	0:53
14. Verranno a te sull'aure i miei sospiri ardenti		4:53

CD2
1. Lucia fra poco a te verra...Tremante I'aspetto		3:03
2. Appressati, Lucia...Il pallor funesto, orrendo		5:09
3. Soffriva nel pianto...Une folle t'acese		3:45
4. Che fia?...Suonar di giubilo		1:22	
5. Se tradirmi tu potrai...Tu che vedi il pianto mio		2:07
6. Per te d'immenso giubilo...Per poco fra le tenebre		3:35
7. Dov'e Lucia?...Qui giungere or la vedrem		1:50
8. Piange la madre estinta		2:25
9. Chi mi frena in tal momento		7:29
10. T'allontata, sciagurato...Rispettate in me di Dio	1:15	
11. Sconsigliato! In queste porte chi ti giuda		2:03
12. Esci, fuggi, il furor che mi accende		2:07
13. D'immenso giubilo s'innalzi un grido	2:23	
14. Dalle stanza ove Lucia tratta avea col suo consorte		2:50
15. Oh! Qual funesto avvenimento!		3:26	
16. Il doce suono mi colpi di sua voce!... Ardon gli incensi	12:22	
17. Spargi d'amaro pianto		4:06	
18. Tombe degli avi miei		4:18
19. Fra poco a me ricovero data negletto avello		3:33	
20. Oh, meschina! Oh, fato orrendo!		4:25
21. Tu che a Dio spiegasti I'ali		5:37

Maria Callas – Lucia
Ronaldo Panerai – Enrico
Eugenio Fernandi – Edgardo
Dino Formichini – Arturo
Giuseppe Modesti – Raimondo
Elvira Galassi – Alisa
Valiano Natali – Normanno

Orchestra e Coro di Roma della RAI
Tulio Serafin – conductor, 1957

This recording is not only a document of immense historical interest, it also preserves in sound what is by all standards a magnificent performance of Donizetti's opera.
At the centre of the stage is, of course, Maria Callas. Her portrayal of Lucia in the Berlin performance captured here is a trifle more pallid than that in her first EMI studio recording. Some of the vocal accentuations are also less strongly etched than previously, although there continues to be lots of interesting details in her interpretation of the part. There is, by contrast, an increased tenderness in both characterisation and vocal utterance which highlights the vulnerability and helplessness of the heroine, and thereby making the final tragedy even more shocking and poignant. The "Mad Scene" is hauntingly introspective and it is thus entirely appropriate that Callas doesn't opt for an E flat in alt at the end of "Ardon gli incensi", which otherwise would have been musically and dramatically inconsistent with the interpretation of the scene. Nevertheless, Callas is generally in very good voice and her coloratura singing in the extended cadenza in the "Mad Scene" is, barring just one unsteady B flat, impressively executed. On the whole, she has given us a mesmerising portrayal of Lucia with many vocal delights along the way.
Opposite Callas, Giuseppe di Stefano gives what must be one of his best performances as Edgardo. Not only is he in marvellous vocal form, his singing is involving and red-blooded, making him the perfect romantic hero of great ardour. He is here also more subtle and stylish than usual, caressing his lines and even individual words in the act one duet. He performs the final scene with great sensitivity and succeeds in making this scene, which can be an anti-climax in some performances, a most tragically moving one.
The other cast members are also excellent. Rolando Panerai sings lustily as Enrico and, through his vocal acting, one can almost see how he put pressure onto her poor sister. Nicola Zaccaria is a warm and sympathetic Raimondo while Giuseppe Zampieri and Luisa Villa are respectively an aristocratic Arturo and an attentive Alisa. The La Scala Chorus, despite some ragged ensemble in places, sings with feeling and panache.
And there's Herbert von Karajan. Some people may wonder whether a Karajan is necessary for this opera, which is basically a vehicle for star singers. However, under the sure hands of Karajan, the orchestral playing is not only secure, it is also impressively sculpted with lots of light and shade (and some Beethovenian accents in Act II), which makes one appreciate the score afresh. It is evident that there exists a wonderful rapport between the stage and the pit and everything coalesce into a complete, consistent and organic whole, which never fails to move and thrill the listener.
As the recorded sound is above average for a stage performance in the mid-50s, this set has provided me with immense pleasure. Not only would I put it above both the studio versions of the opera with Callas, it is, to me, the ultimate LUCIA which no one should afford to miss. ---Vincent Lau, amazon.com
download:  uploaded anonfiles yandex 4shared solidfiles mediafire mega filecloudio
Last Updated (Wednesday, 30 October 2013 00:46)