Christoph W. Gluck – Armide (La Scala 1996)
Christoph W. Gluck – Armide (La Scala 1996)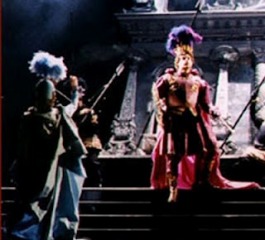 1. Part 1
2. Part 2
3. Part 3

Armide: Anna Caterina Antonacci
Hidraot: Donnie Ray Albert
Renaud: Vinson Cole
Artemidore: Christian Baumgaertel
Ubalde: Roberto de Candia
Le Chevalier Danois: Juan Diego Florez
Phenice: Adina Nitescu
Sidonie: Lotte Leitner
Aronte: Marco Camastra
La Haine: Violeta Urmana
La Naïade: Cristina Sogmaister

Riccardo Muti - La Scala - December 7, 1996

Opera 'Armide' by Christoph Willibald von Gluck: plot synopsis, character list, and other Gluck opera information. Armide, a French opera seria (drama) in five acts composed by Christoph Willibald Gluck (1714-1787). The first performance was in Paris, Académie Royale de Musique, September 23, 1777. Libretto was written by Philippe Quinault in French language, based on Gerusalemme Liberata by Torquato Tasso.
Synopsis
Act I

Scene: A hall in the palace of Armide

The magic of Armide the sorceress has triumphed over the Knights. But Armide's conquest is not complete because Renaud, one of the crusaders she loves, does not feel the same way. King Hidraot, Armide's uncle, hopes that she marries. Renaud frees Armide's prisoners. The people of Damascus celebrate their victory.
Act II

Scene: The enchanted woods

Renaud has been banished from Knights' camp. A knight warns him to beware Armide's charms that she might be using to get him. True enough, Armide lures Renaud into a forest. Renaud falls asleep. He dreams of spirits, nymphs and shepherds. Armide cannot bring herself to kill the helpless knight.
Act III

Scene: Armide visits Hades

Armide loves Renaud but still wants revenge. She fetches Hate to aid her. Armide changes her mind, and this offends Hate. From Hades, she returns to the world.
Act IV

Scene: Wild landscape and country scene. The crusader Ubalde and Danish knight fight monsters and wild beasts

Ubalde and a Danish knight defeat Armide's monster guardians with the help of a magic scepter. The Danish knight meets a demon disguised as his beloved Lucinde. Ubalde saves the Danish knight. The two men resolve not to be distracted again.
Act V

Scene: At the Palace Garden of Armide.

Armide fears she will lose Renaud, who at that moment assures her of his love. The lovers are entertained by Pleasure and her attendants. Crusader Ubalde and the Danish knight recall Renaud to his duty. Renaud leaves a heartbroken and angry Armide. Armide destroys her palace and pursues Renaud with her demons.
download: uploaded anonfiles yandex 4shared solidfiles mediafire mega filecloudio
Last Updated (Thursday, 28 November 2013 21:20)