Johann Strauss Jr. – Gypsy Baron (1952)
Johann Strauss Jr. – Gypsy Baron (1952)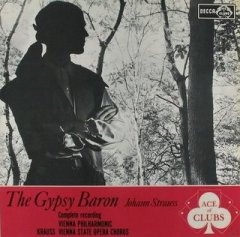 1 	Ouverture 	
2 	Nr. l Das war' kein rechter Schifferknecht -Jeden Tag Muh' und Plag' 	
3 	Dialog 	
4 	Nr. 2 Als flotter Geist 	
5 	Dialog 	
6 	Nr. 3 Wer klopft an meine Tur 	
7 	Bald wird man dich viel umwerben 	
8 	Zum Reichtum gratulier' ich Euch -Verloren hast du einen Schatz 	
9 	Das schreib dir, Alte, hinter's Ohr 	
10 	Wo bleibt der zweite Zeuge -Ja, das Schreiben und das Lesen 	
11 	Dialog 	
12 	Nr. 5 Dem Freier naht die Braut -Ein Freier meldet sich schon wieder 	
13 	Hochzeltskuchen, bitte zu versuchen 	
14 	Ich melde mich als Freier an -Ah, sieh da, ein herrlich' Frauenbild 	
15 	Dialog 	
16 	Nr. 6 So elend und so treu -O habet acht 	
17 	Dialog 	
18 	Nr. 7 Arsena! Arsena! 	
19 	O habet acht -Dieses Lied, es durchzieht 	
20 	Wie wechselvoll... -Du kannst dem Zigeuner getrost vertraun
21 	Nun zu des bosen Nachbarn Haus 	
22 	Hier In diesem Land Eure Wiege stand
23 	Wojwode der Zigeuner 	
24 	Um frech dem Ubermut zu fronen 	
25 	Nr. 8 Mein Aug'bewacht bei Tag und Nacht 	
26 	Dialog 	
27 	Nr. 9 Ein Greis ist mir im Traum erschienen 	
28 	Seht, es winkt, es blinkt 	
29 	Nr. 10 Auf, auf, vorbei ist die Nacht 	
30 	Dialog 	
31 	Nr. 11 Wer uns getraut 	
32 	Dialog 	
33 	Nr. 12 Her die Hand, es mu. ja sein-Wir alle wollen lustig sein 	
34 	Dialog 	
35 	Nr. 13 So voll Frohlichkeit 	
36 	Noch eben in Gloria 	
37 	Genug, nicht langer schweig' ich 	
38 	O welch'ein Gluck 	
39 	Weil Ich dich liebe, mu. Ich Euch verlassen -Ha, er geht 	
40 	Entr'acte
41 	Dialog 	
42 	Nr. 15 Ein Madchen hat es gar nicht gut 	
43 	Dialog 	
44 	Nr. 16 Von des Tajo Strand 
45 	Nr. 17 Hurra, die Schlacht mitgemacht 	
46 	Dialog 	
47 	Nr. 18 Reich ihm die Hand, vertraue dem Zigeuner

Alfred Poell - Graf Peter Homonay
Karl Dönch - Conte Camero
Julius Patzak - Sandor Barinkay
Kut Preger - Kalman Zsupan
Emmy Loose - Arsena
Steffi Leverenz - Mirabella
August Jaresch - Ottokar
Rosett Anday - Czipra
Hilde Zadek - Saffi
Franz Bierbach - Pali

Chorus of The Vienna State Opera
Vienna Philharmonic Orchestra
Clemens Krauss – conductor

Die Zigeunerbaron is a three-act operetta composed by Austrian composer Johann Strauss II (October 25, 1825 June 3, 1899). The libretto is written by Ignatz Schnitzer in German based on "Saffi" by Maurice Jocai. It was premiered in Vienna, Theater an der Wien, on October 24, 1885.
The Gypsy Baron is still performed today. The orchestral pieces are also well recognized, including Schatz-Walzer, op.418 (Treasure Waltz), and the polkas Brautschau, op.417, and Kriegsabenteuer, op.419 (War Adventures).
Synopsis - The Gypsy Baron
Setting is in Hungary and Vienna in the mid-18th century. Set numbers with recitative and spoken dialogue. Overture. Entr'acte before Acts II and III.
Act I. Barinkay's Ancestral Lands in Hungary
The operetta starts with Ottokar searching for the treasure supposed to be buried by the owner of the estate before he died. Czipra, an old gypsy woman, laughs at his hopeless search and teases him about his love for Arsena. The estate now belongs to Barinkay, son of the late owner of the castle who has come home to claim it. Barinkay and Carnero persuade Czipra and Zsupan to witness the document reinstating Barinkay as owner of the estate. Barinkay proposes to Zsupan's daughter, Arsena, but she refuses to marry anyone less noble than a baron.
Arsena's governess, Mirabella, recognizes Carnero as her long lost husband and the father of Ottokar. Arsena loves Ottokar and gives her a locket with his picture in it. The gypsies pledge their loyalty to Barinkay and uses this to claim he is noble a gypsy baron. Barinkay has a change of heart. He now wants to marry the gypsy Sffi, and not Arsena.
Act II. The Ruins of an Old Castle in a Gorge on the Property
Guided by his dream of Sffi, Barinkay finds the treasure. The gypsies work at forging Sffi's documents. Carnero objects that Barinkay's marriage to Sffi is not legal. When Carnero realizes that Barinkay has found the hidden treasure, he demands it on behalf of the government. Barinkay refuses. Count Homonay, a friend of Barinkay, arrives to recruit for the army. Ottokar volunteers, and Zsupan is tricked into joining. Barinkay donates his money to Homonay's cause. Czirpa reveals that Sffi is in reality a princess and daughter of the last Pasha of Hungary, and not a gypsy. Barinkay despairs. Sffi's status is now too high above him so he joins the hussars.
Act III. The Gates of Vienna, the "Ktnertor"
Two years passed. The Hungarian army returns victorious. Barinkay is made a baron as reward for his bravery and his father's treasure is returned to him. Barinkay asks for the hand of Arsena, for Ottokar and not for him. Carnero retires as commissioner while Barinkay is reunited with Sffi. ---suite.io
download: uploaded yandex 4shared mediafire solidfiles mega zalivalka filecloudio anonfiles oboom
Last Updated (Wednesday, 14 May 2014 13:36)