Chick Corea – Further Explorations (2011)
Chick Corea – Further Explorations (2011)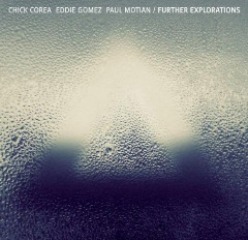 CD1:
01 – Peri's Scope		play
02 – Gloria's Step
03 – They Say That Falling In Love Is Wonderful
04 – Alice In Wonderland
05 – Song No. 1
06 – Diane
07 – Off The Cuff
08 – Laurie
09 – Bill Evans
10 – Litttle Rootie Tootie

CD2:
01 – Hot House
02 – Mode VI
03 – Another Tango
04 – Turn Out The Stars
05 – Rhapsody
06 – Very Early
07 – But Beautiful Part I	play
08 – But Beautiful Part II
09 – Puccini's Walk

Chick Corea - piano; 
Eddie Gomez - bass; 
Paul Motian - drums.

There was a time in the 1970s and early 80s when the jazz-averse, if they wanted to show why jazz couldn't touch the punch of pop or rock, would rest their case on the fragile murmurings of the acoustic piano trio. The hiss of a drummer's brushes, the murmur of apparently endless double-bass solos, seemed to sum up a supper-club music that mainly entertained its practitioners. Jazz fans knew better, but the piano threesome didn't reconnect with big audiences until Keith Jarrett formed his great Standards Trio in 1983. Brad Mehldau's group, the late Esbjörn Svensson's EST, the Bad Plus and many others have since led a renaissance in the art.
This live double album, edited from 24 sets recorded over two weeks at New York's Blue Note club in 2010, is an occasionally uneven but mostly dazzling tribute to that tradition – and to one of its greatest exponents, 1960s star Bill Evans. Pianist Chick Corea, bassist Eddie Gomez and drummer Paul Motian not only cherish Evans's romantic delicacy on these recordings, but his driving momentum and conversational relationship with his partners, too. Gomez and Motian (the maverick percussion innovator who died last November) played with Evans in his heyday, and the repertoire mixes Evans classics, originals and visits to Thelonious Monk and bop composer Tadd Dameron.
The early tracks veer toward the dinner-jazz formula, and the timbre of Eddie Gomez's amplification and the vagaries of his pitching are occasionally distracting. But Motian's elbowing, assymetrical rhythms and gong-like cymbal tones are deliciously eloquent all through the show. The fourth track, Alice in Wonderland, unleashes the group's power, with Corea tirelessly twisting and turning over Gomez's bass walk. The surges and retreats of Motian's distinctive swing drive Corea into increasingly audacious flights on the pop song Diane, but it's the all-improvised Off the Cuff, the hauntingly impressionistic Laurie, a thumping, sometimes abstract visit to Monk's Little Rootie Tootie, and a fragile and then impetuous But Beautiful that fuel this set's joyous energy. ---John Fordham, guardian.co.uk
download (mp3 @320 kbs):
yandex mediafire ulozto solidfiles
Last Updated (Thursday, 18 February 2021 10:59)