Chick Corea & Gary Burton – Seoul 2014
Chick Corea & Gary Burton – Seoul 2014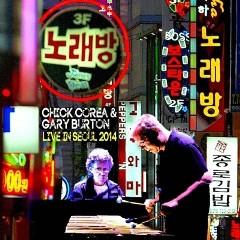 01. Love castle
02. Waltz for debby
03. Can't we be frineds?
04. Strange meadow lark
05. Hot house
06. Alegria
07. Crystal silence
08. Chega de saudade
09. Eleanor Rigby
10. Mozart goes dancing
11. Blue monk - encore
12. Armando's rumba – encore

Chick Corea - Yamaha grand piano, vibraphone (12)
Gary Burton – vibraphone

Seoul, Soth Korea, June 14,2014

Chick Corea and Gary Burton are two exquisite musicians, who in their duets have found a way to channel their talents into a performance both unified by their sensibilities and singular in their contributions. Both men took turns introducing numbers with self-deprecating humor, Corea unfolding voluminous charts of new arrangements, as if to belie the supposition that all jazz is improvised.
The so-called standards were less old chestnuts than nods to their musical antecedents, from Mozart to Bud Powell to Lennon/McCartney. "Can't We Be Friends" was a tune performed by Art Tatum and, while not familiar to the audience, gave Corea an opportunity to demonstrate his chops, which at age 70 are not in the slightest bit diminished.
It was interesting to note their different relationship to Beatles music, Corea explaining that he was barely aware of them, ensonced in Trane and Bird and Miles in the '60s, while Burton attended the Beatles' famous 1965 Shea Stadium concert. When Corea announced the next tune as a Lennon/McCartney number, you could sense the anticipation as they worked their way through an opening bridge, which revealed the familiar chords to "Eleanor Rigby." Burton led the way with a sometimes jarring line that still managed to retain the essential theme of loneliness, implicit even without the lyrics.
The perfect coda to the evening was the encore, this time devoid of charts. Corea and Burton fell easily into a joyous version of "Blue Monk." There were no intricate arrangements here, just the two of them riffing as if it was a late night jam session. --- Michael Katz, irom.wordpress.com
download (mp3 @320 kbs):
Last Updated (Friday, 12 February 2021 11:41)