Jan Garbarek & The Hilliard Ensemble - Officium Novum (2010)
Jan Garbarek & The Hilliard Ensemble - Officium Novum (2010)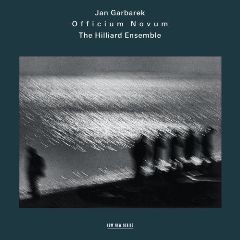 01. Ov zarmanali
02. Svjete tihij
03. Allting finns
04. Litany
a) Litany
b) Otche nash
c) Dostoino est
05. Surb, Surb
06. Most Holy Mother of God
07. Tres morillas m'enamoran           play
08. Sirt im sasani                     play
09. Hays hark nviranats ukhti
10. Alleluia. Nativitas
11. We are the stars
12. Nur ein Weniges noch

Musicians:
Jan Garbarek – soprano and tenor sax
The Hilliard Ensemble:
David James – countertenor
Rogers Covey-Crump – tenor
Steven Harrold – tenor
Gordon Jones – baritone

With the unexpected massive success of Officium (ECM, 1994), Jan Garbarek's first collaboration with The Hilliard Ensemble, it would be all too easy for the Norwegian saxophonist and British vocal ensemble to rest on their not inconsiderable laurels, and simply repeat the formula. But while Officium featured a repertoire of structured early music—from Gregorian chant to early polyphony, over which Garbarek soared improvisationally—the double-disc follow-up, Menemosyne (ECM, 1999), expanded the quintet's purview by introducing music of a more contemporary nature, including fragments of minimal notation that encouraged The Hilliard Ensemble to extemporize alongside the saxophonist. A decade later, Officium Novum continues to broaden this remarkable pairing's already expansive perspective, by bringing in music of a distinctly eastern flavor, with considerable focus on music composed or adapted by Armenian composer Komitas Vardapet (1869-1935).
As with Mnemosyne, the lines between form and freedom are completely and utterly blurred by Garbarek and the Hilliards. Even when turning to one of two Garbarek compositions—the first time this group has adapted an extant piece from the saxophonist's repertoire, in this case the calm-inducing "We are the Stars," first heard on the saxophonist's Rites (ECM, 1998), where Garbarek performed the piece with a larger boys choir—it's hard to know where notation ends and improvisation begins. More likely, it's a case of the two existing conterminously, with melodies preconceived and lines pulled from the ether occupying the same multidimensional space.
As ever, Garbarek's attention to the purity and precision of each and every note is matched by countertenor David James, tenors Roger Covey-Crump and Steven Harrold, and baritone Gordon Jones. By using both tenor and soprano saxophones throughout the program, Garbarek augments the vocal group at both ends of the spectrum, moving underneath and soaring above, often within the same phrase. That reeds and voices merge together so effortlessly—engendering a curiously paradoxical combination of peace and passion—is this ensemble's particular strength; even brief moments of dissonance, as in the Hillards' approach to Garbarek's other original composition, "Allting finns," only serve to create a momentary sense of tension that softly resolves back to translucent beauty.
Once again recorded at the acoustically profound Propstei St. Gerold in Austria—a favorite locations when the label looks to include the sound of the room as a near-equal partner to the musicians performing in it—timbral purity is matched by sonic transparency; even as the five voices merge together into a seamless whole, so, too, can each and every part be discerned with pristine clarity.
Officium Novum's repertoire is the quintet's most intriguing yet, finding a nexus point where Garbarek and Vardapet can coexist with Estonian composer Arvo Pärt, whose "Most Holy Mother of God" represents the album's spiritual high point, and 13th century composer Pérotin, whose "Alleluia, Nativitas" represents Garbarek and The Hilliard Ensemble at its most buoyant. If music is meant to be a transporting experience, then Officium Novum is Jan Garbarek and The Hilliard Ensemble at its transcendent best. ---John Kelman, allaboutjazz.com
Pomysł połączenia brzmienia saksofonu sopranowego Jana Garbarka z wielogłosową muzyką wokalną rodem ze średniowiecza i renesansu w wykonaniu The Hilliard Ensemble okazał się, komercyjnie i artystycznie, niezwykle trafiony. Pierwszy wspólny album – wydany w 1993 roku "Officium" - zebrał entuzjastyczne recenzje i znalazł ponad milion nabywców. Brytyjski Evening Standard napisał, że płytę wypełnia "najpiękniejsza muzyka, jaka kiedykolwiek została nagrana". Herald Tribune nazwał ją "niezwykle kojącą, unoszącą ducha pod niebiosa", New York Observer pisał o "zniesieniu wszelkich podziałów między jazzem a klasyką, sferą sacrum a profanum, muzyką dawną a współczesną", a The Guardian zachwycał się, że "całość brzmi tak, jak gdyby te utwory czekały na uzupełnienie ich partiami Jana Garbarka". "Officium" wypełnił repertuar średniowieczny i renesansowy (Perotin, Dufay, de la Rue). Podwójny album "Mnemosyne" (1998), był rozwinięciem pierwotnego pomysłu, a obok muzyki średniowiecza znalazł się na nim również repertuar współczesny. "Officium novum" to trzecia wspólna płyta Garbarka i Hilliard Ensemble. Została nagrana na przełomie czerwca i lipca ubiegłego roku w austriackim klasztorze St. Gerold, pod czujnym okiem producenta Manfreda Eichera. Tym razem większość wydawnictwa wypełnia tradycyjna muzyka Armenii. Pomysł na kształt albumu zrodził się w trakcie podróży muzyków The Hilliard Ensemble w rejon Kaukazu, gdzie natknęli się na opracowania tradycyjnych pieśni świeckich i sakralnych autorstwa etnomuzykologa i kompozytora Komitasa Vardapeta (1869-1935).
"Hays hark nviranats ukhti" i "Surb, surb" zostały zaczerpnięte z Liturgii mszy świętej. "Hays hark nviranats ukhti" to hymn śpiewany tradycyjnie na początku nabożeństwa, w trakcie okadzania wiernych kadzidłem. "Surb, surb" ("Święty, Świety") to odpowiednik Sanctus w mszy obrządku rzymsko-katolickiego. "Ov zarmanali" - hymn na święto Chrztu Jezusa (przypadające na pierwszą niedzielę po Święcie Trzech Króli), wykonywany jest przy obrzędzie święcenia wody. "Sirt im sasani" towarzyszy ceremonii umywania nóg podczas liturgii Wielkiego Czwartku. Program płyty wypełniła nie tylko muzyka Kaukazu. Na "Officium novum" znalazły się dwa utwory Garbarka: "Allting finns" napisany do wiersza szwedzkiego poety Pära Lagerkvista (1891-1974) oraz "We Are The Stars" (pochodzący z płyty saksofonisty "Rites") wykorzystujący poezję jednego z indiańskich plemion (Psamaquoddy). Kompozycję "Most Holy Mother Of God" Arvo Pärt napisał dla Hilliard Ensemble w 2003 roku. Na "Officium novum" wykonana jest a capella. Najdłuższy utwór na płycie to trzynastominutowa "Litania", który łączy ze sobą tradycyjne "Otche nash" i fragment litanii autorstwa Mikołaja Kiedrowa. Kiedrow (1871-1940), student Rymskiego-Korsakowa, był twórcą licznych kompozycji, które weszły do repertuaru chórów muzyki cerkiewnej. Bizantyjskie "Swete tihij" (radosne światło) pochodzi z trzeciego wieku, śpiewane było na początku nabożeństwa, w trakcie wejścia duchowieństwa do świątyni. Szesnastowieczna hiszpańska pieśń dworska "Tres morillas", to opowieść o utraconej miłości. Zaś "Alleluia. Nativitas" Perotina jest nowym wykonaniem utworu, który muzycy wykonali na płycie "Mnemosyne". Kolejność utworów na "Officium novum", nie jest przypadkowa – mimo że pochodzą z różnorodnych źródeł, zostały ułożone w spójną, pełną dramaturgii suitę. "Officium novum" jest dowodem tego, jak bardzo rozwinęli się w trakcie siedemnastu lat współpracy. Saksofon sopranowy Garbarka tworzy piąty, kontrapunktujący względem partii czterech śpiewaków, głos. Jego gra, oparta na harmonice i skalach używanych w muzyce ormiańskiej, jest pełna pasji i inwencji improwizatorskiej. Interpretacje są pełne swobody, a Hilliardzi, podobnie jak saksofonista śmiało improwizują na bazie gotowych kompozycji.
download (mp3 @320 kbs):
uploaded yandex 4shared mega solidfiles zalivalka cloudmailru filecloudio oboom divshare
Last Updated (Sunday, 30 November 2014 17:08)