Louis Armstrong - Satchmo at the National Press Club Red Beans and Rice-ly Yo (2012)
Louis Armstrong - Satchmo at the National Press Club Red Beans and Rice-ly Yo (2012)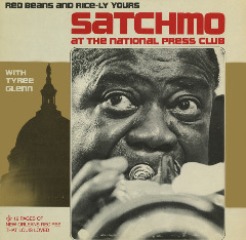 01 – Introductions (When It's Sleepy Time Down South)
02 – Hello Dolly
03 – Rockin' Chair
04 – Boy From New Orleans
05 – Mack the Knife
06 – Royal Garden Blues
07 – Mood Indigo
08 – A Kiss To Build A Dream On
09 – Love For Sale
10 – It's Alright With Me
11 – Crazy Rhythm

Louis Armstrong was in Washington on January 29, 1971 to perform at the Inauguration of then incoming National Press Club President Vernon Louviere, a fellow native of New Orleans. Armstrong had been too ill to play trumpet for much of 1970 and the infrequent recordings of him from this period consist only of vocal performances.
But on this evening Armstrong, backed by a group that included trombonist Tyree Glenn and Tommy Gwaltney on clarinet, performed for nearly 30 minutes, playing trumpet in addition to singing. The songs performed were: When It's Sleepy Time Down South; Hello, Dolly; Rockin' Chair; Boy from New Orleans and Mack the Knife.
NPC member Kim Gregory of CBS News, knowing that Armstrong would be performing, brought some state-of-the-art field audio recording equipment that evening to capture the event. About 300 copies of the recording (along with six additional tracks from a 1972 Armstrong tribute concert featuring Glenn and Gwaltney) were pressed to vinyl a year later for distribution to those who had attended Louviere's inaugural ball as Satchmo at The National Press Club: Red Beans & Rice-ly Yours. It would be the last issued recording of Louis Armstrong playing the trumpet.
Mr. Armstrong died in his sleep of a heart attack on July 6, 1971, a month before his 70th birthday. His honorary pallbearers included (among many other luminaries) David Frost, who had acted as emcee at Louviere's Inauguration and can be heard on the recording.
This rare recording will be available widely for the first time via Smithsonian Folkways Recordings on April 24th as part of the Smithsonian's celebration of the 11th annual Jazz Appreciation Month. Armstrong often signed letters "Red Beans and Rice-ly Yours," which makes for an apt title for the recording especially since his favorite recipes — everything from Louisiana Caviar to the Sazerac — are included in the liner notes, as they were in the original pressing. --- press.org/satchmo
Chodzi o koncert, który odbył się w Waszyngtonie na kilka miesięcy przed śmiercią artysty. 29 stycznia 1971 roku Louis Armstrong wystąpił w Krajowym Klubie Prasy. Słynny trębacz był już wtedy ciężko chory - miał wcześniej zawał serca i problemy z wątrobą. Wbrew radom lekarzy Armstrong pojawił się jendak na scenie. Zagrał 5 utworów, w tym "Hello Dolly", "Rocking Chair", "Mack the Knife" oraz "Boy from New Orleans". To był jeden z najbardziej niezwykłych koncertów Armstronga - uczestnicy mieli poczucie, że jazzman traktuje go jako pożegnanie z publicznością.
Po występie została wydana limitowana seria 300 płyt z nagraniem koncertu. Otrzymali ją jednak tylko ci, którzy znaleźli się wśród publiczności. Przez 40 lat występ został niemal całkowicie zapomniany. Dopiero teraz jest znowu dostępny dzięki płycie "Red Beans and Rice-ly Yours: Satchmo at the National Press Club", która ukazała się w Stanach Zjednoczonych. --- polskieradio.pl
download (mp3 @192 kbs):
uploaded yandex 4shared mega solidfiles zalivalka cloudmailru filecloudio oboom
Last Updated (Friday, 23 January 2015 09:55)