Le Orme – Piccola Rapsodia Dell'Ape (1980)
Le Orme – Piccola Rapsodia Dell'Ape (1980)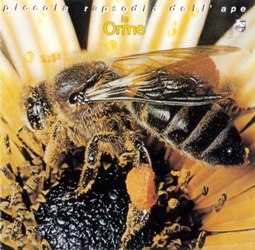 01. Il Treno - 3:50
02. Raccogli le Nuvole - 4:13
03. La Mia Sposa Bianca - 3:44
04. Piccola Rapsodia dell'Ape - 5:12	   play
05. Charango - 2:58
06. Fiori di Luce - 3:25
07. Fragile Conchiglia - 6:22
08. Buona Notte - 2:43

Personnel:
- Antonio Pagliuca - piano
- Aldo Tagliapietra - vocals, guitars, cello
- Michi Dei Rossi - vibraphone, marimba, glockenspiel, percussion
- Germano Serafin - violin, charango, bouzouki, 12-string guitar

All tracks by Antonio Pagliuca, Aldo Tagliapietra, Germano Serafin.

Looking at Le Orme's late-'70s output, there is a logical progression leading from Verità Nascoste (1977) to Piccola Rapsodia dell'Ape (1980). Verità Nascoste integrated the rock lessons learned (and ill-realized) on Smogmagica to Le Orme's own sound; Storia o Leggenda took a more acoustic/Italian song approach to said sound; Florian pushed things further into acoustic/neo-classical territory; finally, Piccola Rapsodia dell'Ape retained part of the pastoral elements from Florian and reapplied them to the acoustic progressive rock approach defined on Storia o Leggenda. Piccola closes the third era in the band's life (the first one being the pre-Collage years, In Concerto concluding the second chapter). It is not their strongest proposition, but it remains true to Le Orme's latter-day sound, at a time when bands like Genesis, Gentle Giant, and Jethro Tull (not to mention other Italian greats like PFM and Banco) were undergoing severe transformation and sound/audience reorientation. Piccola is a quiet album -- not as quiet as Florian though, but the instrumentation is the same. You get to hear more charango than drums, more acoustic guitars than piano, and no electric keyboards at all. The songwriting veers toward the Italian ballad, for songs ("Buona Notte," "Fiori di Luce," "La Mia Sposa Bianca") that, though pretty, fail to match the moving quality of the best moments on the previous two albums. The title track carries a strong progressive rock charge, and "Il Treno" and "Raccogli le Nuvole" are finely crafted songs. But the album is very light overall and sounds somewhat uncommitted. It is not bad per se and, if you are partial to the Italian ballad current that ran through '70s Italian progressive rock, you should enjoy it to an extent. Finally, it may not be prime Le Orme, but it sounds timeless, bearing none of the production traits that have become so closely associated with the early '80s. --- François Couture, allmusic.com
Piccola rapsodia dell'ape è un LP del complesso musicale italiano Le Orme registrato nel 1980. L'album conferma essenzialmente le scelte stilistiche del precedente Florian; riprende quindi l'organico ispirato alla musica classica, ma presenta anche alcune significative differenze: nonostante sia confermato l'organico con violino e violoncello, l'uso dell'archetto si riduce, lasciando maggior spazio al pizzicato ottenuto con vari strumenti a corda, conferendo così all'album una più spiccata atmosfera da musica folk; a causa del ritardo nella preparazione dell'album rispetto agli impegni contrattuali assunti con la casa discografica, per completare nei tempi la realizzazione viene largamente utilizzato il materiale musicale composto da Germano Serafin, che diventa la forza trainante di questa produzione pur non avendo in precedenza partecipato alla stesura dei pezzi. Dall'album fu tratto un singolo: il brano omonimo, strumentale. L'ape, l'animale cui sono dedicati il singolo e l'album, rappresenta l'universo femminile per eccellenza. Si tratta di un mondo ricco di musica, danze e di febbrile attività, ma che non resta privo di lati oscuri: per esempio, lo spirito sociale dell'animale lo porta ad ubbidire a leggi assai precise e rigide, come quelle che dettano i ritmi del lavoro e quelle che relegano il maschio al ruolo riproduttivo.
download (mp3 @320 kbs):
yandex 4shared mega mediafire zalivalka cloudmailru oboom uplea
Last Updated (Friday, 30 October 2015 09:45)