Verdena ‎– Requiem (2007)
Verdena ‎– Requiem (2007)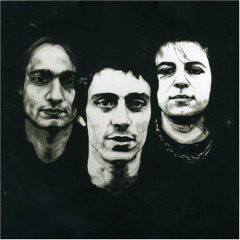 1 	Marti In The Sky 	0:23
2 	Don Calisto 	3:02
3 	Non Prendere L'Acme Eugenio 	6:05
4 	Angie 	3:44
5 	Aha 	1:06
6 	Isaaco Nucleare 	4:18
7 	Canos 	3:43
8 	Il Gulliver 	11:54
9 	Faro 	0:47
10 	Muori Delay 	2:42
11 	Trovami Un Modo Semplice Per Uscirne 	3:34
12 	Opanopono 	1:50
13 	Il Caos Strisciante 	4:35
14 	Was? 	2:06
15 	Sotto Prescrizione Del Dott. Huxley 	12:35

Bass – Roberta Sammarelli
Djembe, Electric Piano – Fidel Figaroli (tracks: 8 - 14)
Drum – Luca Ferrari
Electric Piano – Chaky (tracks: 11)
Mellotron, Harmonium – Mauro Pagani (tracks: 4 - 11)
Percussion – Gabriele (tracks: 13)
Vocals, Guitar – Alberto Ferrari

2007 album from Alternative Rock band Verdena. "Requiem" is their fourth album and was recorded mainly at their Henhouse Studio, all songs are produced by the band with a little from Italian musician-producer Mauro Pagani, he co-produced two songs and helped them playing keyboards. The first single, "Muori Delay" is a genuine hit maker in the style of bands like Smashing Pumpkins, White Stripes and Queens of the Stone Age. ---Editorial Reviews
I stumbled across Verdena while searching the web for Italian music to aid my study of the language. What I found far exceeded my hopes of learning Italian! This band is a must have for any music fan, especially those who have a taste for alternative and experimental rock.
With a similar style to Muse, Pink Floyd, and the like, Verdena delivers with driving guitar and bass lines, accompanied by intricate and tight drums - all from a three-piece band!
"Requiem" is a collection of eclectic tracks that will keep the listener continually entertained throughout. The album opener, "Don Calisto," features hard pounding drums and a great introduction to lead singer Alberto Ferrari's rocking vocals. The next track, "Non Prendere L'acme, Eugenio" (which translates, "Do Not Take the Acme, Eugene") is a stand out on the album, resonating with many ambient sounds and killer guitar riffs. "Isacco Nucleare" is my favorite off of the record; it includes some more of Luca Ferrari's tight work on the bass drum and a very psychedelic feel all throughout. "Canos" is another stand out track and is flavored with a Spanish guitar and haunting vocals. "Il Gulliver", coming in at almost 12 minutes long, showcases the bands musical ability. Their single, "Muori Delay," is another catchy tune which is reminiscent to The Hives. The remaining tracks include more hard hitting rock numbers and a few slower, acoustic tracks that round out the CD well.
All in all, music lovers (especially those who live in the U.S.) who are looking for something new to listen to should definitely check out Verdena's latest release, "Requiem." Non rimarrete delusi - You will not be disappointed! ---Mandy, amazon.com
download (mp3 @320 kbs):
yandex mediafire ulozto gett bayfiles