Little Red Rooster
Little Red Rooster
When Willie Dixon began his job at the Chess Records he also started writing blues songs for other performers that he wanted to acquire for the Chess. He recorded them as well, only later. It was unique in the world of blues where every artist recorded his songs first. There simply weren't any professional composers writing for others.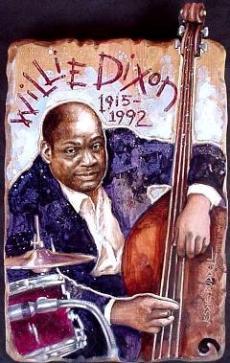 Willie Dixon
Dixon was very talented. Many of his pieces became very famous, they became blues' classics. One of these classics is Little Red Rooster.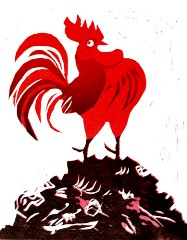 Little Red Rooster
This blues was meant for Howlin' Wolf, a blues star from Chicago. Many labels tried to convince him to join their ranks. In 1962 Howlin' Wolf recorded a single. The band had a formidable roster: Howlin Wolf (vocal and harmonica), Johnny Jones (piano), Hubert Sumlin (guitar), Willie Dixon (bass) and Sam Lay (drums).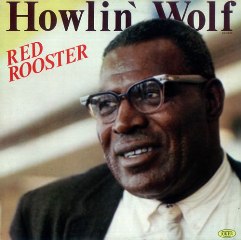 Howlin Wolf
The blues made a big career in a short time. It was quickly re-recorded by Howlin' Wolf's rival Muddy Waters, Sam Cooke and Dixon himself. Thanks to Dixon Wolf and Walters even performed together.
Little Red Rooster
Wolf's and Cooke's recordings reached the Europe. Rolling Stones found the blues to their liking. In November 1964 they published Little Red Rooster as a single. The other song was 'Off the Hook'. Brian Jones was playing the guitar using the slide technique.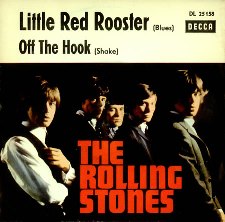 Little Red Rooster & Off The Hook
In December Rolling Stones hit the top spot on the list of British Hits which helped them to advance higher in their race to the top with the Beatles. Rolling Stones' single brought worldwide fame to Little Red Rooster.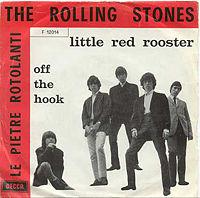 1964 cover
An interesting detail is that in the US it was boycotted by radios because of sexual implications. The only exception was 'Heart Of Stone' radio station.
During their visit in Chicago the Stones were informed that Howlin' Wolf was not invited to their concert. They hired a limo to pick him up. This way they wanted to honor the great bluesman.
Rolling Stones performed Little Red Rooster in 1989 at Shea Stadium, New York. During that concert Eric Clapton 'slided' with them on the guitar.
In the years to follow the blues was recorded many times. More known performers were: Canned Heat, The Yardbirds, The Grateful Dead, The Doors.
Little Red Rooster was inducted into the Rock and Roll Hall of Fame of 500 most important songs in the history.
Little Red Rooster, Rolling Stones lyrics:
I am the little red rooster
Too lazy to crow for day
I am the little red rooster
Too lazy to crow for day
Keep everything in the farm yard upset in every way
The dogs begin to bark and hounds begin to howl
Dogs begin to bark and hounds begin to howl
Watch out strange cat people
Little red roosters on the prowl

 

If you see my little red rooster
Please drive him home
If you see my little red rooster
Please drive him home
Aint had no peace in the farm yard
Since my little red roosters been gone
Last Updated (Friday, 13 March 2015 14:17)