Aria on G string
Johann Sebastian Bach wrote four Orchestral Suites BMV 1066 – 1069. In times of Bach these Suites were called Ouvertures deriving from first, opening parts of a given piece.
They were composed around 1720 when Bach was living in Koethen, thirty kilometers north of Halle in Saxony-Anhalt. From 1717 to 1723 Bach was working as a Chapel-master on Prince Leopold von Anhalt-Koethen's court.
The third Ouverture D-dur, BMV 1068 consists of the following parts:
1. Ouverture
2. Air
3. Gavotte I/II
4. Bourrée
5. Gigue.
Original instrumentation is: trumpet, oboe, violin, timpani and basso continuo.
It is worth to shed some light on what basso continuo is as not everyone is familiar with the name.
Aria on G string
Basso continuo (basso continuato, bassus generalis) is not any specific instrument. Its role is to provide the harmonic structure of the music. Continuo is a notation of bassline creation of a given piece. The bass log was shortened and means harmony, it was more a log of the chords than of the actual performance. It demanded from a musician to be distinguished by big invention and by ability to improvise.
Continuo was a standard in the music from around 1600 till late 1700's.
Composers did not define an instrument, performers usually played on some sort of a string instrument, e.g. theorbo, guitar or harp. Sometimes continuo was performed on organ. Below an example notation of continuo: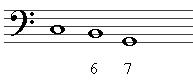 Today the notation may be committed to paper as follows:

The performer decided what octave was chosen and if it should be played with chords or with singular sounds.
Getting back to suit – as a whole it does not stand alone among the great work of Bach's.
With the exception of part two that is – aria. It had not been this way if not for August Wilhelmj. He was a German violinist, living from 1845 to 1908. At the end of the ninetieth century Wilhelmj made a transcription of aria from grand piano to violin. He also transferred the key from D-major to C-major.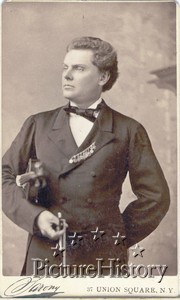 August Wilhelmj
He enjoyed showing off with his craft, so just for kicks he played the aria on G string only which resulted in the presently well-known name.
Aria on G string.
Everyone heard the Aria on G string even if one's does not know about it. It is omnipresent. Arranged on every possible way there is and used over and over in feature films and animated films (inter alia Yellow Submarine with the Beatles as cast members), TV shows and commercials.
In pop music it inspired many bands. The best-known is probably a Procol Harum song titled 'A Whiter Shade of Pale'.
In the history of music Aria is no doubt one of the most famous and most popular pieces ever.
Last Updated (Monday, 16 March 2015 16:06)