Turbo – Kawaleria Szatana (1987)
Turbo – Kawaleria Szatana (1987)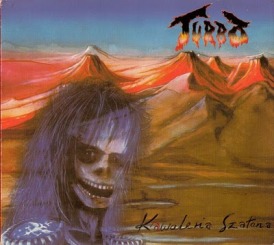 1. Żołnierz Fortuny
2. Dłoń Potwora
3. Sztuczne Oddychanie
4. Kometa Halleya
5. Kawaleria Szatana cz. I		play
6. Wybacz Wszystkim Wrogom
7. Kawaleria Szatana cz. II		play
8. Ostatni Grzeszników Płacz
9. Bramy Galaktyk

Wojciech Hoffmann   - Guitars
Andrzej Łysów 	- Guitars / Bass
Grzegorz Kupczyk 	- Vocals / Keyboards
Tomasz Goehs 	- Drums
Bogusz Rutkiewicz 	- Bass

Kawaleria Szatana is the third studio album by Polish heavy metal band Turbo. It was released in 1987, in Poland through Pronit. The album was recorded in from December 1985 too January 1986, at Giełda studio, Poznań. The cover art was created by Zbigniew Kosmalski. Kawaleria Szatana is considered to be one of the most important albums in the history of Polish rock.
Wydany rok wcześniej "Smak ciszy" nie odniósł spodziewanego przez zespół sukcesu, toteż muzycy zdecydowali się porzucić granie dla mas i pójść w kierunku, jakiego nikt do tej pory na naszej scenie nie obrał. Bez słodzenia i miłosnych tekstów, za to z powerem i niespotykaną wcześniej zadziornością.
Już na wstępie można powiedzieć, że płyta nie posiada słabych punktów chyba, że ktoś nie jest entuzjastą polskich tekstów w metalu. Otwierający album "Żołnierz fortuny" demoluje riffem, basem, perkusją, potężnym wokalem Kupczyka i tnącymi solówkami. Inspirując się Iron Maiden Turbo zagrało z ciężarem, na jaki nigdy panowie z Wielkiej Brytanii się nie zdecydowali. Popis sekcji rytmicznej w intrze "Dłoni potwora" albo klimat budowany przez nią w "Komecie Halleya" stawiają duet Rutkiewicz/Sors w czołówce heavy metalowego światka, zaś riffy i solówki na całej płycie mogą stanowić powód do dumy dla Hoffmanna i Łysowa. "Sztuczne oddychanie" może konkurować z "Żołnierzem fortuny" o miano najostrzejszego na płycie, "Kometa Halleya" i "Wybacz wszystkim wrogom" to jedne z najbardziej epickich dokonań zespołu, zaś obie części "Kawalerii szatana" są klasą dla siebie. Kolejny raz płytę kończy instrumental, który należy do najlepszych nagranych przez zespół.
Aż nie chce się wierzyć, że album nagrał ten sam skład, co wcześniejszy krążek (przy okazji jest to jedyny jak do tej kolejny pory album Turbo nagrany bez zmian personalnych). "Kawaleria Szatana" to jedna z najważniejszych płyt polskiego rocka i nasza polska cegiełka do grona genialnych albumów wydanych w 1986 roku. Szkoda, że album nie miał okazji zaistnieć na zachodzie, bo sporo by namieszał w czasach, gdy Iron Maiden i Judas Priest sięgnęli po syntezatory, a klasyczne heavy zaczęło ustępować innym podgatunkom metalu. ---frodli, crossroads-of-metal.blogspot.com
download:   uploaded gett ziddu 4shared divshare mediafire
Last Updated (Thursday, 31 January 2013 15:05)