Joe Bonamassa - Beacon Theatre - Live From New York (2012)
Joe Bonamassa - Beacon Theatre - Live From New York  (2012)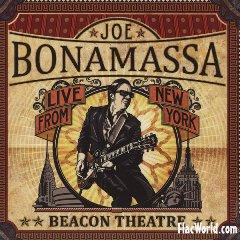 CD1:

01. 72nd St. Subway Blues (1:06)
02. Slow Train (6:35)
03. Cradle Rock (4:22)
04. When the Fire Hits the Sea (3:43)
05. Midnight Blues (7:49)
06. Dust Bowl (7:06)
07. The River (6:36)
08. I'll Take Care of You (with Beth Hart) (5:41)
09. Sinner's Prayer (with Beth Hart) (5:04)
10. You Better Watch Yourself (4:10)
11. Steal Your Heart Away (3:52)

CD2:

01. Bird On a Wire (5:45)
02. Down Around My Place (with John Hiatt) (5:51)
03. I Know a Place (with John Hiatt) (4:39)
04. Blue & Evil (6:50)
05. Walk in My Shadows (with Paul Rodgers) (4:58)
06. Fire and Water (with Paul Rodgers) (4:38)
07. Mountain Time (12:32)
08. Young Man Blues (9:39)
09. If Heartaches Were Nickels (8:06)

Line Up:
Joe Bonamassa - Guitar, Vocals
Carmine Rojas - Bass
Rick Melick - Keyboards
Tal Bergman – Percussion

Joe Bonamassa is an amazing guitar maestro with a smoky blues voice and has gained immense popularity worldwide. This 2-CD set captures the intensity and excitement of his live, sold-out concerts which took place over two nights at New York's Beacon Theatre. It includes guest performances by Beth Hart on "I'll Take Care of You" and "Sinner's Prayer," John Hiatt on the dark "Down Around My Place" and "I Know A Place," and Paul Rodgers of Free and Bad Company on "Walk in My Shadows" and Free's "Fire and Water."
Beacon Theatre: Live from New York contains 20 songs and was produced by Kevin Cave Man Shirley, who has worked with Aerosmith, Black Crowes, and Led Zeppelin. The sound quality is excellent for a live recording.
Bonamassa's band for this CD consists of Carmen Rojas on bass, Tal Bergman on drums, and Rick Melick on keyboards. They are all outstanding, especially Melick. The keyboards weave wonderfully with Bonamassa's mesmerizing guitar on songs like "When the Fire Hits the Sea" and "Mountain Time." Standout tracks on the first CD include "Slow Train," "Steal Your Heart Away," "River," and "You Better Watch Yourself." This is not to take away from the other songs, all of which are evocative and distinctive numbers.
Disc 2 contains my favorite number, Leonard Cohen's "Bird on a Wire." This is a long-time favorite song and Bonamassa's version is just stunning. "Young Man Blues" has incredible guitar work that shines even among the other great guitar work throughout both CDs. Other great songs include the searing "Down Around My Place" and the other songs featuring John Hiatt and Paul Rodgers. While the Beth Hart vocals are great, my personal preference in this case is for the male vocals. It is impossible to overstate how phenomenal Bonamassa is at progressive blues-rock. He makes and every note matter and resonate emotionally. Indeed, he is one of the finest musicians in the business today, in the opinion of this reviewer, and this double CD is the next best thing to seeing him live. --- Rhetta Akamatsu, blogcritics.org
download (mp3 @320 kbs):
yandex mediafire uloz.to my-files.ru
Last Updated (Friday, 11 May 2018 12:29)