Peter Gabriel - Live Blood (2012)
Peter Gabriel - Live Blood (2012)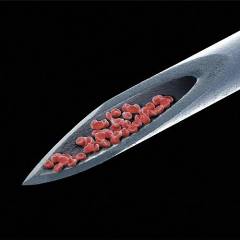 CD1
01 Intruder
02 Wallflower
03 The Boy In The Bubble
04 Apres Moi
05 The Drop
06 Washing Of The Water
07 The Book Of Love
08 Darkness
09 The Power Of The Heart
10 Biko
11 San Jacinto

CD2
01 Digging In The Dirt
02 Signal To Noise
03 Downside Up
04 Mercy Street
05 The Rhythm Of The Heat
06 Blood Of Eden
07 Red Rain
08 Solsbury Hill
09 In Your Eyes
10 Don t Give Up
11 The Nest That Sailed The Sky

Personnel: 
Tom Cawley (vocals, piano); 
Deborah Widdup, Charles Mutter, Roland Roberts, Alison Dods, Louisa Fuller, Martin Burgess, 
Clare Hayes, Kathy Shave, Odile Ollagnon, Ian Belton, Natalia Bonner, Ian Humphries, 
Rita Manning, Cathy Thompson, Jeremy Morris, Emma Parker (violin);
 Jon Thorne, Reiad Chibah, Fiona Bonds, Ian Rathbone, Paul Cassidy, Helen Kamminga (viola); 
Ian Burdge, Will Schofield, Nick Roberts, Caroline Dale, Jacqueline Thomas , Chris Worsey (cello); 
Eliza Marshall (flute, alto flute, piccolo); 
Jon Carnac (clarinet, bass clarinet); 
Alun Darbyshire (oboe); 
Sarah Burnett (bassoon); 
Dan Newell, Andy Crowley (trumpet, piccolo trumpet); 
Phil Woods, Nigel Black (French horn); 
Dan Jenkins, Tracy Holloway (tenor trombone); 
Mark Frost (bass trombone); 
David Powell (tuba); 
John Metcalfe (brass, celesta, percussion); 
Steve Rossell, Ben Russell, Chris Laurence, Richard Pryce (double bass);
Joby Burgess, Rob Farrer (percussion).

Dispensing with the usual rock armory of guitars and drums, Peter Gabriel and the 46-piece New Blood Orchestra re-imagine some of Peter's best known songs with breathtaking orchestral arrangements that include "In Your Eyes" "Red Rain" "Rhythm of The Heat" and "Biko" – written in honor of anti-apartheid activist Stephen Biko (1946-1977). In addition, there are interpretations of Paul Simon's "The Boy in the Bubble" and Lou Reed's "The Power of the Heart".
Gabriel is a renowned live performer whose onstage charisma and instantly recognizable voice combine brilliantly with the orchestral sound palette to breathe a new sense of wonder into familiar songs.
A distinguished singer, musician, and songwriter, Gabriel rose to fame as the lead vocalist and flautist of the progressive rock group Genesis, before embarking on a successful solo career. Recently, he has focused on producing and promoting world music as well as pioneering digital distribution methods for music. In 2007, he was honored as a BMI Icon at the 57th annual BMI London Awards for his "influence on generations of music makers." Gabriel was also awarded the Polar Music Prize in 2009, and inducted into the Rock and Roll Hall of Fame as a member of Genesis in 2010. ---Staff, guitarinternational.com
download (mp3 @320 kbs):
Last Updated (Saturday, 27 October 2018 21:45)