Phil Collins - No Jacket Required (1985)
Phil Collins - No Jacket Required (1985)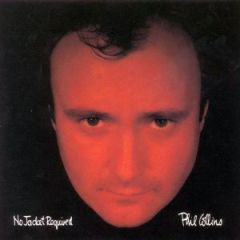 01) Sussudio
02) Only You Know And I Know
03) Long Long Way To Go
04) I Don't Wanna Know
05) One More Night
06) Don't Lose My Number
07) Who Said I Would
08) Doesn't Anybody Stay Together Anymore
09) Inside Out
10) Take Me Home
11) We Said Hello Goodbye

Phil Collins - Bass, Drum Machine, Drums, Kalimba, Keyboards, Percussion, Roland Synthesizer, 
Roland TR-808, Songwriter, Synthesizer, Vocals, Vocals (Background), Vocoder
Rahmlee Michael Davis 	Trumpet
David Frank - Bass, Dmx, Keyboards, Mini Moog, Moog Synthesizer
Peter Gabriel - Vocals
Nic Greene - Synthesizer
Michael Harris - Trumpet
Arif Mardin - Introduction, Orchestration, String Arrangements, Strings
Gary Barnacle - Saxophone
Don Myrick - Saxophone
Pheonix Horns - Horn
Louis Satterfield - Trombone
Leland Sklar - Bass, Piccolo Bass
Sting - Vocals
Daryl Stuermer - Banjo, Guitar, Keyboards
Helen Terry - Vocals, Vocals (Background)
Tom Tom 84 - Arranger

Phil Collins' third solo album established him as the most unlikely superstar of the 80s. Number one in eight countries, over two million copies sold in the UK, where it has been certified six times platinum, and including no fewer than four American ten 10 singles (two of them US chart-toppers), No Jacket Required was as much of a mid-80s radio and CD player staple as Purple Rain, Born in the USA, Like a Virgin and Brothers in Arms.
It was the quintessential Live Aid-era album from the definitive Live Aid-era artist – not for nothing did Collins interrupt the No Jacket Required World Tour to appear at the Philadelphia and Wembley Stadium Live Aid events on the same day. It sounded quintessentially mid-80s, too, with its machine rhythms and blaring horns. You couldn't get more mid-80s guests than Sting, Helen Terry and Peter Gabriel, who all provide backing vocals on the album. The placement of some of the songs on the soundtrack to Miami Vice was none-more-80s, while the video to Take Me Home, wherein Collins is filmed everywhere from Tokyo and Sydney to Moscow and Memphis, reeked of Reagan/Thatcher-era conspicuous consumption and like-punk-never-happened excess.
But there's no denying that, for sheer proficiency and mastery of its domain, this blend of power ballads and synthed-up, hook-heavy rock remains unbeatable. Sussudio may have been in hock to Prince's 1999 up to its rolled-up-jacket-sleeve elbows, but it was a blistering album opener. One More Night was a slow jam just crying out to be covered – or sampled (Collins is an unexpected rappers' delight). Don't Lose My Number, a US single, had melodic echoes of Easy Lover, Collins' chart-topping team-up with Earth Wind & Fire's Philip Bailey from the same year. Take Me Home, the fourth single, ostensibly about a patient in a mental institution, successfully combined electronic and organic instrumentation.
Elsewhere, Long Long Way to Go recalled the work of fellow Genesis alumnus Gabriel and proved that Collins was equally adept at incorporating experimental ambient textures and world music polyrhythms into his music. No wonder it won the 1985 Grammy Award for Pop Album of the Year. --- Paul Lester, BBC Review
Album "No Jacket Required", ukazał się pierwotnie w 1985 roku. Był to trzeci solowy album Phila i pierwszy, który osiągnął szczyty notowań po obu stronach Atlantyku. Materiał zdobył status multiplatynowy, przyniósł artyście trzy nagrody Grammy oraz sprzedaż na poziomie ponad 20 mln kopii na całym świecie.
Z tego albumu pochodzą takie hity Anglika jak "Sussudio", "One More Night", "Don't Lose My Number", czy "Take Me Home". Na lata utwory te były stałym punktem występów Phila Collinsa.
Reedycja na CD została wzbogacona przez Phila Collinsa wersjami demo, wykonaniami koncertowymi piosenek oraz utworami ze stron B singli. Podobnie jak w przypadku reedycji "Face Value", "Both Sides", "Hello, I Must Be Going!" oraz "Dance Into The Light" zmieniona została okładka. Na wznowieniu można zobaczyć obecny wizerunek Phila Collinsa, który przed kilkoma miesiącami zapozował do zdjęć dokładnie tak samo jak przed laty. ---empik.com
download (mp3 @320 kbs):
Last Updated (Tuesday, 30 October 2018 20:29)