U2 – War (1983)
U2 – War (1983)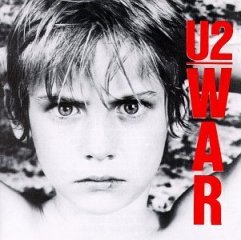 1. Sunday Bloody Sunday 
2. Seconds 
3. New Year's Day 
4. Like A Song... 
5. Drowning Man 
6. The Refugee 
7. Two Hearts Beat As One 
8. Red Light 
9. Surrender 
10. '40'

Bass – Adam Clayton
Drums, Percussion – Larry Mullen Jr
Guitar, Piano, Lap Steel Guitar – The Edge
Trumpet – Kenny Fradley
Vocals, Guitar – Bono

In 1982, back before world leaders were being brow-beaten by Bono, U2 were teaming up once again with Steve Lillywhite (who'd produced their debut, Boy, and October) for a crack at their third album. Whilst there's no denying the youthful energy and industrial quantities of testosterone on display, it's something of a mixed rattlebag that highlights the pros and cons of the band. After a while all that breathless beseeching, fiery indignation and BIG guitar heroics grows a tad wearisome; a bit like being shouted at by someone who means well but doesn't know when to turn the volume down.
The palette broadens on "Red Light" with backing vocals from Kid Creole's Coconuts no less, and some equally superfluous trumpet - the latter making a tokenistic jazz noise atop the impervious surface of the band's default setting, that only loosens up enough to work effectively by the time the track is fading-out.
Similarly the hurtling ardour of singer and guitarist going at it full-tilt on "Like A Song", becomes interesting only when it threatens to spill over into the thunderous rumble of Larry Mullen's drumming. By then though, the faders are sliding into zero. More effective contributions arise from Steve Wickham's soaring violin as it weaves around chiming harmonics and multi-tracked acoustic guitars of "Drowning Man." – something the Eno-produced James would emulate the following decade. His stirring violin also heats up the anthemic "Sunday Bloody Sunday", a rough-hewn stomp that falteringly navigates its way between posture and politics.
For all the evident unevenness, you can't knock the sure-footed pure power-pop of "Two Hearts Beat As One" and "New Years Day". Though Adam Clayton's bass line had an unlikely genesis (he was trying to play the Visage hit, "Fade To Grey"), it's reverberations set off a chain reaction of exultant flag-waving around the world. Though War explores some of the glassy sonics which The Edge would later perfect, it falls short of the musical maturity they were to find with their 1984 studio follow-up, The Unforgettable Fire. ---Sid Smith, BBC Review
download (mp3 @320 kbs):
yandex mediafire ulozto gett bayfiles
Last Updated (Saturday, 16 March 2019 13:44)