Attomica - The Trick (2018)
Attomica - The Trick (2018)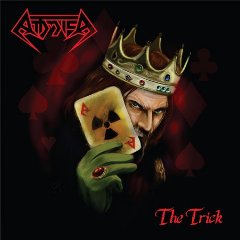 1. 	Give Me the Gun 	06:06 	  
2. 	Feeling Bad 	05:13 	  
3. 	Kill the Hero 	04:04 	  
4. 	The Last Samurai 	04:11 	  
5. 	The Trick / You Bet 	07:18 	 
6. 	Endless Cycle 	05:01 	  
7. 	Land of Giants 	06:12 	
8. 	Mistery 	04:43 	

Andre Rod - Vocal, Bass
Argos Danckas - Drums, Keyboards
Marcelo Souza - Guitars, Backing Vocals

Brazil's Attomica have been around since 1985, stayed around for a bit and then reformed in 2004, went on hiatus again in 2009 and in 2015 came back. I have seen the band logo before but never heard them before. The Trick is their 5th album and they play speed/thrash metal, the way it was meant to be played-with talent.
Opening with "Give Me The Gun", the song soon gets into a pulverizing thrash speed and the bassist, Andre Rod also is the singer. Christ almighty he does a spot on Dave Mustaine impersonation, just more aggressive, like when Dave first started singing. Actually I dare you to listen to this and close your eyes-I swear to God, you will think Mustaine is standing next to you. The vocals are filled with piss 'n vinegar.The guitars have a Bay Area Thrash sound equipped with the guitar solos you would come to expect. The song gets into a mid-paced part for quite some time before erupting back into the speedier thrash parts with the guitar solos coming in. I must mention the tune also has some nice little blast beats thrown in, just to lop your head off at the right time-Argos Danckas laying some nice drum fills in along the way. Marcelo Souza (No relation to Zetro-from Exodus), laying a nice bass guitar tone to the rhythm section.
"Feeling Bad" comes in with some mid-paced parts before erupting into an aggressive thrash beat. Nice guitar melodies and the song rages. The bass guitar, I really like, as it is prominent, but it also has a bit of a weird sound too, like a clangy, clackety sound-unsure of the equipment they used, or what, but it sometimes has a tendency to grate on my nerves. Really I wanna know what the hell is going on, but regardless, the thrash is so intense and played so well, I can overlook it.
The album starts out super strong and then the band meanders into more melodic, ballady moments that Testament began doing with Practice What You Preach-the album that made me lose interest in them years ago. Attomica follows the formula of many of the 80's thrash bands, which is a plus, but I wanted more thrash songs. Granted there are many moments, but the middle of the album and towards the end is filled with too many slower parts, for my liking. "Mistery" ends the song, bringing back the thrash and the singer on this song is Alex Rangel from In Memoriam. He is more melodic, then Andre and Alex actually has more of a German Power Metal voice. The song actually has a power metal edge and was kind of a weird tune to end the album with, but I do think it's pretty cool.
At the end of the day, Attomica have released a decent album, in the form of The Trick. A bit disjointed at times, but still well-played and plenty of thrash to smash yourself to. The booklet is well put together to boot. If you're a fan of Megadeth, Metallica, Testament, I definitely urge you to check Attomica out. ---Frank Rini, teethofthedivine.com
Sim meus caros, temos mais uma obra prima em 2018 e se chama "The Trick"! O Attomica voltou com tudo depois de muitas baixas como a morte do vocalista Alex Rangel, mudanças de formação e etc.
"The Trick", que tem a reestreia do baixista Andre Rod (único remanescente da formação original) como vocalista (e que reestreia, pois também cantou no álbum "Limits Of Insanity" de 1989), mostra tudo isso e mais um pouco com uma gana que poucos conseguem exprimir com tanta maestria em forma de música.
São 8 faixas de pura adrenalina, peso descomunal, lembrando e muito um Megadeth mais pesado, mais Thrash e mais encorpado (os vocais de André são bem parecidos com o de Dave Mustaine na fase "Rust In Peace", onde ele cantava muito bem, diga-se). Ao meu ver, caiu como uma luva no som da banda e, com certeza, vai elevar ainda mais a carreira da banda a um patamar alto e merecido, pois estrada eles tem de sobra!
Nesse álbum de 8 faixas todas elas são destaques!
Além da produção correta que deixou todos os instrumentos, levadas e vozes nivelados, agressivos e bem encaixados, temos a cacetada "Give Me The Gun" (que você vai jurar ouvir o Dave Mustaine cantando), as rifferamas cativantes de "Feeling Bad" e "Kill The Hero", a quebradeira de "The Last Samurai" (mais um clássico??? Sim, fato!), a junção perfeita de técnica, fúria e bom gosto com direito até dedilhados de violão ao final da faixa título, a climática "Endless Cycle", que com sua belíssima e certeira letra vislumbra os ouvidos dos fãs que gostam de coisas mais bem elaboradas e rebuscadas, a instrumental "Land Of Giants" com direito a um show de classe de Marcelo Souza (guitarra) e, para fechar com chave de outro, a porradaria que ficou como uma homenagem póstuma à Alex Rangel, "Mystery", pois conta com seus vocais gravados em 2014 antes de seu trágico falecimento.
"The Trick" é, sem sombra de dúvidas, um verdadeiro coice no peito para colocar o Attomica no lugar de onde nunca deveria ter saído, basta agora aos fãs fazerem o seu trabalho, prestigiando a banda e indo aos shows, pois só assim o lugar do Attomica ficará garantido na história para sempre! Eu fiz, faço e farei a minha parte! Attomica é (outra) banda de cabeceira! ----Johnny Z., metalnalata.com.br
download (mp3 @320 kbs):
yandex mediafire ulozto gett bayfiles
Last Updated (Sunday, 13 January 2019 19:33)