Eric Burdon Band – Stop (1975)
Eric Burdon Band – Stop (1975)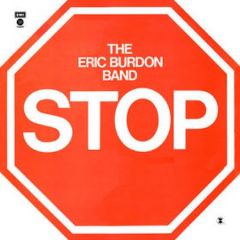 1. City Boy - E.Burdon/J.Sterling
2. Gotta Get It on - J.Sterling/P.Hodgson
3. The Man - J.Sterling/J.Mitthauer/T.Ryan
4. I'm Lookin' Up - J.Sterling/K.Kesterton			play
5. Rainbow - E.Burdon/J.Sterling/K.Kesterton/B.Morris	play
6. All I Do - E.Burdon/J.Sterling/K.Kesterton
7. Funky Fever - T.Ryan/J.Sterling
8. Be Mine - J.Sterling
9. The Way it Should Be - J.Sterling
10. Stop - J.Sterling/K.Kesterton/R.Haney

Personnel:
Eric Burdon - vocals
John Sterling - guitar
Randy Rice - bass
Kim Kesterson - bass
Terry Ryan - keyboards
Alvin "Red" Taylor - drums
George Suranovich - drums
Moses Wheelock – percussion

Stop is a hard rock/funk album by a band consisting of Burdon, John Sterling, Kim Kesterson and Terry Ryan, known as the first incarnation of Eric Burdon Band, ever.
They formed in 1971, after Burdon left his previous band War to cut an album with blues/jazz-great Jimmy Witherspoon. They recorded the album ''Guilty'' and then, without Witherspoon, the album ''Stop''.
It wasn't released until July 1975. Also it featured no hit single, but had some American chart success, reaching both US and Canadian album charts.
download (mp3 @192 kbs):
Last Updated (Friday, 16 February 2018 23:43)