Lightnin' Slim & Whispering Smith – Live in Europe (1973)
Lightnin' Slim & Whispering Smith – Live in Europe (1973)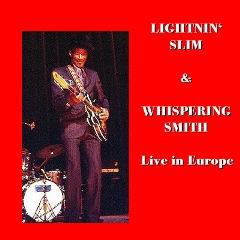 01 Lonesome Cabin Blues
02 My Starter Won't Work
03 Just Imagination
04 Caress Me Baby
05 Baby What You Want MeTo Do
06 I Want You To Love Me
07 You Got Me Dizzy
08 Nobody Loves Me But My Mother
09 Storm in Texas
10 Got My Mojo Working
11 Wintertime Blues
12 Take Me Back Baby
13 Texas Flood
14 Love Bug
15 Walking in The Park

Musicians:
Lightnin' Slim – guitar, vocals
Moses "Whispering" Smith – harmonica, vocals
+
Jimmy Dawkins – guitar
W.D. Kent – bass
Billy Davenport – drums
Boogie Woogie Red – piano
Roger Hill – bass
Tom Farnell - drums

Lightnin' Slim was born Otis V. Hicks in St. Louis, Missouri. moving to Baton Rouge, Louisiana at the age of thirteen. Taught guitar by his older brother Layfield, Slim was playing in bars in Baton Rouge by the late 1940s.
He debuted on J. D. "Jay" Miller's Feature Records label in 1954 with "Bad Luck Blues" ("If it wasn't for bad luck, I wouldn't have no luck at all"). Slim then recorded for Excello Records for twelve years, starting in the mid 1950s, often collaborating with his brother-in-law, Slim Harpo and with harmonica player Lazy Lester. Slim took time off from the blues for a period of time and ended up working in a foundry in Pontiac, Michigan which resulted in him suffering from constantly having his hands exposed to high temperatures. He was re-discovered by Fred Reif in 1970, in Pontiac, where he was living in a rented room at Slim Harpo's sister's house. Reif soon got him back performing again and a new recording contract with Excello, this time through Bud Howell, the present President of the company. His first gig was a reunion concert at the 1971 University of Chicago Folk Festival with Lazy Lester, whom Reif had brought from Baton Rouge in January 1971.
In the 1970s, Slim performed on tours in Europe, both in the United Kingdom and at the Montreux Jazz Festival in Switzerland where he was often accompanied by Moses "Whispering" Smith on harmonica. He last toured the UK in 1973, with the American Blues Legends package.
In July 1974, Slim died of stomach cancer in Detroit, Michigan, aged 61. Slim has been cited as a major influence by several contemporary blues artists, including Captain Beefheart, who in a 1987 radio interview with Kristine McKenna, stated that Lightnin' Slim was the only artist he could recommend somebody listening to.
Moses "Whispering" Smith (January 25, 1932 – April 28, 1984) was an American blues harmonicist and singer. He recorded tracks including "A Thousand Miles from Nowhere" and "Texas Flood", and worked with both Lightnin' Slim and Silas Hogan. He was inducted into the Louisiana Blues Hall of Fame.
Smith was born in Union Church, Mississippi. In the 1960s, Smith's harmonica playing accompanied recordings by swamp blues notables Lightnin' Slim and Silas Hogan, before he was able to record some tracks of his own making. At this time he worked alongside the Crowley, Louisiana based record producer, J. D. "Jay" Miller, and his output was released by Excello Records. His singles included "Mean Woman Blues", "I Tried So Hard", and "Don't Leave Me", plus the instrumental tracks "Live Jive" and "Hound Dog Twist".
Although he was a powerful singer, and a straight but unsophisicated harmonica player, his potential was diminished by appearing at the back end of the swamp blues period. He recorded his final album for Excello in 1970. Whispering Smith died in April 1984 in Baton Rouge, Louisiana, at the age of 52.
download (mp3 @320 kbs):
yandex mediafire ulozto solidfiles global.files
Zmieniony (Sobota, 03 Kwiecień 2021 10:05)