Alvin Lee - Still on the Road to Freedom (2012)
Alvin Lee - Still on the Road to Freedom (2012)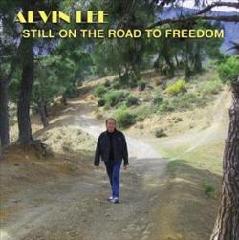 01 – Still on the Road to Freedom
02 – Listen To Your Radio Station
03 – Midnight Creeper
04 – Save My Stuff
05 – I'm A Lucky Man
06 – Walk On, Walk Tall
07 – Blues Got Me So Bad
08 – Song Of The Red Rock Mountain
09 – Nice & Easy
10 – Back in '69
11 – Down Line Rock
12 – Rock You
13 – Love Like A Man 2

Alvin Lee – guitar, vocals
Tim Hinkley – keyboards
Pete Pritchard – bass
Richard Newman - drums

This brilliant and ingenious album starts with an update of the title track of the original collaboration with Mylon LeFevre and ends with a new version of "Love Like A Man," albeit still with shades of one of the most distinctive guitar riffs in progressive rock history. In between is a remarkable, seamless musical journey covering several decades and genres and involving some of the most talented musicians Lee has worked with.
Tim Hinkley's close musical relationship with Lee is evident from the superb interplay between guitar and keyboards, notably on the funky "Rock You" and "Down Line Rock," the latter inspired by Tennessee in the 1950s. Drummer Richard Newman maintains a solid beat throughout, punctuated with inventive fills and is a tour de force on "Back In '69' with its complex, Bo Diddley-type rhythms. A real bonus is the guest appearance of Trevor Morais, who gives a master class on brushes and snare drum. The spirit of the late Ian Wallace lives on in "Listen To Your Radio Station," thanks to modern technology.
Pete Pritchard powers the up-tempo "I'm A Lucky Man" with his driving double bass and contributes to "Love Like A Man 2″ with subtle, innovative electric bass lines. Alvin Lee, as singer, songwriter, guitarist, and multi-instrumentalist, gives the virtuoso performance of a musician at the peak of his long, varied, and esteemed career. The haunting vocals on "Midnight Creeper," interspersed with howling wolf cries, will give sensitive souls sleepless nights. "Nice & Easy" and "Walk On, Walk Tall" have a country feel whilst blues purists will love "Save My Stuff," with Alvin's harmonica as an extension of his vocals as he journeys home to his loved one.
"Blues Got Me So Bad" is another authentic, acoustic blues number that reflects Alvin's passion for this genre and his earliest influences. Fans who are addicted to the trademark piercing electric guitar solos will appreciate the intensity and frenzy on "Still On The Road To Freedom"' before anguish and despair give way to comparative calmness. However, the acoustic, finger-picking technique on the beautiful and evocative instrumental "Song Of The Red Rock Mountain"' is equally memorable. Just when you think the 13-track CD is finished, wait a couple of minutes for one more surprise. Finally, all credit to the excellent quality of recording and mastering, Evi's imaginative cover photographs linking past and present and the reproduction of Alvin's creative oil painting The Road To Nowhere. So why not a rating of 10 out of 10? Well, Alvin is sure to produce another CD which will evolve from this one as part of the natural progression and freedom in his music, and that will probably be even better! --- bluesrevue.com
download (mp3 @320 kbs):
yandex mediafire ulozto gett bayfiles
Zmieniony (Piątek, 14 Sierpień 2020 08:58)