Gretchen Parlato – The Lost and Found (2011)
Gretchen Parlato – The Lost and Found (2011)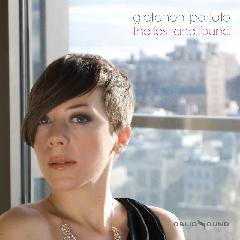 01 – Holding Back the Years
02 – Winter Wind
03 – How We Love
04 – Juju
05 – Still				play
06 – Betten Than
07 – Alo, Alo
08 – Circling
09 – Henya
10 – In A Dream Remix
11 – All That I Can Say		play
12 – Me and You
13 – Blue in Green
14 – The Lost and Found
15 – Without A Sound
16 – Betten Th an

Personnel
    Gretchen Parlato, voice
    Taylor Eigsti, piano
    Derrick Hodge, bass
    Kendrick Scott, drums
    Feat. Dayna Stephens, tenor saxophone
    Feat. Alan Hampton, guitar and voice

If ever a record label matched (in name) the artistry of its talent, it's Obliq Sound when it comes to Gretchen Parlato. And if modern jazz singing is all about using the voice as an instrument, Parlato has put her instrument front and center, not with free improvisation and intervallic gymnastics, but with a restrained palette and the power of suggestion. When I think of Parlato, I don't hear Charlie Parker; I hear Miles Davis.
Winner of the 2004 Thelonious Monk Vocal Competition, Gretchen Parlato has quickly evolved a sound based largely on nuance and subtlety, appealing as much to Brazilian, R&B and pop audiences as to modern jazz listeners. On her third release, she offers an eclectic soundscape of 15 songs, four of her own compositions, 6 more with her own lyrics (including her take on Wayne Shorter's "Juju"). Her band fits her musical attitude perfectly—Taylor Eigsti, himself a young phenom on keyboards; much accomplished Derrick Hodge on bass; another young upstart, Kendrick Scott, on drums; with guest turns from saxophonist Danya Stephens, guitarist Alan Hampton (who contributes "Still"), and co-producer/keyboardist Robert Glasper (who contributes "A Dream Remix").
Despite the diversity of source material, Parlato's airy delivery provides a consistent sonic transparency from one track to the next, from the wispy opening cover of Simply Red's "Holding Back the Years" to the ambient closing of Eigsti's "Without a Sound." In between, her vocalese soars in tandem with Stephens's sax on "Juju, reaching its most haunting edges on Ambrose Akinmisure's "Henya;" her whispering echoes create a celestial fantasy of Glasper's "A Dream Remix." Her swaying acappella vocal/percussion performance on Paulinho da Viola's "Alo Alo" (sung in Portuguese) and charming vocal duo with composer Alan Hampton on "Still" are other high points.
While Parlato sails on waves of impressionism, she's buoyed by the more assertive finesse of her band, particularly Taylor Eigsti who sparkles on "Winter Wind" and "Blue and Green" and, most exquisitely, on "Henya," while Hodge and Scott provide the soul and heartbeat throughout. The CD package comes with the full set of lyrics for all 15 tracks, a welcome addition that confirms (my) suspicion that Gretchen Parlato's success may lie as much in her poetry as in her vocal stylings. The Lost and Found highlights both talents. --- Andrea Canter, jazzpolice.com
It's seven years since Gretchen Parlato, the whisper-voiced young New Yorker, won the prestigious Thelonious Monk International Jazz Vocals competition. This is only her third album, but she's already recorded more than 50 sessions for other leaders – a measure of her sensuous sound, emotional power and ensemble sense. Think Astrud Gilberto with Norma Winstone's harmonic sophistication (she likes Latin grooves), and a contemporary rhythmic hipness fuelled by New York's eclectic downtown scene. The Lost and Found has a typically delicate repertoire, including Paulinha da Viola's samba hit Alô Alô, Wayne Shorter's Juju (given some Shorteresque smokiness by Dayna Stephens's tenor sax), a pattering, hip-hop-inflected Blue in Green, a remix contribution from Robert Glasper, and several vocal passages floating over improv that build compelling dramas while barely raising the volume. A little more of Stephens's sax and Parlato's graceful duetting with singer/guitarist Alan Hampton might have enhanced the variety, but it's a delectable set just the same. --- John Fordham, guardian.co.uk
download (mp3 @224 kbs):
uploaded yandex 4shared mediafire mega solidfiles zalivalka cloudmailru filecloudio oboom
Zmieniony (Czwartek, 13 Listopad 2014 11:35)