Cæcilie Norby ‎– Sisters In Jazz (2019)
Cæcilie Norby ‎– Sisters In Jazz (2019)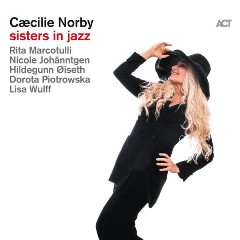 1 Easy Money ( Rickie Lee Jones) 04:20
2 Willow Weep For Me ( Ann Ronell ) 04:49
3 Droppin' Things ( Betty Carter) 04:34
4 Man From Mars ( Joni Mitchell) 06:24
5 Naked In The Dark ( Cæcilie Norby) 03:59
6 First Conversation ( Cæcilie Norby) 04:58
7 Puzzled ( Rita Marcotulli / Cæcilie Norby) 03:47
8 Love Has Gone Away ( Abbey Lincoln) 04:25
9 Big Yellow Taxi ( Joni Mitchell) 04:04
10 All At Once ( Bonnie Raitt) 05:54
11 Will You Still Love Me Tomorrow ( Carole King & Gerry Goffin) 04:52
12 Do I Move You ( Nina Simone) 03:43

Bass – Lisa Rebecca Wulff
Drums – Dorota Piotrowska
Percussion – Marilyn Mazur (tracks: 4, 6 to 7, 9)
Piano – Rita Marcotulli
Saxophone – Nicole Johänntgen
Trumpet – Hildegunn Øiseth
Vocals, Percussion – Cæcilie Norby

Following Danish Jazz singer Caecilie Norby ever since her 1995 Blue Note debut has always echoed my attitude towards repertoire. I think if you're not choosing to record your own original material, it is utterly important to come up with the right combination of cover tunes and not simply an amalgamation of songs from the Great American Songbook and standards.
For example, her debut included a wonderful interpretation of "By The Time I Get To Phoenix" and her second Blue Note album "My Corner Of The Sky" (1996) included a marvelous take on "The Look Of Love". She released an all-original album in 1999 ("Queen Of Bad Excuses", Blue Note) and another one in 2005 ("Slow Fruit") and since then has recorded songs by The Police, Michel Legrand, Abbey Lincoln, Leonard Cohen, Tom Waits, Bob Dylan, Paul Simon, Joni Mitchell, and David Bowie.
Her latest, her fourth on the German ACT Music label, finds her singing tunes by Betty Carter, Mitchell (two tracks), Nina Simone, Carole King, Lincoln, Rickie Lee Jones, and Ann Ronell. Yes, they are all female composers, as are all the players on the album, and thus the release means perfect timing in more ways than one. "There is no doubt that strong, competent female musicians are underrepresented on the music scene! Nor is there any doubt that they exist!", Caecilie writes in the liner notes. It's what jazz festivals like the Winter Jazzfest in New York has been trying to get across in the last couple of years and the Berlin Jazz Fest as well with its programming. Thinking it further, I think it would have been appropriate to have women as producers and arrangers here too (half of the album's tunes were arranged by men).
Having German saxophonist Nicole Johänntgen on board is no mean feat; her robust sound owes a lot to Ben Webster at times. Italian pianist Rita Marcotulli (also an ACT recording artist) not only shows her versatile skills on both ballads and uptempo numbers, but as a composer too. Hildegunn Oiseth on trumpet, Lisa Wulff on bass, and Dorota Piotrowska on drums all add up to some exciting paths. And percussionist Marilyn Mazur joins the sisters on four tracks.
The album opens with a pretty cool and loose "Easy Money", from Rickie Lee Jones' debut album and continues with a dapper version of Ronell's "Willow Weep For Me". There is too much going on I think on Betty Carter's "Droppin' Things" and it just reaffirms me that bopping tunes like this have never really clicked. One of two Mitchell compositions, "Man From Mars" works much better. I think more narrative/conversational styles like on this tune suit her more (the other Mitchell track, "Big Yellow Taxi", gets a fairly solid, slightly restrained treatment) and Rita's piano work is simply stunning. The same applies for Abbey Lincoln's "Love Has Gone Away". Beautiful texture and Caecilie has rarely sounded better than on this sad piece.
Caecilie tackles Bonnie Raitt's "All At Once" (from "Luck Of The Draw", 1991) in haunting, almost somnambulant style; Carole King's "Will You Still Love Me Tomorrow" is super sweet (her arrangement is really beautiful) with Rita again sparkling over the keyboard, and Nina Simone's bluesy "Do I Move You" is nearly tempting me to answer "No, not really". Of the original compositions, "Naked In The Dark" is a freely swinging piece, "First Conversation" another fine ballad in typical Caecilie style (also the title track of her fourth and final Blue Note album in 2002) with great trumpet playing, and "Puzzled", the piece she wrote together with Marcotulli, comes across as more of a gimmick. ---ginalovesjazz.com
Obdarzona wyjątkowym głosem (chwilami wywołującym skojarzenia z Dionne Warwick z najlepszego okresu) i ujmującym darem interpretacji Caecilie Norby (współpracująca jak dotąd z takimi muzykami jak np. Chick Corea, Dianne Reeves, John Scofield, Mike Stern czy Randy i Michael Brecker) doskonale czuje się w konwencji fusion, muzyce rockowej i formule jazzowej ballady. Ostatnia z wymienionych stylistyk dominowała na kameralnej płycie "Just The Two Uf Us" nagranej w duecie z Larsem Danielssonem (prywatnie mężem wokalistki).
Wielokrotnie nominowana do nagrody Danish Grammy, duńska wokalistka tym razem proponuje album będący hołdem dla komponujących kobiet. Ciekawostką jest fakt iż również skład zespołu towarzyszącego wokalistce na płycie stosownie zatytułowanej "Sisters In Jazz", tworzą wyłącznie kobiety (Włoszka Rita Marcotulli - fortepian, Szwajcarka Nicole Johänntgen - saksofon, Hildegunn Oiseth z Norwegii - trąbka, Lisa Wulff z Niemiec- kontrabas, Polka Dorota Piotrowska - perkusja i gościnnie w czterech nagraniach Marilyn Mazur - instr. perkusyjne).
Artystka proponuje tylko trzy własne piosenki (w tym jedną przygotowaną wspólnie z pianistką Ritą Marcotulli), w pozostałych przypadkach sięgając po dorobek m.in. Betty Carter, Joni Mitchell, Abbey Lincoln, Bonnie Rait, Carole King i Niny Simone. Wybierając piosenki na płytę Caecilie Norby brała pod uwagę nie tylko piękno ich melodii, ale też teksty z którymi artystka identyfikuje się jako kobieta. Stąd w programie piosenki odległych od siebie artystek jak Abbey Lincoln i Nina Simone, które jednak wywarły duży wpływ na życie i przebieg kariery wokalistki.
"Babskie granie" jakiego słuchamy na płycie udowadnia, iż jazz, improwizacja, czy rozbudowane dialogi instrumentalistów, nie muszą być postrzegane jako domena mężczyzn. Panie tworzą znakomity band, stanowiący idealną oprawę zarówno dla swingującej, jak śpiewającej przejmujące ballady wokalistki.
Do tej drugiej grupy zaliczyć można znakomitą autorską pieśń Norby: "First Conversation", stanowiącą zgrabne połączenie jazzowej natury artystki z konwencją mogącą kojarzyć się z kompozycjami Burta Bucharacha. To wyjątkowa perełka całego album. "Sisters In Jazz" przynosi bardzo atrakcyjny materiał, świetnie opracowany i kapitalnie wykonany, po raz kolejny udowadniając wyjątkowy potencjał duńskiej wokalistki. ---Robert Ratajczak, empik.com
download (mp3 @320 kbs):
yandex mediafire ulozto gett bayfiles