Carmen McRae – Carmen McRae's Finest Hour (2000)
Carmen McRae – Carmen McRae's Finest Hour (2000)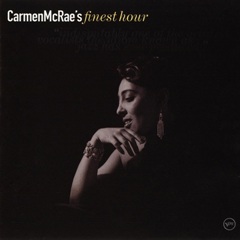 01. I Was Doing All Right (2:47)
02. How Long Has This Been Going On? (4:03)
03. Namely You (2:42)
04. Dream of Life (3:59)
05. The Eagle and Me (2:44)
06. Do You Know Why? (2:50)
07. Whatever Lola Wants (2:58)		play
08. When Your Lover Has Gone (3:31)
09. Weak for the Man (4:06)
10. Mad About the Boy (4:11)
11. Love Is a Simple Thing (2:03)
12. I Wants to Stay Here (3:47)
13. Baltimore Oriole (3:50)
14. Invitation (2:51)
15. Something to Live For (3:10)
16. Midnight Sun (3:45)
17. Georgia Rose (3:17)
18. Love Is Here to Stay (2:19)
19. Perdido (2:51)			play

Personnel: 
Carmen McRae (vocals); 
Sammy Davis, Jr. (vocals); 
Barry Galbraith, Mundell Lowe (guitar); 
Buddy Collette (flute, alto saxophone); 
George W. Smith (clarinet); 
Justin Gordon (bass clarinet); 
Warren Webb (oboe); 
Vinnie Dean, Phil Woods (alto saxophone); 
Al Cohn, Ben Webster, Budd Johnson (tenor saxophone); 
Sol Schlinger (baritone saxophone); 
Richard Gene Williams , Lennie Johnson, Ernie Royal, Al Stewart, Irwin "Marky" Markowitz, Art Farmer, Charlie Shavers (trumpet); 
Mickey Gravine, Jimmy Cleveland, Billy Byers (trombone); 
Paul Faulise (bass trombone); Don Abney, Dick Katz, Joe Marino, Ray Bryant, Ronnell Bright, Billy Strayhorn (piano); 
Floyd Williams, Nick Stabulas, Specs Wright, Charlie Smith (drums).

An in-depth 19-track overview of the career of jazz vocalist Carmen McRae, demonstrating her bebop-influenced vocal styling ranging from blues ballads to fluid bop scat. Part of the Verve Finest Hour series, this well-presented album is a fine introduction to the artist at an affordable price. ~ Zac Johnson
Carmen McRae was simply one of the giants of jazz singing, with a distinctive sound and phrasing, superb intonation, and rare harmonic imagination. She also had a unique gift for presenting a lyric, whether conveying depths of feeling or sheer playfulness. This CD is drawn from McRae's first sustained period of recording, her Decca work from 1955 to 1959. It demonstrates her emotional range, from the ebullient high spirits of "Namely You" and "Love Is a Simple Thing" to the lightly bittersweet balladry of "Do You Know Why?" and the passion of "Mad About the Boy." The accompaniments here include several big bands and string sections, and McRae is well served by a collection of arrangers highlighted by Tadd Dameron, Ernie Wilkins, and Ralph Burns. More-intimate small groups include superb contributions from pianist Ray Bryant and tenor saxophonist Ben Webster, while "Something to Live For" has the composer, Billy Strayhorn, at the piano.
Carmen Mercedes McRae (ur. 8 kwietnia 1920 w Nowym Jorku, zm. 10 listopada 1994 w Beverly Hills) – amerykańska czarnoskóra śpiewaczka, pianistka i kompozytorka jazzowa. Debiutowała w 1944 z big-bandem Menney'ego Cartera. W latach 1946-47 śpiewała z orkiestrą Counta Basiego i Mercera Ellingtona. Swoją pierwszą płytę nagrała pod nazwiskiem Carmen Clark. Jej kompozycję "Dream of Life" wykonywała Billie Holiday. W 1962 wystąpiła na festiwalu w Monterey z Louisem Armstrongiem i Dave Brubeckiem. W 1967 przeniosła się do Beverly Hills. Występowała w klubach Los Angeles i Hollywood. W 1991 wycofała się z życia muzycznego z przyczyn zdrowotnych. Najpopularniejsze nagrania: "Suppertime", "Yardbird Suite", "Dream of Life", "You Took Advantage of Me".
download: uploaded yandex 4shared mediafire solidfiles mega filecloudio anonfiles oboom
Zmieniony (Niedziela, 10 Sierpień 2014 15:07)