Cole Porter - De-lovely Cole Porter (2004)
Cole Porter - De-lovely Cole Porter (2004)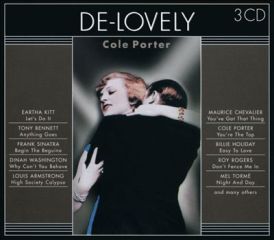 1. Let's Do It (Let's Fall In Love)
2. Anything Goes
3. I Love You
4. Let's Misbehave
5. Begin The Beguine
6. True Love
7. It's De Lovely
8. What Is This Thing Called Love
9. Night & Day
10. Be A Clown
11. In The Still Of The Night
12. So In Love
13. Every Time We Say Goodbye
14. Love For Sale
15. Experiment
16. Just One Of Those Things
17. You're The Top
18. Why Can't You Behave
19. You've Got That Thing
20. High Society Calypso
21. Don't Fence Me In
22. You Do Something To Me
23. Miss Otis Regrets
24. My Heart Belongs To Daddy
25. Two Little Babes In The Wood
26. Sincei Kissed My Baby Goodbye
27. C'est Magnifique
28. I Get A Kick Out Of You
29. Let's Not Talk About Love
30. Waht Is This Thing Called Love
31. Too Darn Hot
32. You'd Be So Nice To Come Home To
33. Get Out Of Town
34. I Love Paris
35. Easy To Love
36. You Do Something To Me
37. Charry Pies Ought To Be You
38. I Concentrate On You
39. You're The Top
40. I've Got You Under My Skin
41. Now You Has Jazz
42. So Near & Yet So Far
43. It's All Right With Me
44. Waltz Down The Aisle
45. Blow Gabriel Blow
46. At Long Last Love
47. Begin The Beguine
48. Miss Otis Regrets
49. Night & Day

Arrangers: Esquivel; Joe Reisman; Manny Albam; Vince Giordano; Axel Stordahl.

A couple of days ago, I watched a movie about an amazing American songwriter Cole Porter, called De-Lovely. To anyone who's never heard of Cole Porter before: he was a prolific composer, famous for his Broadway shows and his numerous jazz standards. He was something special for writing both lyrics and music for his songs, which was a rarity at that time. He had an amazing ability to come up with genius, funny, witty lyrics, often full of innuendos, always accompanied by beautiful melodies. Anybody, who was ever somebody in Jazz, recorded songs by Cole Porter at one point or another in their career - from Ella Fitzgerald, Louis Armstrong, Billie Holiday to Charlie Parker, John Coltrane, Oscar Peterson and many others. And to anyone familiar with Cole: even if you're only remotely interested in Mr Porter, this is a movie you cannot miss! After watching the movie, I started understanding his songs much better and I started noticing more important details in his music and intricate lyrics.
The movie starts at the end of Cole Porter's life, with the dying songwriter retrospecting on his life, but observing it as if it was a musical. It's a great concept that fits perfectly to his life and music. The story talks about his life, his indulgence and his very interesting relationship with his wife, Linda. It features great performances by Robbie Williams, Alanis Morissette, Sheryl Crow, Elvis Costello, Diana Krall, Natalie Cole and others. It's truly a great biopic, which reveals new dimensions to the irreplaceable Cole Porter. The only criticism I have is that the movie starts and ends with a great rhythm, but somewhere in the middle seems to slow down a bit, which makes it feel a bit inconsistent. But seeing as how great the movie is overall, this is hardly an important remark.
I highly recommend the movie to anyone interested in music or anyone simply looking for a good story. In case you like it, I suggest you get Ella Fitzgerald's Ella Fitzgerald Sings the Cole Porter Songbook to listen to afterwards. Her renditions are simply beautiful and it's a great way to start getting into Cole's music. Now get the movie as soon as possible. You won't be sorry. Enjoy and come back afterwards to tell me what you thought! I'd love to hear your comments. --- musingsonmusic.com
Cole Porter holds a place in history as one of America's most legendary songsmiths. Indeed, he eclipses most of his contemporaries, save Irving Berlin and George Gershwin. A composer of matchless wit and charm, Porter penned countless tunes that blossomed into chart-toppers and mainstream jazz standards.
IT'S DE LOVELY represents the wide range of interpretations that have been applied to the composer's work over the years. The disc includes the now-famous performance of "Night and Day" by a young Frank Sinatra, a cowboy version of "Don't Fence Me In" by Roy Rogers, and jazz versions of "You Do Something to Me" and "I've Got You Under My Skin" by saxophonists Sonny Rollins and Paul Desmond, respectively. The opening tracks, which feature Porter himself on vocals, are the high points of this album. These selections are unique for two reasons. First, Porter rarely performed his own music, and second, the big-band arrangements that accompany him were recorded in 2004, seven decades after Porter laid down his vocal tracks. Listeners can hear what it might have sounded like had Porter taken his performing career as seriously as his passion for songwriting. ---oldies.com
download (mp3 @320 kbs):
uploaded yandex 4shared mega mediafire solidfiles zalivalka cloudmailru oboom