Umberto Giordano - Madame Sans-Gêne (1999)
Umberto Giordano - Madame Sans-Gêne (1999)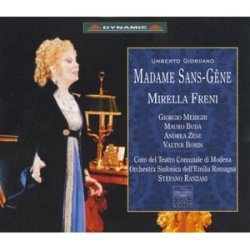 CD1
1. Madame Sans-Gene: Act I: Sono in via della Scala! (Toniotta, Guilia, La Rousse, Fouche, Voices Off-stage, Caterina)	Mirella Freni	4:06
2. Madame Sans-Gene: Act I: Mentre andavo via leggera tra le grida, gli urli, i canti (Caterina, Voices Off-stage, Fouche)	Mirella Freni	4:09
3. Madame Sans-Gene: Act I: Mia bella Caterina! (Fouche, Caterina, Vinaigre)	Mirella Freni	7:01
4. Madame Sans-Gene: Act I: Popolo di Parigi! L'Austriaca e suo marito han dovuto sloggiare dalla reggia! (Vinaigre, The Crowd)	Mirella Freni	1:24
5. Madame Sans-Gene: Act I: Ohe, dico ? (Caterina, Neipperg, Lefebvre, Soldier's Voices)	Mirella Freni	2:06
6. Madame Sans-Gene: Act I: La signorina Caterina Hubscher, alsazianetta giuliva e viva (Lefebvre, Caterina)	Mirella Freni	6:33	
7. Madame Sans-Gene: Act I: E poi mi piace che sentan tutti (Lefebvre, Caterina, The Soldiers)	Mirella Freni	3:35
8. Madame Sans-Gene: Act I: Perche hai chiusa la porta? (Lefebvre, Caterina, The Soldiers)	Mirella Freni	5:00
9. Madame Sans-Gene: Act II: La Duchessa di Danzica? (Despreaux, Gelsomino, Leroy)	Mirella Freni	4:45
10. Madame Sans-Gene: Act II: Bondi, signor Despreaux! (Caterina, Despreaux, Leroy)	Mirella Freni	4:01			play
11. Madame Sans-Gene: Act II: Ehi, dico, sei giunto al polpaccio! (Caterina, Leroy, Despreaux)	Mirella Freni	2:50	
12. Madame Sans-Gene: Act II: Sor ballerino, a noi. Proviam la riverenza (Caterina, Despreaux, Leroy)	Mirella Freni	4:13
13. Madame Sans-Gene: Act II: Lefebvre! Hai due spanne di muso (Caterina, Lefebvre)	Mirella Freni	3:04
14. Madame Sans-Gene: Act II: Gli avrei detto: tenetevele! (Caterina)	Mirella Freni	4:22
15. Madame Sans-Gene: Act II: E ho risposto cosi! (Lefebvre, Caterina)	Mirella Freni	4:08
16. Madame Sans-Gene: Act II: Il signor Conte di Neipperg (Gelsomino, Neipperg, Caterina, Lefebvre, Fouche)	Mirella Freni	6:19

CD2
1. Madame Sans-Gene: Act II: Vengon gli ospiti gia. La marescialla (Lefebvre, The Ladies, All the Ladies, Fouche, Gelsomino)	Mirella Freni	3:15
2. Madame Sans-Gene: Act II: La Duchessa di Danzica non vedo! (Carolina, Lefebvre, A Lady, The Ladies, Elisa)	Mirella Freni	3:34
3. Madame Sans-Gene: Act II: Ed ho il gergo del popolo e del popolo ho il gesto (Caterina, Fouche, Carolina, Elisa)	Mirella Freni	2:25
4. Madame Sans-Gene: Act II: Se ce n'e! Ma piu spesso la terra era il giaciglio, per i nostri riposi! (Caterina, Carolina, De Brigode)	Mirella Freni	5:54
5. Madame Sans-Gene: Act III: Ora il vostro rapporto, capitano (Napoleone, Fouche, De Brigode, Elisa, Carolina, The Ladies)	Mirella Freni	5:19
6. Madame Sans-Gene: Act III: Signora, voi coprite di ridicolo me, la mia Corte, il vincitor di Danzica ? (Napoleone, Caterina)	Mirella Freni	5:59
7. Madame Sans-Gene: Act III: Lasciate che vi guardi! Ah, vi ravviso! Siete voi ? siete voi ? (Napoleone, Caterina)	Mirella Freni	4:31
8. Madame Sans-Gene: Act III: Accidenti, se questo tenentin mi domanda qualche cosa, io gli dono anche il resto! (Caterina, Napoleone)	Mirella Freni	5:07
9. Madame Sans-Gene: Act III: Hanno aperta la porta segreta (Roustan, Napoleone, Madame De Bulow, Neipperg)	Mirella Freni	6:08
10. Madame Sans-Gene: Act III: Febvre, Febvre, mio, Febvre! Neipperg fu colto la su quella porta (Caterina, Lefebvre)	Mirella Freni	2:55
11. Madame Sans-Gene: Act III: Ah, non guardarmi e taci! (Lefebvre, Napoleone)	Mirella Freni	2:18
12. Madame Sans-Gene: Act III: Siete qui? Ancora qui! Meglio cosi! (Napoleone, Caterina, The Voice of the Empress)	Mirella Freni	4:11	
13. Madame Sans-Gene: Act III: E innocente, e innocente! (Caterina, Napoleone, Fouche, Lefebvre, Ladies, Chorus of Men)	Mirella Freni	3:33			play

Caterina - Mirella Freni
Lefebvre - Giorgio Merighi
Fouché - Andrea Zese
Conde de Neipperg - Valter Borin
Napoleón - Mauro Buda
Toniotta - Marzia Giaccaia
Giulia - Muriel Tomao
La Rossa - Federica Bragaglia
Vinaigre - Antonio Feltracco
Princesa Elisa - Federica Bragaglia

Coro dell Teatro Comunale di Modena
Orchestra dell'Emillia-Romagna
Stefano Ranzani - conductor, 1999

Madame Sans-Gêne is an opera in three acts by Umberto Giordano. The libretto was taken from Victorien Sardou and Emile Moreau's play, adapted for the opera by Renato Simoni.
Its première took place in the Metropolitan Opera on 25 January 1915, conducted by Arturo Toscanini with Geraldine Farrar in the title role, Giovanni Martinelli, and Pasquale Amato. This was followed by a performance in Turin under Ettore Panizza with Farneti, Grassi and Riccardo Stracciari on 28 February 1915.
Synopsis
Act 1
Paris. 10 August 1792, the day of the capture of the Tuileries during the French Revolution. There is a squabble in the laundry of Catharina Hubscher, a beautiful Alsacian girl, a very free and easy mannered woman who has earned the nick-name of Madame Sans-Gêne (Madame Easy-Going). One of her customers is Fouché, whom Catharina dislikes, and a quiet officer who lives nearby who goes by the name of Napoléon Bonaparte. As Catharina is about to close her laundry, a wounded Austrian officer arrives and asks for her help, Catharina hides him in her room. The officer turns out to be the Count of Neipperg. Sargeant Lefebvre, Catharina's fiancé arrives with more soldiers and is suspicious when he sees the doors closed, he discovers the Austrian officer but tells his men to leave, since there is no one in the room. Once alone with Catharina, he helps her to assist the Count.
Act 2
The castle of Compiègne. September 1811. Napoléon is at the height of his career. Lefebvre has distinguished himself in the battle of Danzig and has been promoted as Marechal and appointed as Duke of Danzig. Catharina is now his wife and thus has become Duchess, but her demeanor has not changed and causes scandals in court. The Emperor orders Lefebvre to divorce his wife and find a more suitable woman. Lefebvre and Catharina are desperate and also worried about their friend Neipperg, because he has been targeted by the Emperor of having a non-political relationship with Marie-Louise. During a reception Catharina makes a series of gaffes and gets into a fight with the Emperor's sisters, the butler announces that the Emperor wishes to see her.
Act 3
Napoléon orders Catharina to divorce her husband and to retire from a life that is not suitable for her. Catherina however reminisces about the days when she was a laundress and he only a soldier and he is moved despite that she also reminds him that he still owes her 60 Francs. Count Neipperg has been caught entering the Empress' chambers, Napoléon is furious and degrades him to a soldier and orders his immediate execution. Catherina intervenes and reveals that the count is innocent and he is forgiven. To the atonishment of everyone, the Duchess of Danzig appears in the salon by the arm of the Emperor to engage in a hunt.
download: uploaded anonfiles yandex 4shared solidfiles mediafire mega filecloudio
Zmieniony (Sobota, 23 Listopad 2013 21:44)