Guo Wenjing - Listen to the Mountain - The Music of Guo Wenjing (2006)
Guo Wenjing - Listen to the Mountain - The Music of Guo Wenjing (2006)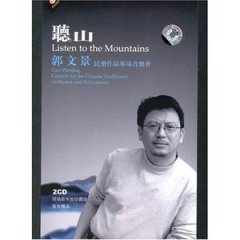 CD 1
Melodies of Western Yunnan - Suite for Chinese traditional orchestra Op. 19 (1993)
1. I. A-Wa Mountain
2. II. Jino Dance
3. Parade - trio for six Beijing Opera gongs Op. 40 (2003)
4. Mount Riyue - Rhapsody for Chinese traditional orchestra Op. 37 (2002)

CD 2
Drama - trio for 3 pairs of cymbals Op. 23 (1996)
1. I.
2. II.				play
3. III.
Chou Kong Shan (Listen to the Mountain) - Concerto for bamboo flutes and Chinese
 traditional orchestra Op. 18a
4. I. Lento-Adagio
5. II. Allegro
6. III. Andantino-Moderato

Bamboo Flute – Dai Ya
Percussion – Wang Jianhua, Liu Gang, Wang Yidong
China Broadcast Chinese Orchestra
Peng Jiapeng – conductor

Beijing Concert Hall, November 19, 2006

Guo Wenjing is a contemporary Chinese composer. He attended the Central Conservatory of Music, Beijing iand was one of the members of the famous Class of '78, (which also included fellow composers Zhou Long, Chen Yi, Tan Dun and Chen Qigang). Despite being highly regarded in his homeland, as well as having enjoyed some success abroad, no recordings of Guo's music have been made available outside China. The current program features five works by Guo, composed between 1993 and 2003 for traditional Chinese instruments and ensembles, including his two amazing trios for Beijing opera gongs.
He has composed for both Western and Chinese instruments. His works include concertos for erhu and bamboo flute, and an opera based on the life of the Tang Dynasty poet Li Bai. He composed the score to several films, including Blush (1994), In the Heat of the Sun (1994), and Zhang Yimou's Riding Alone for Thousands of Miles (2005).
Guo's music first became known in the West in 1983, when Suspended Ancient Coffins on the Cliffs on Sichuan was premiered in Berkeley, California. The piece clearly pays tribute to Bartók, highlighting two solo pianos with a battery of percussion instruments, but the strong imprint of Guo's own Sichuanese roots is unmistakable in the orchestral writing. Shu Dao Nan [Hard are the ways of Sichuan] (1987), a symphonic poem with voices, is a setting of Li Bai's poetry, which the official People's Music Publishing House selected as part of its series "Twentieth-Century Distinguished Chinese Classics". Chou Kong Shan [Sorrowful, Desolate Mountain] (1992, rev. 1995), a concerto for Chinese bamboo flute, was premiered by the Göteborg Symphony Orchestra in Sweden under the baton of Neeme Järvi. Guo's other orchestral works include concertos for violin, cello, and harp. Apart from his chamber music for traditional western string quartets and percussion ensembles, Guo also has composed Late Spring (1995) for Chinese ensemble and Sound from Tibet (2001) combining instruments from China and the West. Among his most performed chamber works are Drama (1995, a trio for three percussionists who also speak and sing), Inscriptions on Bone (1996, for alto singer and 15 instruments), She Huo (1991, for eleven players) and Parade (2004, a sequel to Drama, for three percussionists). Guo has also composed music scores for 20 feature films and 25 television films in China.
download: uploaded anonfiles yandex 4shared solidfiles mediafire mega filecloudio
Zmieniony (Środa, 11 Grudzień 2013 23:46)