Alfred Deller - Christmas Carols & Motets Vol.3
Alfred Deller - Christmas Carols & Motets Vol.3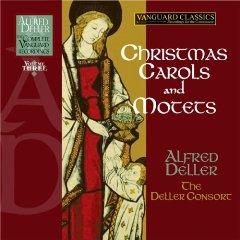 CD 1: The Holly and the Ivy
1 Anon., 17th c.: Patapan 1:01
2 J.H. Hopkins: Hymn: We Three Kings of Orient Are 3:57
3 Anon., Trad., England: I Saw Three Ships 2:05
4 Anon., Trad., England: The Coventry Carol 2:23
5 Edmund H. Sears & Richard S. Willis: It Came Upon the Midnight Clear 2:25
6 Anon., 16th (spring carol): Good King Wenceslas (text: J.M. Neale, 19th c.) 2:46
7 C.J. Alexander & H.J. Gauntlett: Once in Royal David's City 2:38
8 Anon., Czech Carol: Rocking (Hajej, nynjej) 1:32
9 Anon., Trad., England: The First Nowell 4:01
10 Anon., England: Christmas carol: God Rest You, Merry Gentlemen 3:09
11 George Wither (lyric) & Ralph Vaughan Williams (arr.): Wither's Rocking Hymn 2:25
12 Joseph Mohr & Hans Gruber: Silent Night 2:55
13 Anon., Trad., England: Wassail Song 1:33
14 Anon.: Dormi Jesu! 1:26
15 Anon., ca 15th c.: Boar's Head Carol 1:47
16 Anon., London Wait: Past Three o'Clock 1:56
17 Anon., medieval & Gustav Holst (arr.): Lullay My Liking 2:43
18 Anon., 15th c. & Peter Warlock (arr.): Adam Lay Ybouden 1:14
19 Anon., Germany & Robert Herrick (word / 1647: Christmas-play carol: Herrick's Carol 1:39
20 Anon., 14th c.: Angelus ad Virginem 1:47
21 Anon., medieval & Cecil Sharp (arr.): Carol: The Holly and the Ivy 2:44
22 Anon., Germany (? / Scheidt & J.S. Bach (harmonization): O Little One Sweet 2:41
23 Anon., medieval, Chester Ms (ca 1425): Processional song of the Nuns of Chester 2:30
24 Anon., 16th c.: Winter-Rose 2:25
25 Anon., 14th c. arr. Bach: Carol: In Dulci Jubilo 3:30

Alfred Deller, counter-tenor 
April Cantelo, soprano
Gerald English, tenor
Maurice Bevan, baritone
Desmond Dupre, lute 
Stanley Taylor, recorder

The Deller Consort 
Alfred Deller, director

CD 2: Hark, Ye Shepherds!
1 Anon., traditional, old Welsh: Deck the Halls 1:15
2 Felix Mendelssohn: Hark! the Herald Angels Sing (text: Charles Wesley) 2:00
3 Anon. William Ballet's Lute Book: Lute-book Lullaby 2:20
4 Anon., traditional: Ye Shepherds 1:54
5 George Frideric Handel (attr.): Joy to the World (text: Isaac Watts) 1:38
6 Anon., traditional: Down in Yon Forest 2:31
7 Anon., traditional, old Besancon: Carol tune: People Look East 2:01
8 Anon., traditional: Blessed Be That Maid Mary 1:31
9 Anon., ca 1520-1530: Sir Christmas 2:59
10 Anon., 15th c, arr. Michael Praetorius (arr.).: Lo, How a Rose E'er Blooming 2:26
11 J.F. Wade: O Come All Ye Faithful 2:54
12 Anon.: The Twelve Days of Christmas 2:45
13 Anon., traditional: Here We Come a-Wassailing 2:42
14 Johann Georg Ebeling: All My Heart This Night Rejoices 2:44
15 Anon., traditional, Germany, 15th c.: Joseph Dearest (Song of the Crib) 5:56
16 Anon., traditional: I Saw Three Ships Come Sailing In 2:20
17 Geoffrey Shaw: How Far Is It to Bethlehem? (text: Frances Chesterton) 3:10
18 Anon., traditional, Czech: The Birds 1:12
19 Anon., traditional: Elizabethan popular tune: The Old Year Now (Greensleeves) (text: anon. 17th c.) 2:03
20 Anon., traditional, England (west country): A Merry Christmas 1:37

Eileen Poulter, soprano 
Mary Thomas, soprano 
Alfred Deller, counter-tenor 
Wilfred Brown, tenor 
Gerald English, tenor 
Maurice Bevan, baritone
Desmond Dupre, guitar

The Deller Consort
Alfred Deller, director

CD 3: Carols and Motets for the Nativity
1 Guilelmus Monachus: Gymel (instr.) 1:13
2 Anon.: Nowell, nowell: Tidings true 4:04
3 Roy Henry (Henry VIII?): Sanctus (instr.) 1:41
4 Anon.: Blessed be Thou, Heavenly Queen 2:04
5 Anon.: Qui natus est 3:56
6 Anon.: Burden and Carol (instr.) 4:55
7 Anon.: Nova! nova! 2:09
8 Anon.: Angelus ad virginem (instr.) 1:04
9 Anon.: Hail, Mary full of grace 3:40
10 Richard Smert: In die nativitas 3:39
11 Anon.: There is no rose of such virtue 3:08
12 John Dunstable: Kyrie (instr.) 2:41
13 Richard Pygott: Quid petis o fili 5:55
14 Anon.: Carol: I saw (instr.) 0:54
15 Anon.: Nowell, nowell: Out of your sleep 2:36
16 Guilelmus Monachus: Fauxbourdon (instr.) 1:28
17 John Dunstable: Quam pulchra es 2:37

Honor Sheppard, soprano 
Mark Deller, counter-tenor 
Alfred Deller, counter-tenor 
Robert Tear, tenor 
Maurice Bevan , baritone

The Deller Consort
Alfred Deller, director
Musica Antiqua Wien 
Rene Clemencic, director

CD 4: Christmas Carols and Motets of Medieval Europe
1 Anon., end of 15th, Czech hymn book: Motet (a 4): De Nativitate Domine 2:08
2 Giacomo Fogliano: Lauda: Ave Maria 2:51
3 Jan of Jenstejn: Monody: Decet huius cunctis horis 5:16
4 Pedro de Escobar, Cathedral Library, Tarazona, Spain Ms: In Nativitate Domine (a 4) 1:35
5 Anon., end of 15th, Czech hymn book: O Regina, Lux Divina (a 3) 3:09
6 Giovanni Perluigi da Palestrina: Motet (a 4): Hodie Christus natus est 1:36
7 Byttering, Old Hall & York Mss: Motet (a 3): Nesciens mater 2:02
8 Johannes Ciconia, Codex Trent: Et in terra pax (instr.) 2:52
9 St. Godric, British museum, Ms Reg. v. f.vii,f: Crist and Sainte Marie 1:52
10 John Dunstable: Sancta Maria 2:32
11 Anon., Codex Montpellier: Isorythmic motet: O Maria virgo (instr.) 2:34
12 Anon., England, 14th c., British Museum add. 29987: Gloria 4:54
13 Henricus Isaac: Introit (a 4): Puer natus 2:59
14 Thomas Stoltzer: Foeno iacere (instr.) 1:47
15 Ludwig Senfl: Maria Zart 2:56
16 Leonel Power, Old Hall Ms: Motet (a 3): Beata Progenies 1:19
17 Anon., England, early 14th c.: Alleluya psallat 2:26
The Deller Consort / Alfred Deller, director

Honor Sheppard, soprano 
Mark Deller , counter-tenor 
Philip Todd, tenor 
Maurice Bevan , baritone
Helmut Ascherl, renaissance trombone, hurdy-gurdy 
Rene Clemencic, recorder, organ 
Wolfgang Hartl, alto pommer, renaissance bassoon or dolzian, bass krummhorn 
Erwin Kellner, renaissance trombone 
Bernhard Klebel, soprano pommer, krummhorn 
Hubert Koller, tenor gamba 
Paul Maurer, tenor pommer, krummhorn, drum 
Hans Radbauer, glockenspiel, drum 
Gerhard Stradner, zink, fiddle, recorder 
Hans Tchedemnig, renaissance alto trombone 
Peter Widensky , finger-hole horn, recorder, organ 
Fritz Wurzler, renaissance trombone

Musica Antiqua Wien 
Rene Clemencic, director

There are two kinds of Christmas recordings: the good ones (aimed at the few for whom Christmas is a holy day or at least a holiday of some significance) and the bad ones (aimed at everyone else). Of the good ones, there are those whose focus is musicological and antiquarian; such recordings are legion (relatively speaking). What remains are those whose true focus, however scholarly the approach of the performers, is the feast itself and its celebration. Of this select group this four-CD set may be the ne plus ultra.
Though all four CDs are precious, the first two are understandably the pick of the litter. Herein one will find presented virtually all the most justly loved Christmas carols and songs; some are a mere century old, others go back to the Middle Ages. Though some selections will inevitably be unfamiliar to listeners, all are truly inspired creations and will probably not long remain unfamiliar. One hears reflected in these carols the happiness and devotion that the commemoration of the birth of the Christ child has inspired for well-nigh two millennia.
The third and fourth CDs are somewhat more "adventurous"; that is, their relevance to Christmas present is somewhat tenuous. Because the instrumental accompaniment here has gone from a single lutenist (the great Desmond Dupré) to an ensemble of "period" instruments (viols, krummhorns, and all the rest of those now ubiquitous antiques, mostly under the direction of the once widely known specialist René Clemencic), it is most unlikely that these selections could or would be sung around the tree. This reviewer is not complaining, however, merely describing.
Alfred Deller (1912-1979) and his consort (a group whose membership changed over the course of time, save for Deller himself and the great bass Maurice Bevan) sing these songs, carols, and motets with predictable beauty and sophistication. What is more, they sing with piety, joy, reverence, and belief. These are the qualities that give this release enduring significance.
As has been true for Deller's other Vanguard recordings, this 4-CD set has come and gone, in one guise or another, about as often as the sun ducks behind the clouds on a windy afternoon. --- pclaudel (New York City), amazon.com
download: